Dermatologist Skincare Routine: How to Incorporate Asian Beauty Trends

As unfair as it might be, the layperson like you and me might expect a dermatologist's skin to be flawless and picture-perfect. And most of the time, they do – but not without putting the work in. It definitely helps to have access to treatments that give you the perfect complexion. Nonetheless, one thing all dermatologists agree on, is that deciding on, and sticking to the right skincare routine will make all the difference.
When it comes to her own skincare routine, accredited dermatologist and author of the Skincare Bible: Dermatologist's Tips for Cosmeceutical Skincare, Dr. Teo Wan Lin emphasizes the importance of active ingredients in a stable formulation, also ensuring that these ingredients can be well absorbed through skin. Here's a look at Dr. Teo's day skincare routines, the active ingredients she recommends, and common Asian beauty trends.
The Day Ritual
The day routine is all about refreshment and protection from the sun, pollution, and other environmental aggressors that your skin will undergo exposure to throughout the day.
Dermatologist Skincare Routine Step 1: Cleanse
Dr. Teo starts off her day with a milk cleanser that includes purified sea water and camphor. These are both ingredients that cool and calm the skin. The cleanser she uses is fortified with the antioxidant Brassica Oleracea. This helps to dissolve the layer or oil and grime that settles onto skin overnight. She recommends a cleanser with an emulsion formula, which has no need for foaming.
Dermatologist Tip: For those with combination skin in which the T-zone produces more oil, if the skin is over-cleansed reactive seborrhea can occur. This is where, paradoxically, even more oil is produced at the T zone. This cleansing routine in the morning retains the skin's moisturizing layer that forms the base for makeup.
Dermatologist Skincare Routine Step 2: At-home Microdermabrasion
Next, Dr. Teo reaches for the SilkPeel as a microdermabrasion tool. Microdermabrasion is a non-invasive skin exfoliating procedure that gently removes dead skin cells from the surface of the skin. This procedure is usually performed in the clinic. However, the SilkPeel tool allows those who have no time for a medical facial to include this skin treatment to your skincare routine.
One of the methods that is effective for increasing cosmeceutical absorption is the use of microdermabrasion. She incorporates the Silkpeel into her daily skincare routine with vacuum microdermabrasion settings to enhance the absorption of active ingredients for her combination skin. These include ingredients such as centella asiatica, arnica montana, grape seed oil, yeast peptide, and green tea. On a weekly basis, she uses the copper ion microdermabrasion head to resurface the skin for enhanced cell renewal.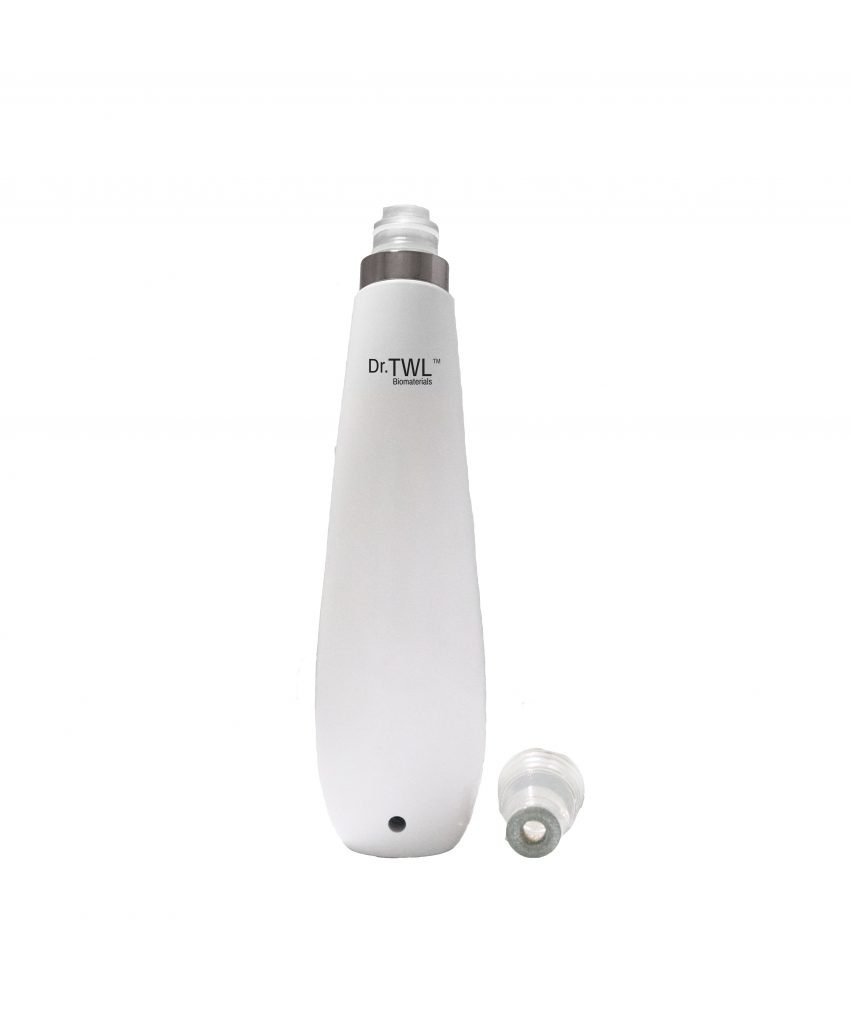 Silkpeel vacuum microdermabrasion
As a base, before using the SilkPeel tool, she gently pats one drop of the Acne Medifacial Solution of camellia sinensis extract on acne-prone areas of her face. Polyglutamic acid acts as a base for this solution, which is not as widely used because of the high cost of the ingredient. However, it has shown to be 4-5x more effective than hyaluronic acid in terms of humectant properties. She then moves on to the skin brightening solution. This contains a yeast extract that she pats over problem areas where she wants her skin to appear brighter. To act as a good protective measure for outdoor sun exposure, she also uses the solution containing Centella Asiatica extract – excellent for skin-lightening and scars.
While she uses the SilkPeel tool on her face, she notes that some redness is normal. The solution is to move quickly.
Dermatologist Tip: This device is NOT to remove whiteheads and blackheads. Devices that advertise to do so tend to use a lot of pressure. This is not effective when treating whiteheads and blackheads. Those devices physically remove the pimples temporarily. However, soon after, the dead skin and dirt will accumulate on the skin again. On the other hand, the SilkPeel uses the principle of vacuum microdermabrasion, increasing the absorption of topicals you apply.
Dermatologist Skincare Routine Step 3: Masking
Once she's done with her at-home facial treatment, Dr. Teo moves on to masking. First she applies a layer of a wash-off gel mask.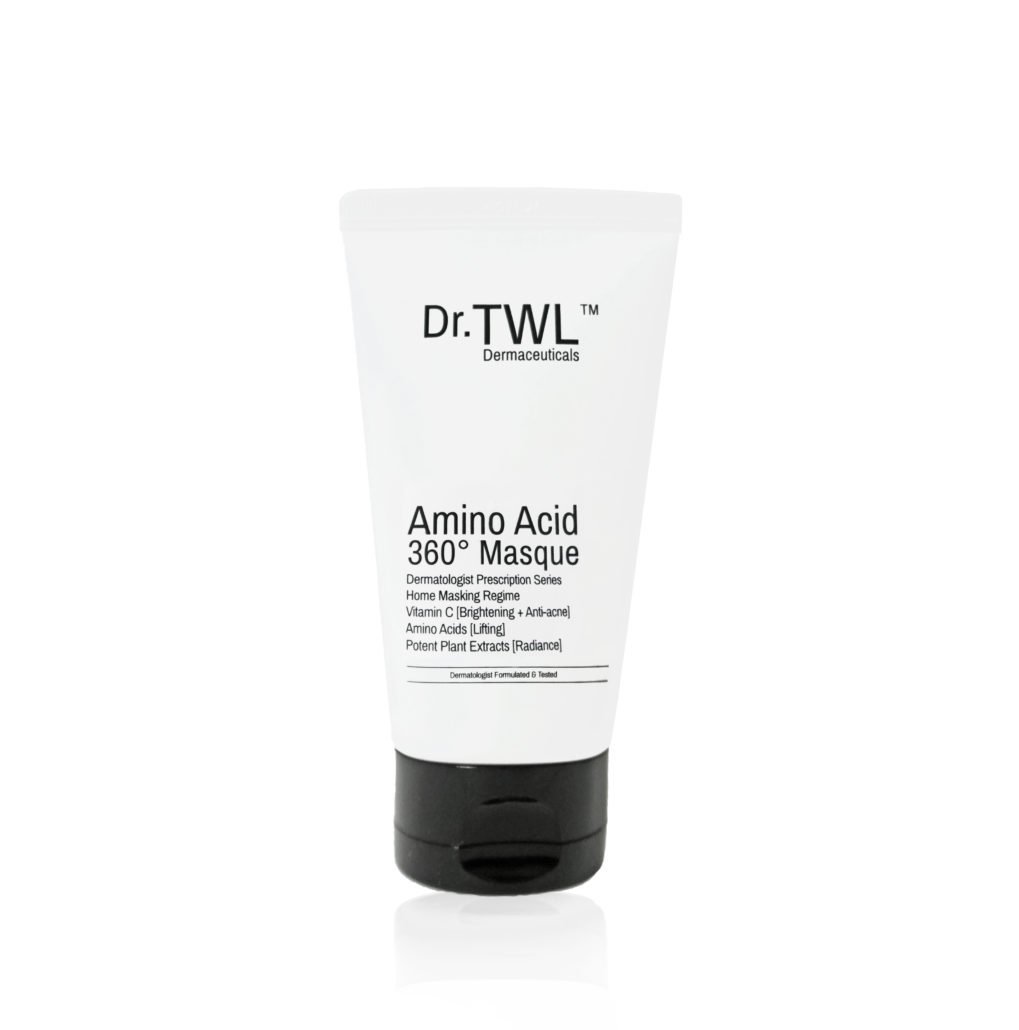 The Amino Acid Masque contains Vitamin C for brightening and anti acne functions, amino acids for lifting, and potent plant extracts for skin radiance.
On top of that, she uses a sheet mask that contains plant polysaccharides. This increases the absorption of cosmeceuticals when applied to the skin. The polysaccharides form little micro reservoirs of cosmeceuticals when applying on the skin. It helps to hydrate and ensure more effective product absorption.
Dermatologist tip: After washing off the mask, pat your skin dry with a soft cotton pad instead of wiping with a towel to reduce friction with the skin.
Dermatologist Skincare Routine Step 4: Serums
She continues on to the Hyaluronic Acid Serum and the Vita C Gold serum.
The 1% HA Serum is multimolecular weighted. This is superior to monomolecular weighted hyaluronic acid serums in terms of clinical efficacy and absorption rate.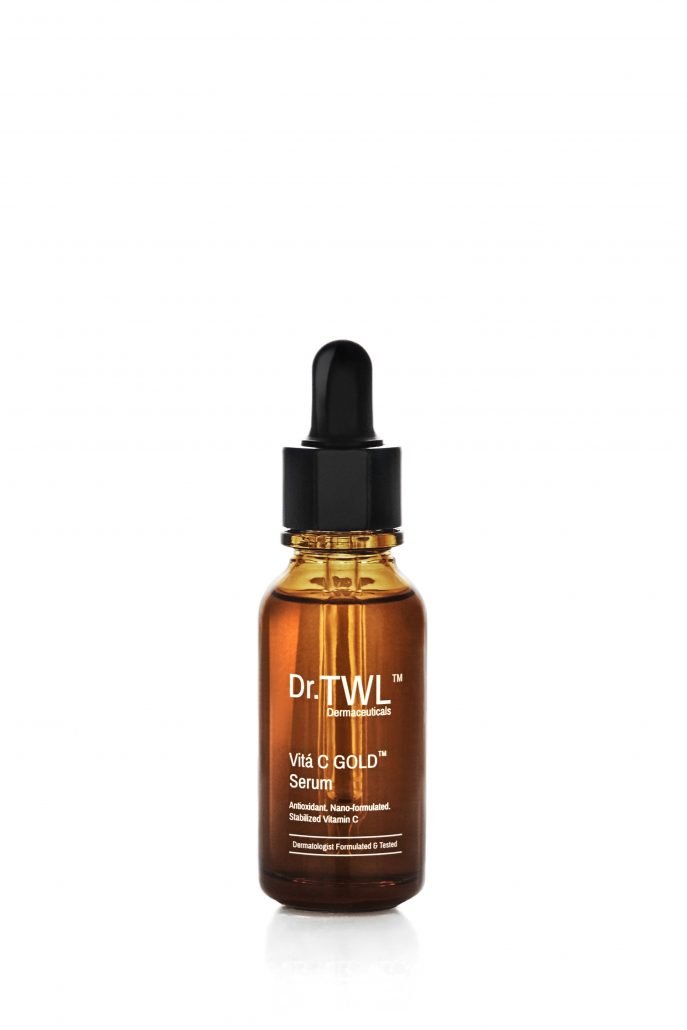 She also uses the Vitamin C serum, whose ingredients are non-sensitizing and is a neutral molecule. The vitamin C derivative in this serum is sodium ascorbyl phosphate, the most stable derivative as opposed to l-ascorbyic acid commonly used in other cosmeceutical formulas. This makes the serum suitable for individuals with eczema, skin sensitivity, rosacea and acne.
Dermatologist Skincare Routine Step 5: Moisturize
For the moisturizing step, Dr. Teo uses an emulsion formula, which she recommends especially for humid climates like Singapore.
"Heavier formulas can get quite uncomfortable on the skin, especially if you're wearing a mask for long hours of the day," Dr. Teo Wan Lin. An emulsion contains equal parts of oil and water, and is lighter and more easily absorbed, making it ideal for those with oily skin or are acne prone.
The Radiance Fluide Hydrating Emulsion helps to promote hydration and prevent water loss, and contains amino acids for antioxidant repair, oligopeptides and niacinamide for brightening.
Interested in getting started on a dermatologist developed skincare routine including a home facial? Transform your skincare routine with our 7 Day Recovery Kit, and get samples of 5 of our star products in convenient syringe form: the Le Lait Milk Cleanser, Miel Honey Cleanser, Hyaluronic Acid, Vita C Gold Serum, and the Radiance Fluide Hydrating Emulsion.
https://drtwlderma.com/wp-content/uploads/2021/04/Beauty-School-.png
1280
1172
Administrator
https://drtwlderma.com/wp-content/uploads/2023/02/Logo-300x128.jpg
Administrator
2021-04-22 21:21:53
2022-06-14 16:22:46
Dermatologist Skincare Routine: How to Incorporate Asian Beauty Trends