OUR PHILOSOPHY ON SAMPLING #DRTWL7DAYS
Our brand of skincare has garnered a strong base of fans with our unique sampling regimen since we started and we work to give the best rates for cosmeceuticals without compromising quality, until you are sold on it! We know that cosmeceuticals can be costly, hence we offer samplings at a low cost but rest assured that the ingredients used are top pharmaceutical grade ingredients to ensure maximum efficacy and confidence in our products. Because we are so confident about our products, our sampling products are available in 7 day kits before you may decide to commit to the full-sized products of Dr.TWL Dermaceuticals.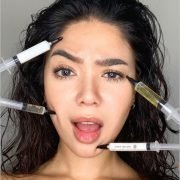 I've been following the @drtwlderma 7+2 skin ritual for a few days now and I can see a noticeable difference in my skin. It's now brighter and more dewy when I have no make up on.
We have had so many requests from our fans who loved our #TWLBeautyBag and have asked to sample the bestseller Elixir-V eye cream which is recommended for anti puffiness, anti dark eye circle and anti wrinkles. It is super powered by LARECEA™ Extract with lifting amino acids and vitamin C, to accelerate collagen formation and skin regeneration. To use the eye cream, apply a pea-sized amount around the eye area with the ring finger.
So, get this 7 day Elixir-V eye cream today at only $15!
FAQ
Why do I have to pay for samples?
Our brand specialises in the manufacturing of medical grade cosmeceuticals which were previously only available in our dermatologist office for patients. We have made this available to the masses through Dr.TWL Dermaceuticals and because of the high cost of manufacturing, we have tried out best to keep the prices of the samples as affordable as possible for people who want to give our skincare brand a try before switching over from their existing skincare. Our prices for the full-sized medical grade cosmeceuticals are very competitive given the quality, the active ingredients as well as the support given. 
How are the samples packaged?
All our samples are packaged in sterile syringes (except for Elixir-V eye cream and amino acid samplers which are packaged in medication tubs). We assure you that the exact volume, measured in millilitres, which you pay for is promised and is sufficient to last for the 7 days duration. We also strive to stay environmentally-friendly in the process by making sure that the packaging is efficient and effective. For example, our syringes are capped with a clean, black tip over the top of the syringe to prevent spillage.
How are the samples different from other samples?
Unlike other samples which allow for only 1 or 2 applications, our samples are specifically designed for full 7 days of usage because we believe that this is all the time that is needed for you to see a result on your skin.
Are there any special promotions for conversion to full-sized products after the 7 day sampling period?
The good news is if you are a brand new user, with every purchase of the sampling kits, we will send you a one-time discount coupon code for purchase of the full-sized products after the 7 days. Valid for the first month of purchase of the sampler only.
SHOP NOW FOR THE SAMPLERS
If you have any other questions or would like to have a closer look at the full ingredient list of our products, it is available at our exclusive stockist (TWL Specialist Skin & Laser Centre, #17-07 Royal Square At  Novena) where a registered staff nurse who has been trained in cosmeceuticals will run through all the products with you.
With any order of our samplers, you may also book in for a complimentary trial session to experience the Dr.TWL Skin Ritual – inclusive of the Amino Acid Masque, Elixir-V Total Recovery Serum, Elixir-V Eyes, Mineral Booster and SunProtector. Book in now to enjoy this exclusive offer valid for first-time users only.
Exclusive Stockist for Dr.TWL Dermaceuticals: 
TWL Specialist Skin & Laser Centre
38 Irrawaddy Road
Suite 07-28
Singapore 329563
website: www.twlskin.com
Opening Hours: 
Weekdays (besides Wednesday) – 9:00 am-1:00pm, 2:00pm-5:30 pm
Wednesday – 11:00am-1:00pm, 2:00pm-7:30pm
Saturday – 9:00 am–1:00 pm
Sunday – Closed
Transform your skin with
Dermatologist Formulated & Tested essentials to achieve healthy and youthful skin