Hair Loss Treatment: Science Behind A Hair Ritual

"Healthy hair comes from a healthy scalp. Hair regrowth has to start at the roots, not the ends," accredited dermatologist, Dr. Teo Wan Lin, on hair loss treatment.
Scalp treatment for hair loss is recommended for men and women who have noticed hair thinning, dandruff, oily scalp, hair loss. In this article, we'll go through the science behind the scalp treatment portion of the 7-step Hair Ritual of the 360 Conscious Mask Bar, including excerpts from Haircare Bible: A Dermatologist's Tips on Haircare and Hair Loss by Dr. Teo Wan Lin, Dermatologist at TWL Specialist Skin & Laser Centre.
The Hair Ritual is the perfect weekly ritual for intense hair shaft nourishment, scalp treatment, and treatment of hair loss. Follow these steps for hair strengthening, increasing elasticity, shine and smoothness.
Double Cleansing Scalp Treatment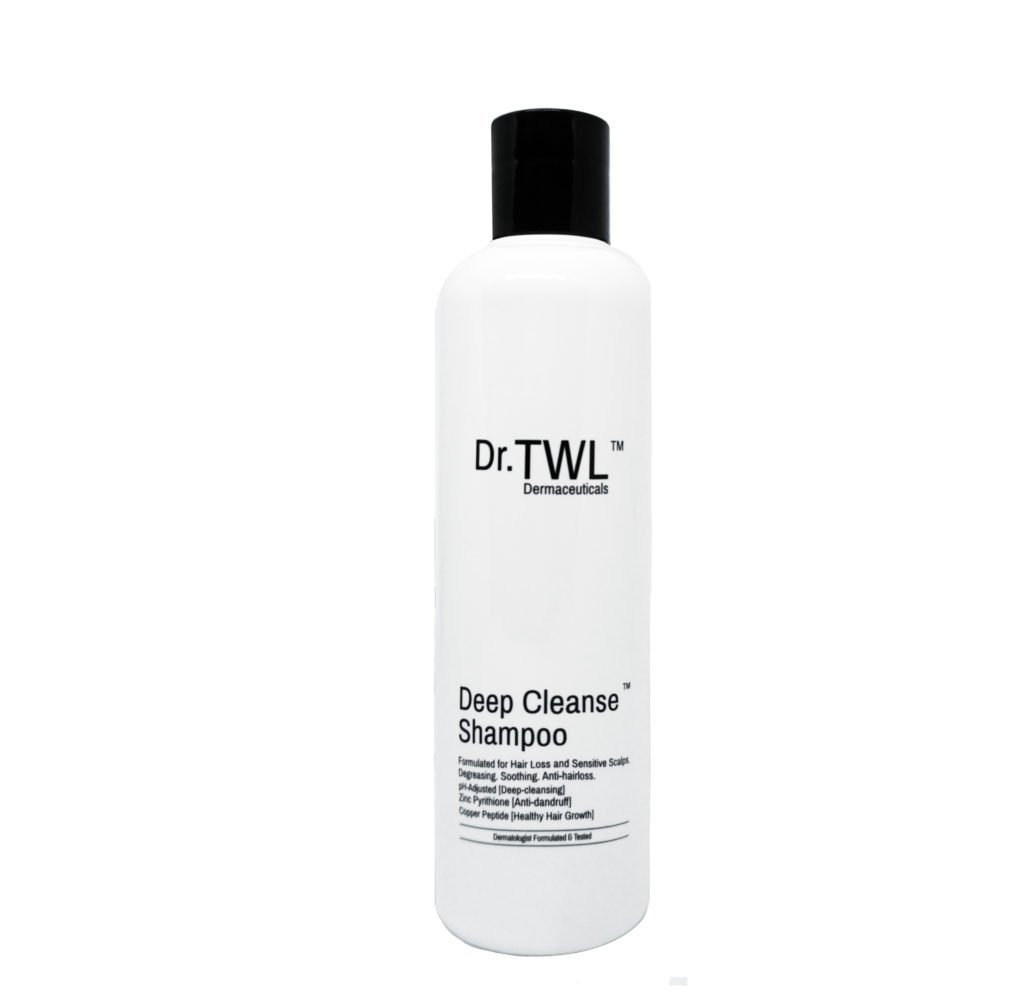 The Copper Peptide Hair Regrowth – Deep Cleanse Shampoo has anti-fungal, and anti-inflammatory properties for deep scalp cleansing. It contains zinc pyrithione, and salicylic acid. It is also an amino acid surfactant for gentle cleansing for sensitive scalps.
How to use: Work up a sufficient amount of shampoo onto damp scalp into a lather. Massage over the scalp with circulating movements. Rinse out completely. Repeat the application of shampoo and leave on the scalp for 5-7 minutes for medicated active ingredients to work.
What constitutes a good shampoo?
Caring for one's hair is just as important as caring for one's face, but often gets less attention. Understanding what constitutes a good shampoo is an important part of making sure your hair stays healthy and voluminous.
To help you navigate the world of shampoo products, we introduce you to the basics you need to know.
How should a shampoo function?
A shampoo is a viscous liquid (liquid with texture that tends to be thick). Its primary purpose is cleansing the scalp and hair of dirt, sebum, sweat, dead skin cells and environmental pollutants. It does so by dissolving oil-soluble dirt, which is water-insoluble and hence, cannot be removed by solely rinsing with water.

A shampoo should also remove greasy residues from hair care products such as oils, gels and sprays. The overall effect is that of cleansing to maintain a good hygiene level to reduce the chance of scalp irritation, inflammation and odour.
While most shampoos can accomplish a thorough cleanse, the real challenge lies in removing just enough sebum to allow the hair to be clean without drying it out. This explains why most shampoo formulations have a secondary function of smoothing the hair's surface and imparting lustre, smoothness, buoyancy and volume.
Certain types of shampoos also treat the scalp with medicated ingredients, such as those targeting dandruff, a common scalp disorder caused by a yeast known as Malassezia.
Ingredients In A Shampoo
Typical shampoos contain 10 to 30 ingredients. These include: cleansing agents (surfactants), conditioning agents, special care ingredients, and additives. Surfactants essentially cause a lathering effect via a process known as emulsification.[5] For example, a surfactant emulsifies sebum and grime on the hair and scalp which can then be easily rinsed off with water. They are responsible for cleansing hair while the conditioners and other ingredients do the rest.
Amino-acid surfactant technologies enable gentle cleansing without disrupting the protective barrier of the scalp.
Heat Cap Treatment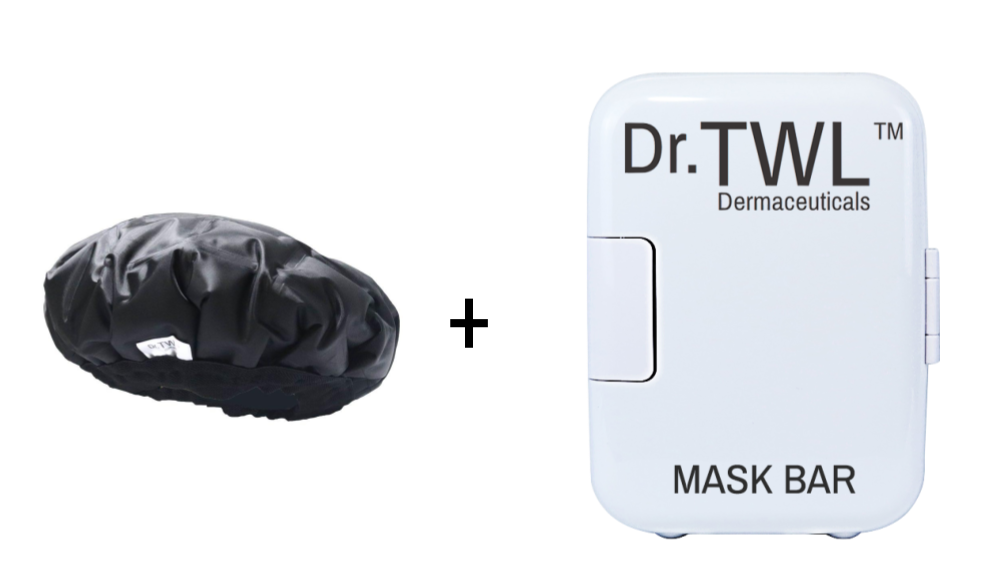 The CUTISCOOL Hair Cap has specifically engineered thermal capacity that allows comfortable home use of effective heat treatment used normally in salons. Use with Hair Thickening Mask to increase penetration of hair treatment products.
How to use: Before entering the shower, we recommend placing your CUTISCOOL Biological Gel Cap into the Mask Bar under "HOT SETTING" for adequate heating for Step 2 after double cleansing.
Apply Hair Thickening Mask on clean shampooed hair and scalp. For best results, wear a disposable shower cap underneath. Wear for 15-20 minutes while enjoying a cup of tea. Rinse off thoroughly with cool water.
Hair Follicle Rejuvenation for Growth / Massage
The Copper Peptide Hair Regrowth Serum contains copper peptide for hair growth, hair root strenghtening, and hair shaft thickening. Use the Jade Roller Rose Quartz for increased serum absorption.
How to use: Remove both caps and rinse. Place the gel cap into the Mask Bar under the "COLD SETTING" for 10 minutes. While waiting, use the Rose Roller for serum absorption to give yourself a relaxing scalp massage while increasing blood flow to your scalp. Apply 10-20 drops of Copper Peptide Hair Regrowth Serum with built-in applicator on scalp.
What is copper peptide?
The human copper peptide is a naturally occuring tripeptide present in our bodies that is usually released from tissues, especially in the event of an injury. It is widely established as a potent regenerative and protective active ingredient.
What are the benefits of copper peptide?
Evidence shows that it reduces inflammation and free radical damage while simultaneously increasing the growth of hair, mean hair diameter as well as hair follicle size.
How does copper peptide work for the scalp and the hair?
Copper peptide works as a growth factor to stimulate the proliferation of dermal papilla cells (DPCs). DPCs play pivotal roles in the morphogenesis and growth of hair follicles.
How does copper peptide (GHK) work?
GHK has been found in various animal studies[7] to stimulate wound healing via increasing the activity of anti-inflammatory enzymes. The peptide also increases blood vessel growth, nerve growth and has antioxidant and anti-inflammatory activities.
Cold Cap Scalp Treatment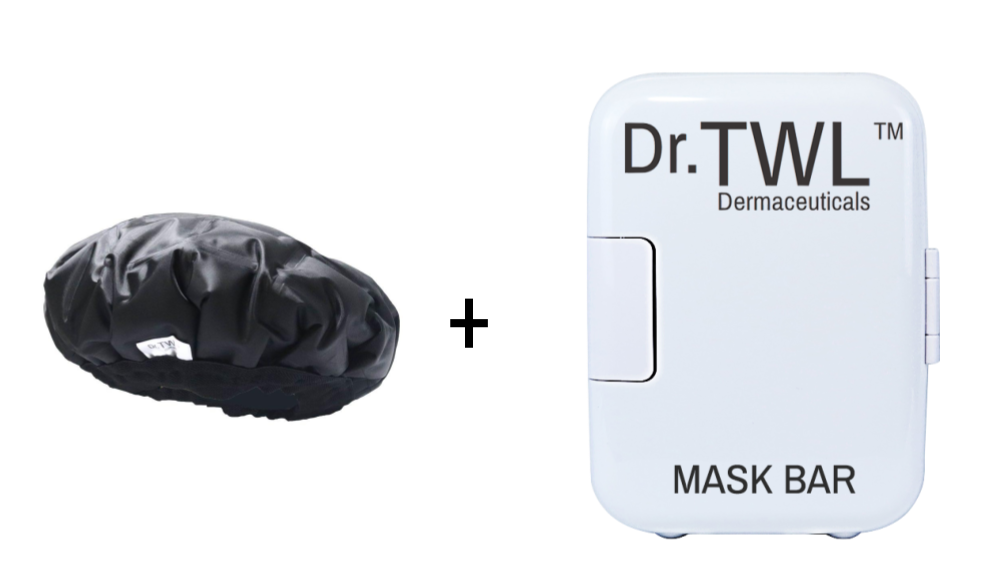 When chilled, the CUTISCOOL Hair Cap seals hair cuticles for shine. It produces temperatures for cooling. but without the discomfort of ice.
How to use: Put the gel pack in freezer for 20 minutes. Wear CHILLED COLD CAP for 5 minutes for anti-inflammatory effect. Give hair shaft a quick rinse with cool water to seal the cuticle.
Total Scalp Rejuvenation Therapy
The ORZAT4 InfusionTreatment Comb is impregnated with Sandalore® which has been scientifically proven to stimulate hair regrowth. This comb is designed to stimulate and support vigorous, healthy hair growth when used regularly.
How to use: Comb through to eliminate all frizz and flyaways with Sandalore® ORZAT4 Infusion Treatment Comb, which activates the scalp's olfactory receptors to stimulate hair follicle growth.
The Raser™ Hair Regrowth Comb is a multi-functional 5 in 1 comb that incorporates Diode Laser + Radiofrequency+ Red Photon + EMS + Massage with Ozone Sterilization. It is beneficial for hair follicle stimulation, hair regrowth, scalp serum absorption, and increases hair elasticity/anti-frizz/shine.
Use the RASER™ HAIR REGROWTH COMB which combines high-tech medical radiofrequency technology with laser diodes to increase the growth cycle of hair.
What is a radiofrequency device and what are its benefits for hair loss?
Fractional radiofrequency devices have been studied in the treatment of androgenetic alopecia. When used on the scalp, fractional radiofrequency has the effect of jump-starting the wound healing process, which triggers off collagen production. In order for hair growth to be activated, the roots of the hair where follicles are have to be subjected to the same micro-climate as successful wound healing processes.
Application of radiofrequency technology is possible in home use devices for the treatment of androgenetic alopecia, as well as other causes of hair loss, as it is able to promote strong and healthy hair growth.
Laser/Light therapy as treatment for hair loss
Light therapy in the form of yellow and red light treatment can initiate hair regrowth. Red light treatment, with wavelengths between 630 to 670 nm, stimulates an enzyme called cytochrome C. This enzyme encourages our genes to produce more hair and lowers the cell death of hair follicles.Tthere are also approved diode laser devices for hair regrowth available for home use.
For such devices, using a laser comb for 15 minutes, 3 times a week, also increases the number of hair follicles in the anagen phase, the stage in which our hair grows.
https://drtwlderma.com/wp-content/uploads/2020/11/thanh-duc-phan-i5R8hbZFDdc-unsplash-1.jpg
1200
1800
Administrator
https://drtwlderma.com/wp-content/uploads/2023/02/Logo-300x128.jpg
Administrator
2020-11-16 16:50:55
2021-09-01 21:10:07
Hair Loss Treatment: Science Behind A Hair Ritual