At Home Hair Treatment: The Hair Ritual
"Elasticity, shine, and smoothness of the hair shaft is directly related to the physical, chemical properties of hair, which can be altered with at home hair treatment," accredited dermatologist, Dr. Teo Wan Lin.
The 7 Step Hair Ritual encompasses both at-home scalp and hair shaft care for hair strengthening, increasing elasticity, shine and smoothness.
In this article, we'll take you through the science behind the home hair treatment steps of the Hair Ritual of the 360° Conscious Mask Bar, including excerpts from Haircare Bible: A Dermatologist's Tips on Haircare and Hair Loss by Dr. Teo Wan Lin, Dermatologist at TWL Specialist Skin & Laser Centre.
What is the structure of a normal hair shaft?
The hair shaft, the most prominent part of your hair, grows out from the hair follicle. It consists of three parts:
The medulla and cortex contain pigment cells responsible for one's hair colour. The cuticle is the outer and strongest component of the hair shaft. It comprises dead flattened cells, mostly made of a protein called keratin; an essential component of skin and nails.
What problems may arise from the hair shaft?
A hair shaft defect is as a structural abnormality of the hair shaft. Certain cases can be easily diagnosed with the naked eye while others may require microscopic examination.
Hair shaft defects may result in:
No observable abnormality
Hair loss (alopecia)
Coarse or frizzy hair
Uncombable hair – when disordered hair bundles grow in multiple directions and cannot be arranged despite combing
Fragile hair – hair shafts with reduced tensile strength. A gentle tug is all it takes to pull out strands of hair.
Home Hair Treatment
After double cleansing the scalp with the Copper Peptide Deep Cleanse Shampoo in Step 1, move on to at home hair treatment of the hair shaft with pure and bioactive cosmeceuticals.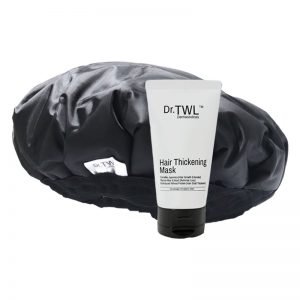 The Hair Thickening Mask is a dermatologist formulated hair mask designed to increase hair volume and stimulate hair growth. Enriched with Camellia Japonica as a hair growth extender and Hydrolyzed Wheat Protein for hair shaft thickening. Use with CUTISCOOL Hair Cap for heat treatment to increase penetration of home hair treatment products.
How to use: Before entering the shower, we recommend placing your CUTISCOOL Biological Gel Cap into the Mask Bar under "HOT SETTING" for adequate heating for Step 2 after double cleansing.
Apply hair thickening mask on clean shampooed hair and scalp. For best results, wear a disposable shower cap underneath. Wear for 15-20 minutes while enjoying a cup of tea. Rinse off thoroughly with cool water.
What is the role of botanical extracts in hair cosmeceuticals?
Extracts from grape seed oil, apple, barley and raspberry all contain potent antioxidants which we term polyphenols otherwise known as flavonoids. For instance, antioxidants scavenges free radicals from exposure to environmental stresses such as ultraviolet radiation, the process of biological aging and environmental pollution. Our body has the innate ability to reduce and counteract the process of free radical formation but this ability diminishes with age.
Which botanicals should we look out for in controlling hair loss?
Camellia extract
Fibroblast growth factor 5 (FGF5) is an important factor in the irreversible transition from anagen to catagen. Inhibition of FGF5 prolongs anagen phase and reduces hair loss.Paragraph
FGF5 inhibits hair growth and consequently is involved in the regulation of anagen and catagen phases. Camellia japonica seed extract is effective in inhibiting FGF5 activity, allowing more hair follicles to stay in the anagen phase. As a result, the botanical extract also leads to a decrease in hair fall and an overall improved volume.
The Hair Thickening Mask includes Camellia Japonica and hydrolyzed wheat protein to increase hair volume and stimulate hair growth.
What are the types of proteins that can benefit the hair shaft?
Hydrolyzed Wheat Protein
Firstly, hydrolyzed wheat proteins are considered reparative and conditioning agents for the hair due to the active peptides that are present. While it does not prevent hair loss, wheat proteins work to bring existing hair follicles to optimal health.
It functions primarily by the following methods. Firstly, it moisturises the hair cuticle, the part of the hair that is responsible for keeping the hair smooth and shiny looking. Secondly, it forms a coating around the hair shaft hence easily doubling the volume of the hair shaft, consequently working as a hair shaft volumiser. Finally, it helps to seal up the cuticle and functions as a smoothener to enhance hair shine.
Hair Lamination
In step 4 of the hair ritual, use Hydrolyzed Collagen and Keratin Rinse in a hair lamination treatment for intense shine.
The Keratin Rinse helps to bind with hair to strengthen it. The keratin crystals contain collagen hydrolysate which helps to smooth the hair cuticle, boost shine, and reduce breakage. The lamination of the hair with keratin will leave you with shiny, voluminous hair with minimal split ends.
How to use: Dissolve keratin crystals in warm water. Pour and rinse over hair shaft, run your fingers through to evenly distribute the mixture. Do not rinse off.
What is hair elasticity and how do you measure it?
Hair elasticity is measured by how much the hair will stretch before it returns to a normal state. In other words, healthy hair, when wet, stretches up to 50% of its original length and returns to its normal shape without breaking. Dry hair will stretch about 20%.
How do you increase hair elasticity?
Incorporate protein and oils into the hair shaft.
What are proteins?
Proteins are large molecules consisting of amino acids, the building blocks of proteins, that our body's cells need to function properly."
Why are they important for healthy hair?
Amino acids play an integral role in the body's processes for healthy skin and hair. Amino acid proteins are necessary for the strong and resilient growth of the hair shaft. It reduces the incidence of breakage due to brittleness. It can also increase hair shine and elasticity, and features prominently in thick, healthy, shiny virgin hair.
How does Hydrolyzed Keratin Protein help heal the hair shaft?
Keratin is a fibrous protein that makes up the structure of our hair and is part of the natural protective layer of hair. It renders strength and returns elasticity to hair strands. As a protective barrier, it greatly reduces damages to the hair from harsh chemicals.
Serum and Style
The Bamboo Brush Comb is suitable for gentle, pain-free detangling. It has oil treated bristles for a natural anti-microbial and anti-inflammatory effect. Suitable for sensitive scalp, and fine/damaged hair.
How to use: Blow-dry with Detangling Bamboo Wood Paddle Brush. Finish with your choice of serums to eliminate frizz and split ends.
Dermatologist tip for treating unruly hair
Blow-drying regularly with a heat-controlled hair dryer and a paddle brush can help to keep your tresses in check without damaging it excessively.
Hair tangles are more common when there is cuticle damage. By comparison, smooth, closed cuticles are less likely to encounter snags which are the primary cause of tangles and knots. The Detangling Bamboo Brush Comb is made with anti-static bamboo bristles that a cuticle smoothening effect.
For damaged, chemically-treated hair and split ends
The LipiSilk™ Serum is enriched with Linoleic acid for deep repair of hair shaft, Vitamin E which is a bioactive antioxidant, and Purified seed oil of Hippophae rhanoides (Sea Buckthorn Oil). It coats and penetrates hair cuticles to repair hair damage and reduce breakage
Plant oils and its benefits for hair
Plant oils have been known for centuries to help improve hair conditions. Bioactive substances in plant oils have functional properties such as moisturizing, conditioning, anti-inflammatory and antioxidant activity. These substances are mainly found in the non-saponifiable (non-soaping forming) lipid (NSL) of plant oils. As a result, the effectiveness of plant oils are significantly reduced after undergoing chemical refinement methods in manufacturing but are still widely used and purported to be effective in many cosmetic hair care products.
Research shows that Sea Buckthorn Oil strengthens hair, targets the recovery of the damaged hair, restores elasticity and prevents hair loss.
The LipiShine™ Serum is made with Oleic acid for cuticle softening, Linoleic acid for smoothening, and Purified seed oil of ethanolic extract of Carthamus tinctorius. It coats and penetrates hair cuticles to repair UV/chemical induced damage.
How to use: Warm-up 1-2 drops of LipiSilk™ / LipiShine™serum in the palms of your hands and run fingers through dry hair to distribute the oil evenly.
https://drtwlderma.com/wp-content/uploads/2020/11/girl-555657_1920.jpg
1280
1920
Administrator
https://drtwlderma.com/wp-content/uploads/2023/02/Logo-300x128.jpg
Administrator
2020-11-16 17:06:19
2021-09-01 21:10:02
At Home Hair Treatment: The Hair Ritual