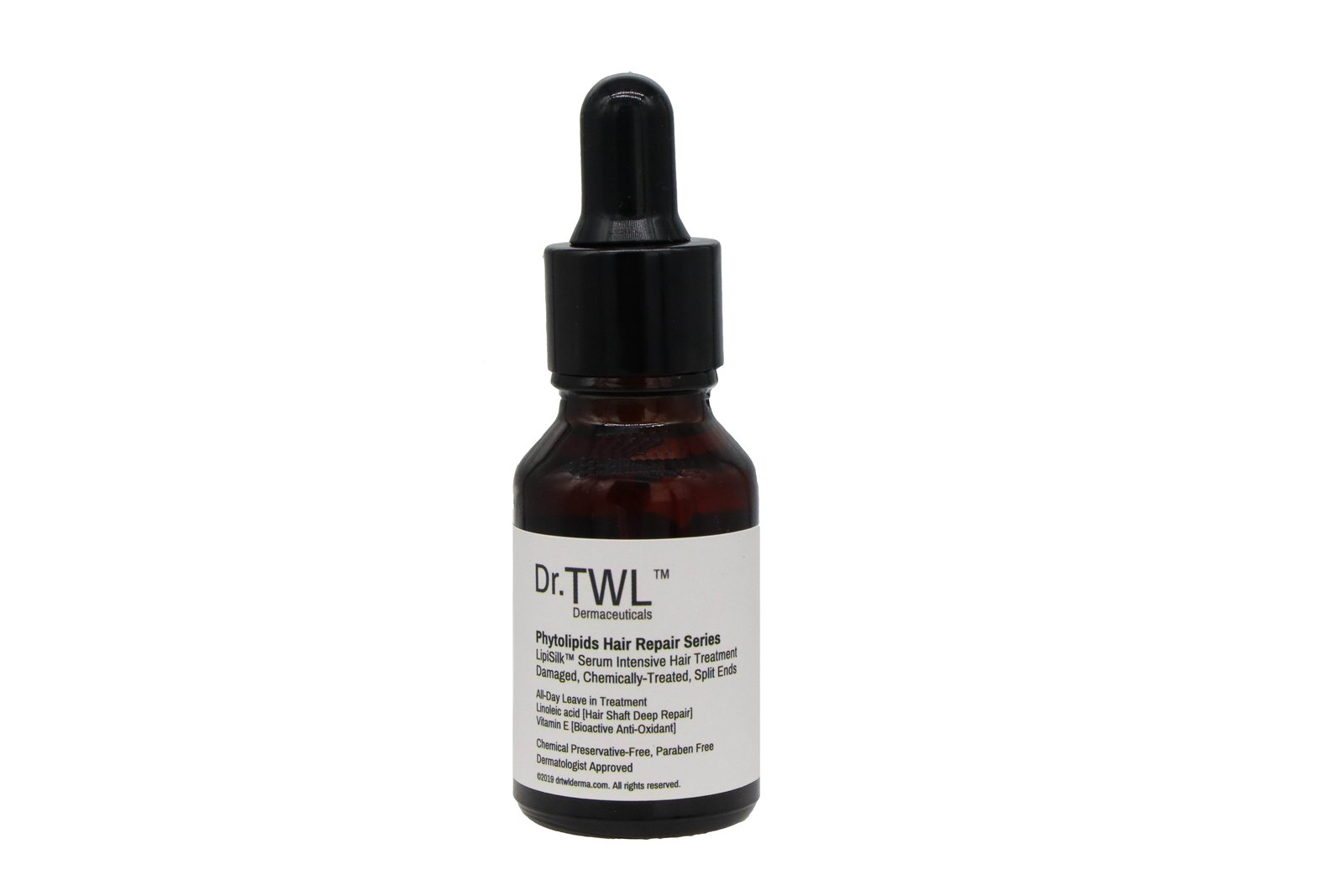 Dr.TWL Hot Oil Treatment – Phytolipids Hair Repair Series LipiSilk™ Serum Intensive Hair Treatment
The Dr.TWL Hair Mask Bar System is developed with a focus on environmentally conscious, science-backed botanical ingredients for a deep-conditioning home hair spa treatment. Our haircare formulation delivers salon-results, without the toxic chemical runoff associated with the traditional haircare industry.
DESCRIPTION
[15ml]
Damaged, Chemically-Treated, Split Ends
[Hot Oil Treatment] Use with CutisCool™ Biological Gel Hair Cap 
Style: 1-2 drops is sufficient for shoulder-length hair. Applied to ends and areas of frizz. 
Our hair serums are formulated both as leave-on conditioning serums and monthly hot oil treatments. 
INGREDIENTS
Linoleic acid [Hair Shaft Deep Repair]
Vitamin E [Bioactive Anti-Oxidant]
Purified seed oil of Hippophae rhanoides (Sea Buckthorn Oil)
BENEFITS
LipiSilk™ Serum has unique physicochemical properties that coats and penetrates hair cuticles to repair hair damage and reduce breakage
100% pharmaceutically purified with no additives
Chemical Preservative-Free, Paraben Free
Dermatologist Approved
DIRECTIONS FOR USE
Apply 3 drops and run fingers through hair to distribute oil evenly. Alternate use with LipiShine™ Serum  for optimal effects.
[Hot Oil Treatment]
Use with CutisCool™ Biological Gel Hair Cap
STEP 1: After washing off the Hair Thickening Mask, apply LipiGro™ Serum on scalp, LipiShine™ Serum and LipiSilk™ Serum on hair shaft. 
STEP 2: Microwave Cap for 60-90s. Test temperature before use to avoid scalding. For best results, wear a disposable shower cap underneath. Wear for 15-20 minutes while enjoying a cup of tea. Rinse off thoroughly with cool water.
Read more about our 7-Step Hair Ritual for a healthy scalp and luscious hair here.