Best Sonic Cleanser: Your Complete Dermatologist Guide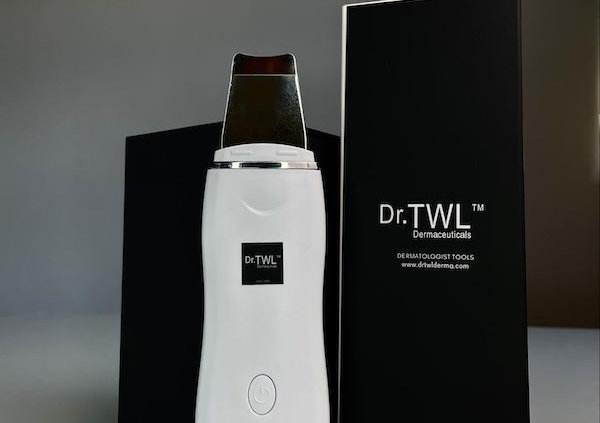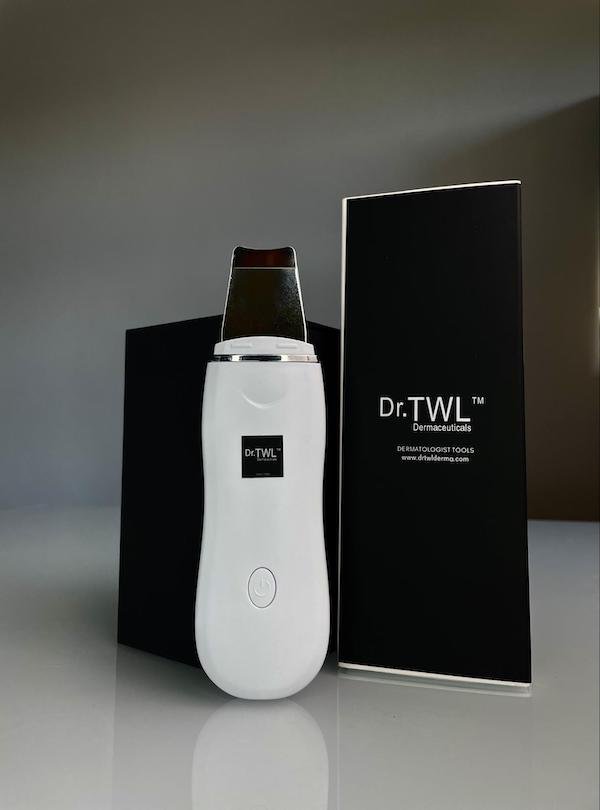 Sonic Cleansers – Are They Worth It?
Which sonic cleansing device should you choose? There are important considerations, including price point. This article comprehensively reviews the different models available as well as the best sonic cleanser if you are on a budget and do not want to sacrifice on quality and efficacy.
Sonic cleansers utilize ultrasonic vibrations to remove microparticulate matter which settles on skin. Traditional double cleansing means cleansing first with an oil or emulsion-based cleanser to remove oil soluble makeup debris, such as pigments and oils. Then followed by a foaming cleanser. This helps to further emulsify the residual dirt and grime before it is rinsed off with water.
The Best Sonic Cleanser to Restore Your Skin Microbiome
The importance of cleansing cannot be overemphasized. Notably, many skin conditions arise from an imbalance in the skin microbiome. The microbiome is an ecological system that encompasses a set of healthy bacteria, fungi and other organisms such as yeast. The ecological system helps to prevent pathogenic bacteria or fungi from taking root and causing an infection. As a result, this allows for healthy functioning of the skin's immune system. Furthermore, this makes the skin resilient as a barrier to protect one from the external environment. Also, use of sonic cleansers can prevent inflammation. Inflammation can arise in the form of dermatitis or other forms of eczema.
Beating Acne with the Best Sonic Cleanser in the Market
Acne is a genetic condition that is also influenced by bacteria the microbiome represents the totality of microbes and organisms that inhabit one's skin.
Healthy bacteria do not cause skin disease. However, in the case of acne sufferers, the bacteria P. acnes triggers of worsening inflammation and comedonal formation.
This drives the formation of various types of acne. The different types of acne includes whiteheads or blackheads (also known as comedones), as well as larger bumps such as papules, and even cysts. Using a well-designed sonic cleansing device can help to improve the overall microbiome of the skin.
How do Sonic Cleansers Work?
Sonic cleansing works by reducing the load of bacteria on the surface of your skin and also can target the microparticles which can increase the rate of skin aging. This is the latest understanding of skin aging according to dermatological research. According to the skin exposome concept, pollutants, including PM 2.5 particulate matter can actually cause free radical damage. This also known as oxidative stress. Consequently, the oxidative stress triggers off cell damage and lead to skin signs of aging. For instance, aging on the skin includes wrinkles and loss of elasticity. Skin ageing also causes reduced barrier function, skin dryness, as well as sagging.
When choosing a sonic cleanser, it is important to consider the design as well as if it is suitable for an individual with sensitive skin. Sonic cleansers were first introduced into the market by the now defunct brand Clarisonic. The Clarisonic sonic cleansing device was hailed as the best sonic cleansing device. It was featured in dermatological research. In a consensus meeting, it highlighted the function of sonic cleansers restoring the skin microbiome. This means that sonic cleansers are helpful in treatment of skin diseases aggravating from microbiome imbalance. For example, such dermatological conditions include acne, rosacea, perioral dermatitis, seborrheic dermatitis and face eczema. The original brush style of sonic cleansers have evolved to silicone bristles, with prominent brands jumping on the bandwagon.
What is the Best Sonic Cleanser Design?
Here are the considerations which we included as part of the R&D team. In our quest to create the best sonic cleanser design, we decided on these important features
1. Blade Style Sonic Cleanser modelled after the original Korean sonic cleansers used in dermatology clinics
The blade-style sonic cleanser, sometimes called a face scrubber, was popularised by Korean medi-facials. This is the commonest style we use in dermatology and aesthetic clinics for medi-facials because it allows the user 100% control. It has zero to minimal skin irritation as opposed to brush or silicone sonic cleansers. This is because of the ergonomic contour built-in the design of the facial scrubber.
2. A Durable Sonic Cleanser lasts for a long time and is environmentally friendly
304 rust and corrosion-resistant stainless steel naturally resists growth of bacteria and does not degenerate or degrade unlike other materials such as brushes and silicone which are subject to wear and tear. Additionally stainless steel is completely inert which means it will not react to any of your cleansers or skin lotions which may contain acids such as AHAs (alpha-hydroxy acids) and salicylic acid.
3. Lightweight yet strong
The blade-style device we designed as the best sonic cleanser prototype is encased in seamless durable ABS plastic with a cover to ensure hygiene. Consequently, this can be easily brought in your travel kit and fit in your cosmetic bag.
4. Best Value Sonic Cleanser
With the price range of higher end sonic cleansers starting at the $300 mark upwards, we (together with our materials and design team) created an at-home device that is dermatologist-approved, tried and tested in clinics that will not break the bank. The minimalist design of the blade-style offers the best sonic cleanser design in terms of budget. With a simple yet effective design, we can keep costs low for the consumer. Launching at just $150, at a third of the price of premium priced sonic cleansers. It also comes with a launch free gift of a full sized Mineral Booster valued at $130, this truly can be the best sonic cleanser that is not just quality but at a wallet-friendly budget.
5. Cleanse + Treat: Dual mode function vs brush/silicone sonic cleansers which are single-function
There are two main designs of sonic cleansers available in the market. According to Singapore dermatologist Dr Teo Wan Lin, the blade style sonic cleansing device, modelled after the original Korean face-scrubber, is used primarily in clinics because it is able to reduce skin irritation by virtue of its design.
In addition, the blade-style is truly the best sonic cleanser design because even though it is minimalist, it packs two critical functions. The first mode of ultrasonic cleansing delivers the best sonic cleanser device experience in record time of 24,000 pulsations/sec. This is easily triple or quadruple that of brush or silicone sonic cleansers. The entire facial experience can complete in 60 seconds flat for the seasoned user.
6. The Speed At-Home Facial
No time for an hour long DIY facial? Neither do we. This 24,000 pulsations per second model directly models after our dermatology clinic handpiece that delivers a speed facial before the chemical peel or microdermabrasion procedure. In addition, use with the Skin Healing Polysaccharide Mask with the Sensorial Amino Acid 360°Masque to discover the ultimate speed at-home facial to add to your self-care routine. The starter kit of the sonic cleanser comes with the mineral booster which completes the nutrient delivery section.
The premium kit adds on the full double-cleansing duo, anti-inflammatory Le Lait Milk Cleanser and antibacterial Miel Honey Cleanser at a special deal price. The starter discovery kit which includes the full sized skincare is perfect for those searching for a value for money, best sonic cleanser design (in our opinion). At the same time you get to try the full-sized, dermatologist recommended cosmeceutical products to see the best benefits for your skin.
This video runs through the positive benefits of this dermatologist recommended sonic cleanser
7. Hygiene and Efficacy
One key reason we use the blade style in clinics as opposed to brushes is because it is the best sonic cleanser design that combines speed and efficacy. It is also most hygienic as a reusable durable handpiece that can undergo disinfection easily.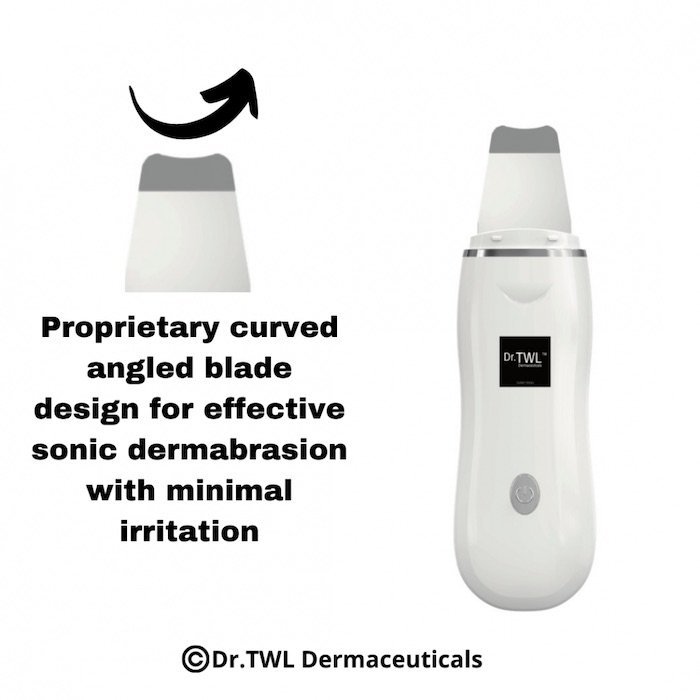 So…How do You Choose the Best Sonic Cleanser for Your Skin Type?
Also, a well-designed sonic cleansing device is comfortable and efficient. We summarise the positive points here. Whether you have sensitive, dry or acne prone, oily skin, this blade-style minimalist sonic cleanser is suitable.
A Sonic Cleanser for Sensitive Skin
The ergonomic contour of the stainless steel blade style Sonic cleanser enables the user to have complete control without any sharp edges. In addition, the proprietary curved angle design allows for double function – cleansing and treating. Furthermore, the optimal angle serves as an effective dermabrasion tool with ultrasound without any friction.
By minimizing friction on the skin, the device serves as the best sonic cleanser in terms of design for sensitive skin users who desire mechanical exfoliation that does not irritate sensitive skin.
Effectively removes PM 2.5 pollutants that cause skin ageing
The blade-style sonic cleanser is able to generate a higher number of sonic pulsations per second. At 24,000 seconds pulsations per second, this micro pulsations shakes off all the microparticulate matter.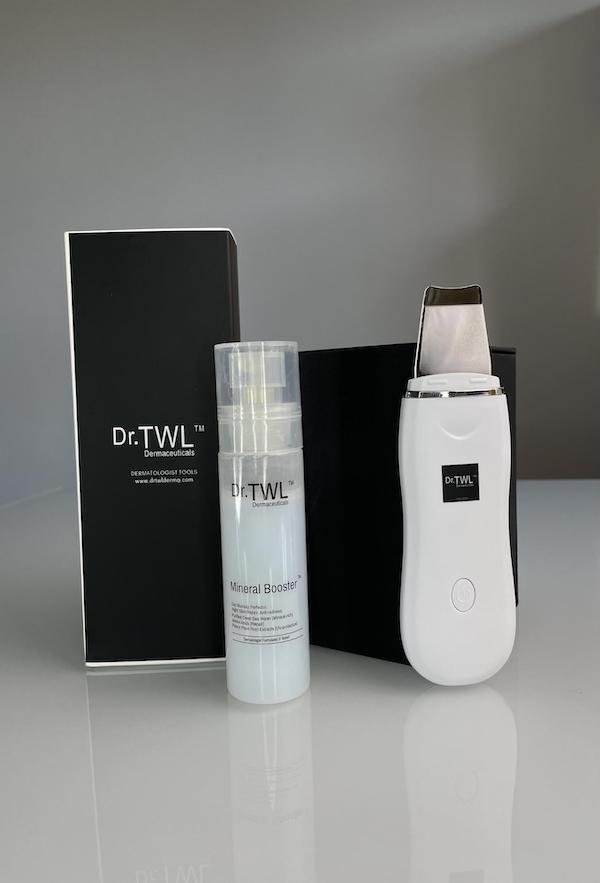 Delivers antioxidant nutrients to fight oxidative stress
This minimalist sonic cleanser design is also a clever treatment device as well. The handpiece is reversible in terms of being able to enhance antioxidant nutrient delivery to the skin as well as an ultrasonic cleansing mode.
Why this is truly the best sonic cleanser design
A 2-in-1 Speed facial on a budget
This is how it works. When the blade style Sonic Cleanser anchors in a top down fashion with the curved part pointing downwards, the sonic pulsations gently dislodge the microparticulate matter.
When the sonic cleanser is used in the opposite direction with the curved tip pointing upwards, it is able to nebulise the antioxidant solutions applied on skin and this increases the droplet surface area. This enables quicker and more efficient penetration and absorption through the stratum corneum, becoming an effective tool for enhancing cosmeceutical delivery.
For more on the blade-style sonic cleanser that is dermatologist recommended for use on all skin types, please click here.
Purchase this off our website, and you'll be able to get $10 off $100 on your first purchase. Enter code <NEWBIE> at checkout.
https://drtwlderma.com/wp-content/uploads/2021/12/Sonic-Cleanser-Starter-Kit.jpg
810
600
Administrator
https://drtwlderma.com/wp-content/uploads/2023/02/Logo-300x128.jpg
Administrator
2021-12-21 23:37:44
2022-06-11 14:15:02
Best Sonic Cleanser: Your Complete Dermatologist Guide