Best Acne Scar Treatment Product: Microdermabrasion Explained

Acne Scars are the result of inflammation. If you suffer from adult hormonal acne, the cause of scarring can also be due to underlying photo aging. This leads to an increase in the time taken for any scar to heal. In this article, Dr. Teo Wan Lin, accredited dermatologist at TWL Specialist Skin and Laser Center, goes through important parts of an acne scar treatment product using our proprietary home microdermabrasion technology. The device comes with a full set of medi-facial solutions for the whole home facial spa experience.
Every purchase of the SilkPeel acne facial home set comes with a complimentary 30 minutes video tutorial for coaching
The SilkPeel Home Medifacial Kit is the Perfect Acne Scar Treatment Product Set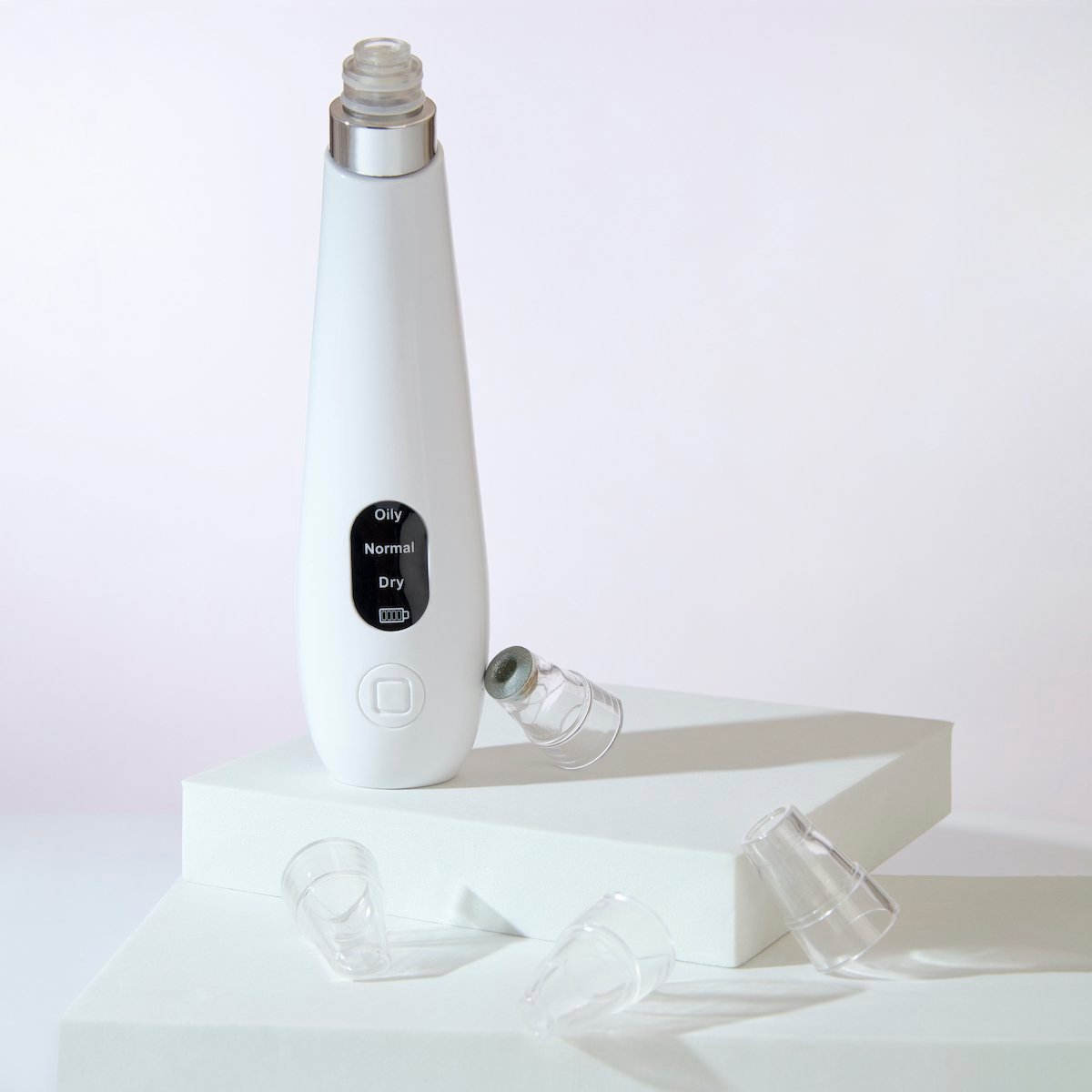 We show how you can incorporate and effective acne scar treatment facial for yourself at home using home device technology.
Best Acne Scar Treatment Product for Home Use
Home Microdermabrasion is a fairly recent technology we adapt from clinic based or office based microdermabrasion offered by dermatologists. In Singapore there are two commonest types of microdermabrasion in the clinic setting. One of the two types is vacuum microdermabrasion which uses the HydraFacial machine or it's Korean counterpart, the Aqua Peel. Both machines rely on vacuum and gentle abrasion on the surface of the skin, as well as simultaneous infusion of antioxidant solutions to increase skin absorption of antioxidants. This helps to reduce scarring and inflammation. The vacuum microdermabrasion process can also renew your skin cells and can increase the rate of cell turnover. Consequently, it enhances and shortens the skin acne scar healing time.
The second type of microdermabrasion is with a diamond tip. This is a lot more abrasive and generally performed by licensed physicians only rather than aestheticians. In this case, the tip of the hand piece for a clinic based microdermabrasion is actually made of diamond. This can be fairly abrasive if used incorrectly. Nevertheless, it has effective results in terms of stimulating collagen production, which can enhance the healing of indented acne scars.
Acne Scar Types: What products work?
There are two primary types of acne scars. The first would be the epidermal acne scars which refer to a change in the color of the scars of the skin. This is in the form of post inflammation erythema. Another type of acne scar is post inflammation hyperpigmentation. The second type of acne scar refers to dermal scarring. Dermal scarring is deeper. It is classified further into ice pick versus boxcar type of scars. Ice pick and box car type scars can be the most difficult to eradicate. The good news is that for microdermabrasion with a diamond tip, it can be helpful for individuals with dermal acne scars.
It is important to highlight that the dermal acne scars such as ice pick and boxcar type scars tend to associate with cystic acne. Therefore, if you have cystic acne that has not have adequate treatment and you still suffer from active acne, we recommend that you seek a dermatologist for treatment. This is because acne scar treatment can aggravate existing cystic acne. Acne scar treatment should only commence after cystic acne has resolved and stabilised for at least three months. This is because dermabrasion or any other form of acne scar treatments such as CO2 laser resurfacing can worsen inflammation and trigger off a flare up.
An Ideal Acne Scar Treatment Product
The SilkPeel is hence the best treatment option for those on a budget and those who still suffer from active acne. The device can treat active acne with the infusion of anti-inflammatory antioxidant solutions targeting both teenage and adult acne. It has a gentle skin renewal function suitable for daily use to prevent build up of dead skin. This can worsen blackheads and whiteheads (comedones). The microcrystalline head is a highly effective skin resurfacing tool that mimics in-clinic microdermabrasion technology that increases collagen production. Consequently, this reduces the healing time for acne scars and also treats deeper dermal acne scars.
Why Microdermabrasion is the Ideal Acne Scar Treatment Tool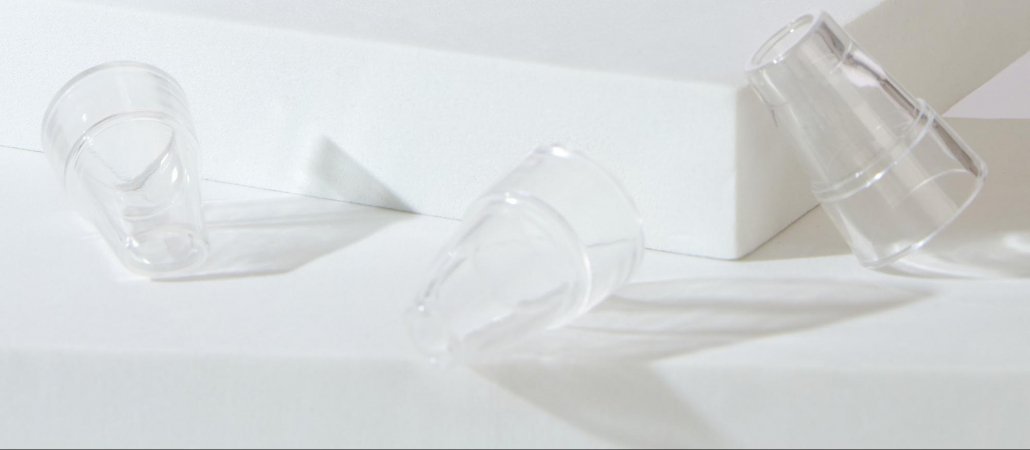 "Microdermabrasion can work well for acne, acne scars as well as for photoaging. An effective at-home adaptation of the in-clinic microdermabrasion procedure can be in the form of a handpiece that is safe for use by laypersons and also on sensitive skin users," Dr. Teo Wan Lin, Singapore dermatologist and Chief Scientific Officer of Dr.TWL Dermaceuticals.
Home Microdermabrasion Facial for Acne Scars
Technologies for home devices have evolved. You can now use dermatologist approved technologies in the comfort of your own home.
The SilkPeel is an example of a home microdermabrasion device that can target both active acne as well as acne scarring. Furthermore, the device does so without aggravating the underlying condition because of the unique design with two hand pieces.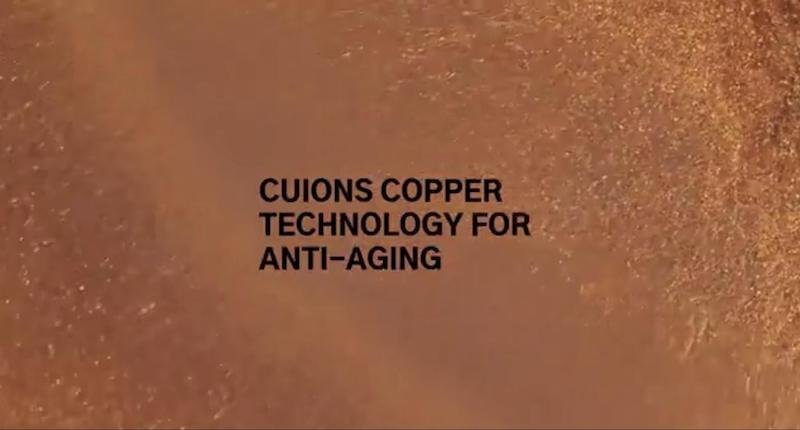 Acne Scar Treatment At Home with a Facial Kit
These characteristics make the SilkPeel easily the best acne scar treatment product for home users. It is based on clinic microdermabrasion technology, designed by a dermatologist and is a fraction of the cost of other home devices available at similar quality. For users considering fractional CO2 laser treatment(costing usually $1,200 upwards) with a dermatologist, this SilkPeel acne home facial kit is an effective and budget-friendly option to start with.
The Acne Scar Treatment Product with Immediate Results
We can expect results immediately when using the device with our polyglutamic acid based medi-facial solutions. This is because the polyglutamic acid molecules settle directly on the surface of the skin, combined with the immediate skin renewal effect of vacuum microdermabrasion. For acne scarring such as post inflammation hyperpigmentation and erythema, regular usage 3 times a week with the vacuum microdermabrasion head yields results of reduced scars in as early as 2 weeks. For deeper dermal acne scars such as ice pick and box car type scars, this device has been used successfully on patients in a Singapore dermatology practice, with improvement after regular use in 1-3 months.
The unique features of the SilkPeel which make it an ideal device designed for acne scar treatment include the following:
Firstly, we have the vacuum handpiece which we can adapt to suit various parts on contours of your face. This is similar to HydraFacial or the Korean Aqua peel technology whereby there is the use of a vacuum technology to abrade the skin gently while infusing antioxidant solutions at the same time. The SilkPeel acne scar treatment product set comes with antioxidant solutions, which cater specifically for post inflammation, erythema, post inflammation, hyperpigmentation. The solutions also contain active ingredients that reduce inflammation associated with acne.
Why you should get this Acne Scar Treatment Set?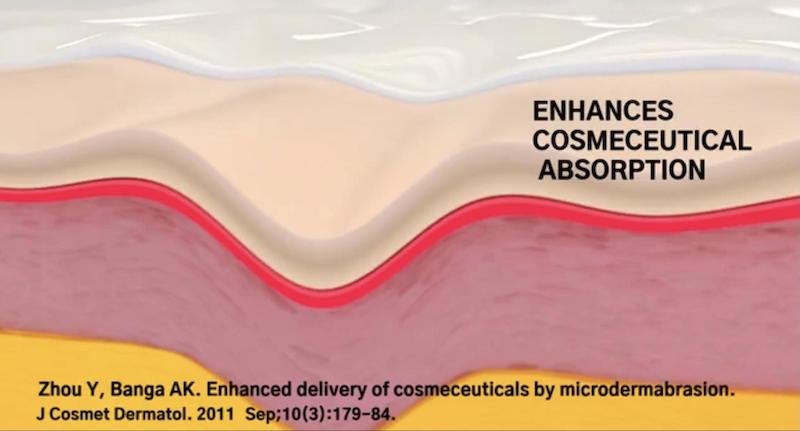 Durable, Long Lasting Microdermabrasion Facial Device
The second handpiece of the SilkPeel microdermabrasion home device is a micro crystalline copper head. This is a novel technology deriving from traditional diamond tip microdermabrasion. However, it is far more suited for home use by lay persons because the microcrystalline structure of copper copper oxide in this case, makes it not just highly inert but also very gentle on skin. At the same time, it is able to microscopically exfoliate the skin without causing skin irritation.
Gentler and safer than a Chemical Peel
This is easily more tolerable than a chemical peel, especially for those who have dry and sensitive skin. Acne scar treatment is very effective with microdermabrasion if used appropriately. We design the microcrystalline tip to last for over 10 years which we also equip with concomitant vacuum suction technology. This can enhance the penetration of the barrier gel mask which we recommend to use with it. The barrier gel mask in this case is the Sensorial Amino Acid 360° Masque.
Synergy of Botanicals and Skin Science
There is a unique balance of botanicals in this gel mask which further enrich the formulation and reduce post inflammation, erythema and hyperpigmentation associated with acne scarring.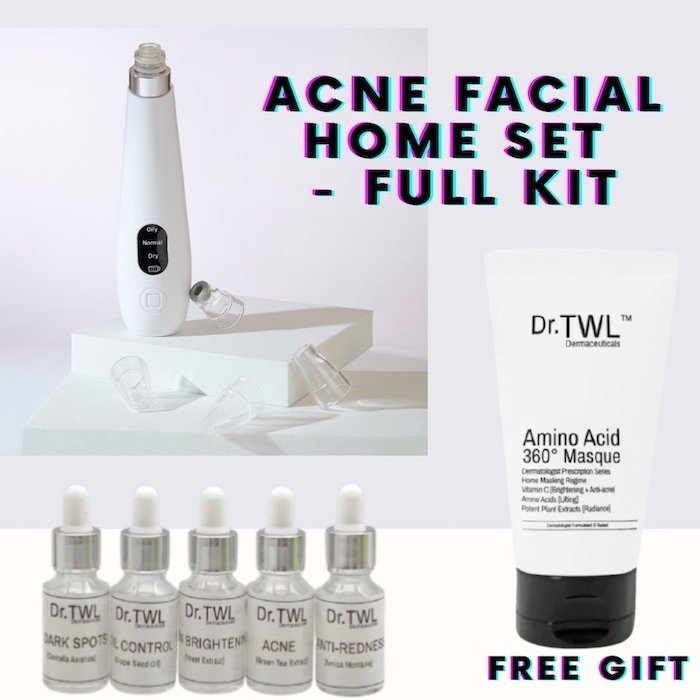 The Silkpeel Acne Facial Home Set is available at a discounted gift set rate of $450, with a complimentary set of medi-facial solutions as well as theAmino Acid 360° Gel Mask valued at $220.
https://drtwlderma.com/wp-content/uploads/2019/10/Pic_10.jpg
1200
1200
Administrator
https://drtwlderma.com/wp-content/uploads/2023/02/Logo-300x128.jpg
Administrator
2021-12-16 00:39:03
2021-12-20 16:42:58
Best Acne Scar Treatment Product: Microdermabrasion Explained