Pure Natural Water Peels & Gels: K-beauty Secret to Glowing Skin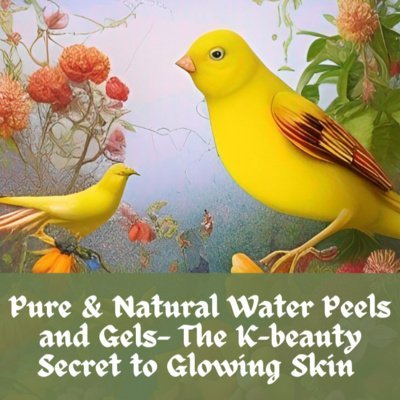 Asian Beauty R(evolution)
Thank you for joining me on another podcast episode of Asian Beauty Secrets. Today, we will discuss Asian beauty's most important contribution to the world of skincare and I wager… dermatology — the art of the exfoliation and face masking. Today's episode will focus on skin exfoliation methods such as water peels and we shall begin with the scientific definition of exfoliation.
Simply put, exfoliation is the process whereby we remove dead skin cells from the surface of the skin. As one grows older, the skin cycle lengthens. This means that dead skin cells persist for a longer period on the skin surface, leading to dull looking skin. Traditional exfoliation relies on using abrasive beads to slough off the skin surface. These methods are not the recommendation by dermatologists. This is because even for oily skin types, physical exfoliation does damage the skin barrier which can lead to irritated skin. Chemical exfoliation is the preferred method, which is covered in the next section on face peels.
Chemical Peels
Conventionally, chemical peels are wash off skincare products that contain acids such as alpha hydroxy acids (AHA), beta hydroxy acids (BHA) as well as newer acids such as poly hydroxy acids (PHA). These exfoliate the skin on a microscopic level. They slough off dead skin cells as the products are left on skin for a few minutes.
Care must be taken when using higher concentration peels such as those licensed for use in dermatologist offices. Leaving on for a longer duration can cause irritation, or even lead to a mild chemical burn. Acid peels also increase skin sensitivity to sunlight for about 2 weeks after. Home use peels are best formulated at lower concentrations of glycolic and salicylic acids. However, these are less effective, usually left on overnight and nevertheless can lead to skin irritation. My preference is for bromelain and papain peels for home chemical peels. These are derivatives from enzymes of the pineapple and papaya fruits, known as enzyme peels.
Water Peels: K-Beauty Secrets to the Glow
When we were already familiar with chemical peels — K-beauty taught us the art of water peels. And this is where it gets juicy.
In my opinion, before the world was introduced to hydrafacial — well, there was the aquapeel. I may be wrong; the chronology does confuse me a bit. After all I am but a dermatologist… not a (skin)archaeologist. So I might have gotten the dates wrong. Water peels are quite a nifty trick. The microdermabrasion process was already well known, with the abrasive diamond tip that physically exfoliated skin. It was an alternative to chemical peels.
What are water peels?
To be honest, this isn't exactly clearly defined. As a dermatologist — I have to admit that this term isn't anywhere near what I would deem scientific. So I am relying on semantics only as I attempt to dissect this concept for you. We can regard any process that helps to exfoliate skin objectively as a peel. And by exfoliation we must refer to the physical removal of dead skin cells and debris.
There exists then the following concepts:
1. Ultrasonic cleansing devices use water, too
The sonic cleanser is one example of a device that harnesses sonic wave technology and the natural cleansing properties of water to dislodge debris and dirt. It simultaneously cleanses the skin and stimulates collagen production.
Why you will love this: Anti-age, Renew and Cleanse all at once!
The minimalist design of the Sonic Cleanser by Dr.TWL Pharmacy makes it a welcome addition to anyone looking to upgrade their skincare routine. Shaped like a USB-stick, it has double functions. The first— dislodging makeup residue and airborne pollutants that have settled on skin. This is important for reducing oxidative stress on skin— well known to accelerate skin aging.
2. Micellar Textiles and Water
This reusable peel pad utilises a form of microfibre engineered for skin exfoliation. Without any soaps/lathering agents— this truly is a one-step cleansing/peeling regimen with water alone.
Why you will love this: Minimalist Cleansing, On-the-Go; Chemical-free!
The beauty truth we really wished we knew before — makeup wipes may seem like life savers, but harsh surfactants are usually found in these wipes too. The real trade-off is the weakening of the skin barrier. The beauty of textile engineering (our expertise) is that materials themselves can affect the microenvironment of skin. We can harness this in skincare, like in cleansing as well.
3. Gel Peeling
This I have to say… is a godsend for those with sensitive skin. Peeling gels are a form of physical exfoliation — popularised by J-beauty. Here's the science: peeling gels actually don't quite peel the skin the way we expect chemical peels to. Remember how we mentioned that chemical peels microscopically dissolve dead skin cells? Well, in gel peeling — these gels use molecules known as carbomers and cellulose; these molecules then attract the oil and by interacting with water present in skin— these then form a fibre that pushes out the oil from the deeper layers of skin we know as the sebaceous glands. As the fibre forms, it leaves skin feeling softer and cleaner.
This is why we see the gel pilling when you start rubbing it.
Why you will love this: Can we say we can't get enough of this skin-catharsis? It's also perfect for sensitive skin.
The best part is, with this peeling gel — a powder- to liquid formula; we guarantee it isn't just 100% pure, but also natural.
4. A Spiny Water Peel— Spongila Lacustris
Not quite a water peel per se; but the sea sponge that peels your skin, well, she lives in water. So the inner beauty fiend in me must fight the rationality of the (insane) dermatologist and insist that this is a form of water peel. Hear me out. Spongilla is mostly consisting of water. If you've heard of microneedling — well here's a lesser known natural microneedling hack: The spicules of this sea sponge known officially as spongilla lacustris function as gentle microneedle.
It's a 100% nature derivative too.
Why you will love this: besides being kind of cute, this spiny creature has the ability to deliver micronutrients and resurface skin
All that safely in the comfort of your own home.
5. Aqua Peel – The Real Deal
This is probably what we are most familiar with — known in the west as the hydra facial and what bona fide Asian beauty enthusiasts recognise as the aqua peel. The aqua peel uses the vacuum microdermabrasion method (inspired by the original diamond microdermabrasion tip) to resurface the skin — harnessing the natural cleansing properties of water— this time infused with antioxidants. The SilkPeel by Dr.TWL Pharmacy is a handy USB-rechargeable device that does exactly that— without the abrasive properties of the original in-clinic microdermabrasion process.
Why you will love this: Suitable for all skin types.
If you have oily skin and need a deeper exfoliation, the Silk Peel allows for adjustment of intensity to suit different skin types — low for those with dry sensitive skin, medium for those with combination skin and high intensity for those with oily skin types.
The aqua peel is also what we know as the Korean medi-facial. The concept is well known, but here's the real secret — the active ingredients in the medi-facial solution are what makes the real difference. Anti-oxidant solutions can be formulated to enhance skin resilience — which is in my opinion the best way to fight photo-aging. We know sunscreen and sun avoidance is important, but what K-beauty teaches us is that we can harness the anti-oxidant reserve in our skin to help fight sun damage too. And the aquapeel turns out to be one of the best ways to do so.
If you've enjoyed today's podcast — do remember to leave us a 5-star rating and also head over to our pharmacy website www.drtwlderma.com where you can get product recommendations for pure and natural water peels. Till the next episode!
https://drtwlderma.com/wp-content/uploads/2023/02/Asian-Beauty-Water-Peels.jpg
400
400
Administrator
https://drtwlderma.com/wp-content/uploads/2023/02/Logo-300x128.jpg
Administrator
2023-02-17 16:22:01
2023-02-23 01:28:25
Pure Natural Water Peels & Gels: K-beauty Secret to Glowing Skin