A Dermatologist discusses Hormonal Acne- How does one effectively treat Hormonal Acne?
Hormonal Acne
For many people, blackheads, whiteheads and pimples are a normal part of puberty. However, for some, acne can be a stubborn problem that occurs well beyond their teenage years. This is known as Hormonal Acne. Hormonal acne is characterised by painful and unpleasant pimples. It most commonly appears in adult women ages 20 to 40. In this article, I will be sharing about the science behind hormonal acne and the recommended treatment options.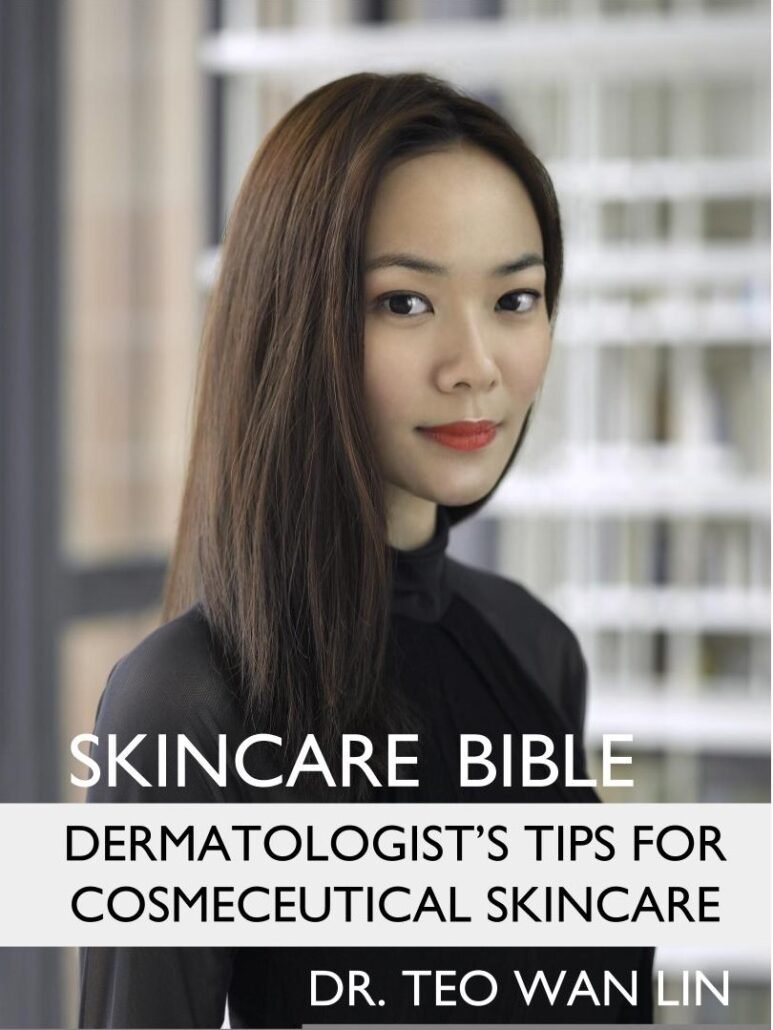 What is hormonal acne?
Hormonal acne occurs with flareups during certain periods of the menstrual cycle. Hormonal acne also tends to present itself as large painful cysts around the chin and jawline area. It can be related to an underlying gynaecological problem known as polycystic ovarian syndrome whereby the sufferer also has irregular menstrual cycles, excessive facial hair growth, weight gain as well as adult acne.
Who are typical sufferers of hormonal acne?
Sufferers of hormonal acne tend to be adult females who find that the acne persists beyond puberty. In my knowledge, there has not been any clinical epidemiological studies, performed by dermatologists, on the incidences of hormonal acne. However, in my practice, out of 10 adult women that I see, a good 60 or 70% would report an influence of their menstrual cycle on their acne.

What is the recommended treatment option for hormonal acne?
The best-proven treatment option, first of all, is to visit an accredited dermatologist. He or she will conduct a clinical evaluation that involves inspecting for any other clinical science suggestive of a more severe underlying gynaecological issue such as PCOS. The second thing would depend on the appearance of the acne itself. If it is predominantly nodular cystic, treatment will be the same as for non-hormonal acne. However for cystic acne, which is the most severe form of acne, we treat it with isotretinoin.
I have the majority of adult females in my practice who suffer from acne start on an oral contraceptive pill that has been proven to block the male hormone testosterone. This is helpful in treating hormonal flare out of acne and this is always in conjunction with topical anti-inflammatory creams as well as physical therapy such as blue light which helps to suppress the acne bacterium, Propionibacterium acnes, in addition to lasers which can also help to control oil production.
In terms of the best proven treatment option, I think it is important to highlight that acne is a medical condition and it is caused by a myriad of factors working together. The first being your personal genetics, the second being inflammation which is influenced by your genetics as well, the hormonal fluctuations which means that your body is much more sensitive to the circulating amounts of testosterone. Excess oil production in addition to an overgrowth of bacteria. In order to treat this problem medically, you have to target several of these processes. There is no one single method. It has to be addressed holistically. If you have primarily hormonal acne, without any other family history of excess oil production, taking an oral contraceptive pill alone and treating the underlying hormonal issue if you have PCOS would help to resolve the skin problem. However, with regards to 80-90% of the females I see who have either comedonal, cystic or nodular cystic acne, we often have to approach the treatment holistically, addressing all these processes.

How can I prevent them from happening?
Unfortunately, once you are genetically coded or predisposed to have adult acne, you will only start treatment once you realize you have it. In terms of prevention, a good skincare routine is always helpful. For removing all the dirt, grime and makeup, I advocate double-cleansing. This helps overall to reduce the bacteria load on anyone's skin. It is important that we have a good balance of good bacteria and bad bacteria. People who are acne-prone tend to get secondary infections as well in a condition known as gland negative dertilitis, which for example, can occur if you have poor facial hygiene. On top of that, I use a medical grade honey cleanser which is a natural emulsifier and to kill the acne bacteria.
The Miel Honey™ Cleanser is made of a blend of nature-derived emulsifiers. It thoroughly cleanses the skin with botanical emulsifiers leaving a clean yet moisturised feel. It contains Arnica Montana Extract which stabilizes skin and reduces flaking.
Apart from that, I think the use of antioxidants serums such as vitamin C and hyaluronic acid can help to balance out the oil production on one's skin and excess oil production can lead to worsening of acne. Thus, it is an important part to control the oil production. Dr.TWL Vita C GOLD™ Serum is a stabilized form of Vitamin C which revitalizes dull skin.
Finally, at the earliest onset of acne, anything more than 5 pimples a month for example in my experience, would warrant a visit to a dermatologist, especially if one does not have a history of having acne. The earlier the start of treatment, the lower the chances of morbidity in the form of scarring as well as persistent acne flare-outs which can be very distressing.

---
The Benefits of our Anti-Acne Bundle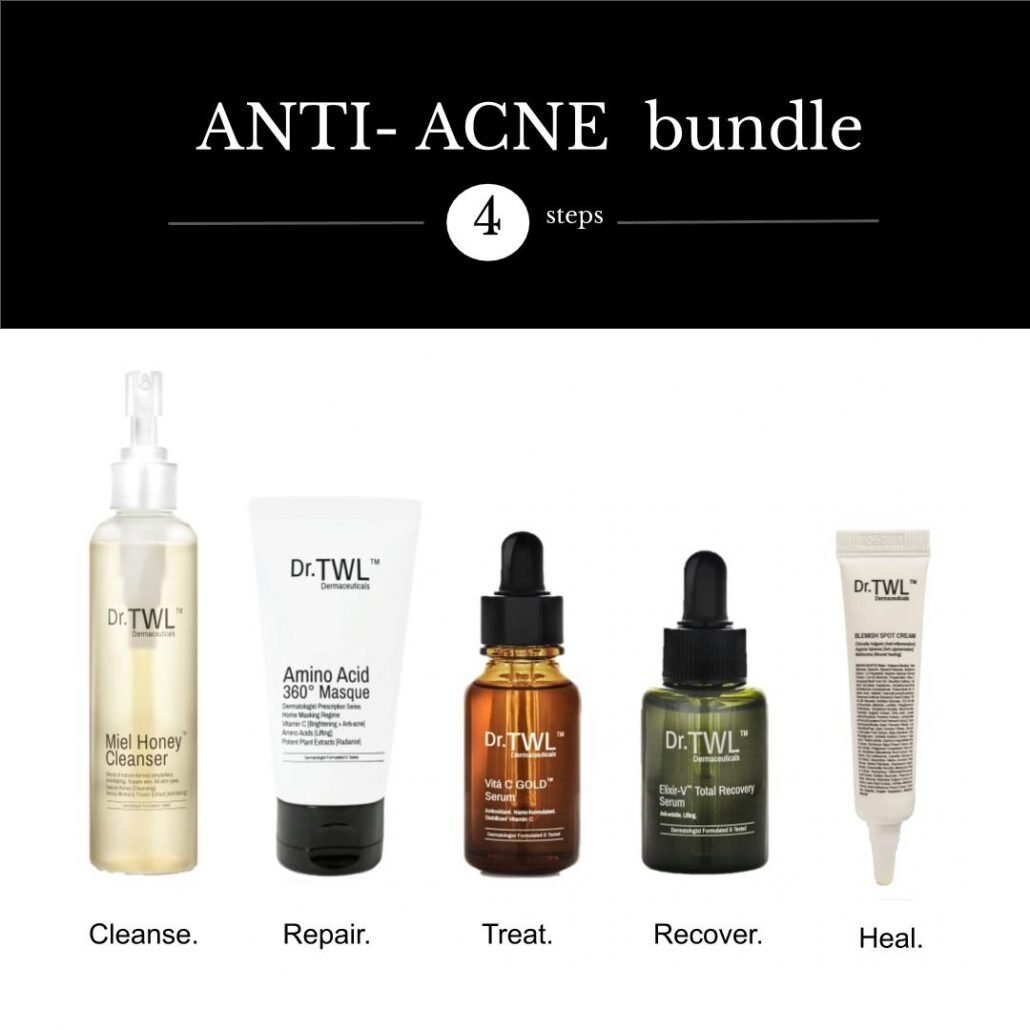 Introducing our Anti-Acne Bundle, especially curated for acne skin and be on your way to CLEAR skin with our dermatologist-tested cosmeceuticals to treat and prevent acne.

Thorough anti-bacterial cleansing of skin with botanical emulsifiers leaving a clean yet moisturised feel. Arnica Montana Extract stabilizes skin and reduces flaking.
Cult favourite mask used after lasers, peels and HIFU (High Intensity Focused Ultrasound) in our dermatologist's office, for home maintenance and care. Contains a potent concoction of skin brightening Vitamin C which soothes inflamed acne and lighten scars. LARECEA Extract with lifting amino acids penetrate the epidermis to stimulate collagen regeneration, resulting in all around 360 degrees lifting effect for youthful, smooth contour of face.
Intensely concentrated serum containing nano-formulated, stabilized Vitamin C. Revitalizes dull skin with anti-aging, antioxidant and anti-acne properties. Read about a dermatologist's tips on stabilized Vitamin C here.
ELIXIR-V™ TOTAL RECOVERY SERUM
Intensely nourishing concentrate of deep hydrating, lifting and tightening peptides for repair and rejuvenation. Anti-scarring, contains phytochemical Centella Asiatica, anti-inflammatory for acne cysts, scars and sensitive skin.
[Anti-inflammation] Research has shown that lipid extracts from six chlorella species are effective in the inhibition of the lipase enzyme and ROS produced by P. acne. The same test was conducted to test for the inhibition of pro-inflammatory cytokines and chlorella was found to be effective against inflammation1. These anti-inflammatory properties of chlorella work together to help prevent acne breakouts.
[Anti-pigmentation] Argan oil from the Argania spinosa tree contains an ingredient called sterolins which helps the skin to retain more moisture and promotes healthy skin cell metabolism. When the skin is moist, the body tones down the production of sebum, thereby preventing further acne breakouts. Vitamin E found in argan oil has antioxidant properties which help to fade acne scars by removing damaged cells and encouraging the growth of new healthy skin cells.
https://drtwlderma.com/wp-content/uploads/2020/03/Hormonal-Acne.jpeg
960
640
Joanne Lim
https://drtwlderma.com/wp-content/uploads/2023/02/Logo-300x128.jpg
Joanne Lim
2020-03-09 12:33:41
2022-05-02 21:46:00
A Dermatologist discusses Hormonal Acne- How does one effectively treat Hormonal Acne?