Interview with Lisa Von Tang
There is a warrior spirit in all of us
It's hard to find a go-getter boasting an illustrious resume. Meet Lisa Von Tang, an international supermodel, brand strategist, founder and director of online fashion retailer, Gnossem and the designer of her independent fashion label, Chi Chi Von Tang. Her label might be unapologetically rooted to the rich and diverse culture of Asia, yet contemporary in its own unique way, deftly amalgamating luxury street-cred and Asian sensation. Her statement-making collections seeks to redefine the modern 21st century women in a postfeminist world: edgy, fearless and bold, standing resolute against hegemonic constructs and patriarchy. With a brand that celebrates unique spirits, courage and color, it's no surprise that their piece-de-resistance, the Chi Chi Warrior bomber jacket has been donned by Mick Jagger, Mr. Mickey, Natalie Imbruglia and Eve.
Absolutely adored the pieces that our Dr.TWL Women of Inspirations were styled in. We heard each outfit was chosen by yourself with Dr. Teo Wan Lin to style each of the brand ambassadors, including yourself. Any inspirations and visions you guys wanted to achieve?
Yes, I was inspired by Wan Lin's idea of natural beauty, strength, and her deep sea inspiration. Beyond using deep blue, modern white, natural beauty, and botanical themes; I took each ambassador's personality into consideration. Chi Chi Von Tang is a very strong statement brand, so I'm glad that Wan Lin's ambassadors are all such unique individuals and the clothing really accentuated their character.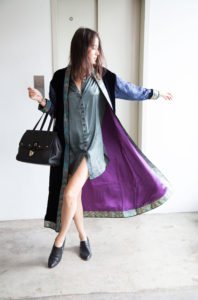 Similar to our brand, Chi Chi Von Tang's garments exude qualities of strong and independent women who aren't afraid to be different. What does it mean to be a Chi Chi lady?
A Chi Chi Warrior (#chichiwarior) is strong, and will stand up for what she believes in. She has a good balance of yin and yang, and sticks by her own values and path in life. I create jackets that make women feel empowered – they are exotic and statement; and yet can be worn in everyday life.  
What's your concept of 'being beautiful' in this millennial era where we are constantly bombarded by mass media that constantly challenges our idea of beauty?
Being authentic and having courage to follow your desires and speak from the heart.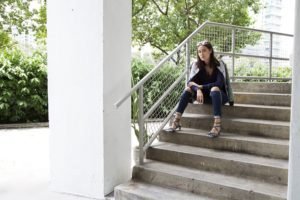 You have an amazing complexion Lisa. What is your skincare secret? Any tips or must-haves in your beauty pouch?
I'm really low key. I use Dr TWL's eye cream, and milk cleanser, as well as the hyaluronic acid serum. I also use Clarin's day/night creams, and do face masks every so often.
Any word of advice for the ladies and gents who are struggling with body image, self-acceptance and confidence issues?
Know that everyone is insecure! Keep being kind to yourself, and affirming your acceptance of yourself.  
By Shelton Chang