Facial Mist Spray: Dermatologist Best Skin Tips
Are you looking for a refreshing facial mist? How important is it to ensure that you have a facial mist spray incorporated in your skincare regimen? We talk to accredited Singapore dermatologist at TWL Specialist Skin & Laser Centre, Dr. Teo Wan Lin, on the importance of your skincare regimen, and why good hydrating facial mist is essential.
Dry Skin in Humid Singapore?
I would like to share that, while we live in a hot and humid country like Singapore, as a dermatologist, we end up seeing a lot of dry skin conditions, that results from exposure to air conditioning. The key here is the concept of transepidermal water loss. TEWL for short, is a phenomenon that is related to evaporation of water from your skin to the environment. The loss of moisture to the environment is caused by decreased ambient humidity.
Singapore's climate is humid, with up to 99% humidity in terms of saturation levels. However, we find that many such as office workers have increased water loss of the environment. This is due to the low humidity levels caused by indoor air conditioning. Those affected include even just household individuals, who are in air conditioning throughout the day,
Importance of Skin Moisturising
The important considerations here are firstly how practical is it to apply moisturiser throughout the day. The recommended skincare regimen is twice a day moisturising for individuals with healthy skin. Those who want to maintain a healthy skin barrier should do the same. Once in the morning, I recommend to moisturise with an emulsion based moisturiser. A second time of moisturising should occur in the evening with a cream based moisturiser.
It is important to add on a moisturizing hydrating facial mist for individuals with dry, normal and oily skin types. This is especially so, if they are living in either a temperate country, or even a tropical country where there is exposure to air conditioning. Applying a lotion or a cream throughout the day is not practical, especially over makeup. In addition, there are specific high concentration skincare ingredients that we can only incorporate in a facial mist. These cannot be incorporated in as high concentrations in a cream or an emulsion for example.
Active Ingredients in a Facial Mist
Polyglutamic acid is an example of such an active hydrating skincare ingredient. Hyaluronic acid is commonly incorporated in facial serums, which should be the first step of hydration after skin cleansing. The facial mist by Dr. TWL Dermaceuticals contains a base of polyglutamic acid which is 4 to 5 times more effective than a hyaluronic acid. As such, it is able to retain much more water than hyaluronic acid.
The Mineral Booster also has hyaluronic acid and other humectants like glycerin, which helps to trap moisture within the skin, preventing transepidermal water loss to the environment. This also is very relevant, because we are able to incorporate additional sun protection ingredients, which is relevant when you are living in a sunny climate like tropical Singapore. The key here is that while we need to wear sunscreen. Sun protection is not the only thing that will help to prevent and treat photoaging.
The use of antioxidant active ingredients, actually helps to fight free radical damage that occurs because of daily sun exposure. Free radicals are generated in our skin, when the sun's rays hit the surface of our skin, and also because of environmental damage. This triggers off inflammation in your skin, causing inflammaging, a process that is key in the entire aging concept. Besides, antioxidants such as portulaca oleracea which is present in the Mineral Booster actually helps to reduce the melanin activity in your skin by activating positive processes in your skin that helps to clear excess pigment.
Why is it important to use a Facial Mist?
I want to highlight that a facial mist is actually as crucial to your skincare regimen as your cleansing and moisturising. We should think of this as an addition to sun protection, because sun protection is more than just blocking off the sun's UV rays. It is also delivering additional cosmeceutical active ingredients that helps your skin to repair DNA damage.
In addition, there are many other reasons why you should incorporate a skin hydrating facial mist into your skincare regimen. It is a convenient way for you to refresh oily skin, especially when you are wearing makeup. A common worry of individuals with hyper seborrhoea is that that makeup tends to dissolve. After several hours out outdoors or even in an indoor setting. This is because the natural facial oils actually dissolve the makeup pigments.
To quickly retouch your makeup, what I recommend is use a water-based baby wipe that is alcohol-free to gently dab away the excess grime. You may also use the anti-inflammatory blotting linen that helps to control excess oil production with the botanical oils infused. This may be followed by application of your concealer or the CC cream, and finished off with the hydrating refresher spray.
Conclusion
The Mineral Booster is the perfect hydrating facial mist for individuals living in tropical Singapore, and who work in office environments or are in air conditioning for prolonged periods of time. It has features of an excellent moisturiser that your skin can immediately absorb. The facial mist also contains active ingredients such as polyglutamic acid, hyaluronic acid and glycerin, and is fortified with additional antioxidants that help your skin to repair DNA damage and combats inflammation.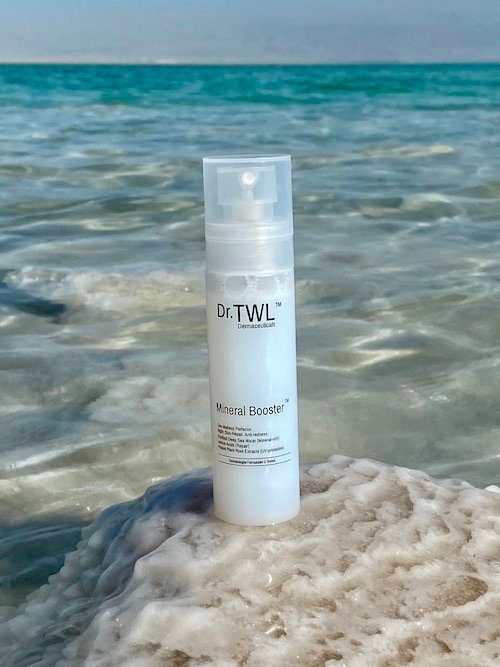 The Mineral Booster contains skin-stabilising purified deep sea water harvested from 600m below sea level.
If you have eczema, this facial mist is perfect to increase the absorption of your moisturiser. Spray over your face or the affected body area 5 to 10 times a day, and you will immediately notice an improvement in the strength of your skin barrier. In fact for this purpose, we infuse the Mineral Booster with purified deep sea water. Deep sea water has been proven in studies to have anti-inflammatory effects on skin. This is due to it's mineral composition, being rich in mineral nutrients such as Ca, Mg, Na, K, Fe. Minerals are essential nutrients for the human body. These can trigger alterations on gene expression by initiating signaling events upstream of gene transactivation. Genetics play an important role in the physiology of eczema or atopic dermatitis. Consequently, topical application of mineral-rich deep sea water helps to stabilise and fight inflammation of diseased eczema skin.
Thereafter, you can use the skin hydration analyser, by Dr.TWL Pharmacy, to accurately measure your skin improvement rate as well. This is using bio capacitance and patents technology that can accurately measure the amount of transepidermal water loss by your skin to the environment. You may get your sunprotector and mineral booster, dual bundle at Dr. TWL Dermaceuticals here.
https://drtwlderma.com/wp-content/uploads/2021/09/Mineral-Booster-Facial-Mist-Model.jpg
631
600
Administrator
https://drtwlderma.com/wp-content/uploads/2023/02/Logo-300x128.jpg
Administrator
2021-09-26 22:17:55
2021-10-03 15:41:47
Facial Mist Spray: Dermatologist Best Skin Tips