Double Cleansing Our Scalp: A Comprehensive Guide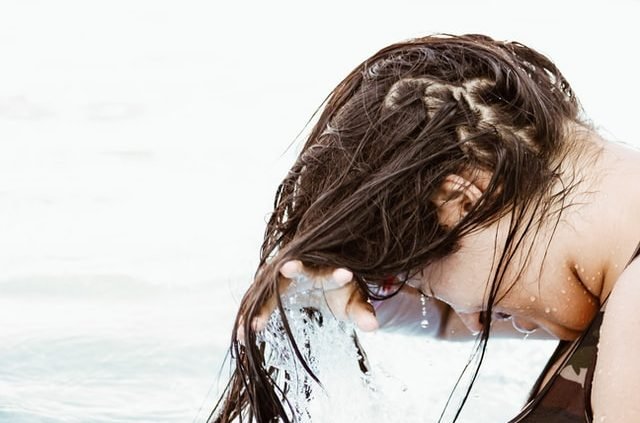 It is important for us to be double cleansing our scalp because of the following reasons which we now explain this guide.
Let's first look at the scalp microbiome. This is the balance of good and bad microorganisms present on the surface of the scalp. It determines how healthy our hair grows out to be. The overall balance depends on individual factors, such as genetics. This relates to the type and amount of sebum, or oil that our scalp produces. It also correlates to the presence of external debris, which can be styling products, dirt, grime, sweat. In a humid tropical climate like Singapore, all that can become a culture medium for increased growth of pathogenic micro organisms.
Let's now zoom in on the scalp itself. The commonest cause of scalp sensitivity and dandruff symptoms is actually a condition known as seborrheic dermatitis. Seborrheic dermatitis is the medical term for dandruff. The condition is due to an overgrowth of yeast organisms on the scalp, that causes inflammation. Double cleansing is the way to minimize bad micro organisms colonizing your scalp, causing seborrheic dermatitis. Living in a tropical climate means that you are also much more prone to have a warm humid environment. This is where there is much more pathogenic micro organisms like malassezia furfur that causes seborrheic dermatitis to grow.
Double Cleansing Our Scalp – How?
Double cleansing our scalp means the following. With the shampoo that you use, the first lather should be a quick lather starting from your scalp. Continue this up the roots and all the way to your hair ends. Rinse off once the shampoo has foamed up and gone through all of your hair. The second cleanse is going to be involving applying the same shampoo on your scalp. Now, leave the shampoo on for at least five to 10 minutes. This allows the active ingredients in the shampoo to work, and then rinse it off.
Double cleansing our scalp is only as effective as the type of shampoo, the composition of the shampoo that you are using. For general scalp health, in a tropical climate, it is important to find a shampoo that actually stabilizes the scalp microbiome. The scalp is prone to being excessively dry or excessively oily, both of which are undesirable states that can be avoided by double cleansing. If you have a history of eczema, your skin and your scalp may feel very dry. In that case, the shampoo that you use cannot be too harsh, as it will cause scalp eczema. However, even individuals with scalp eczema can have oily scalp. All that boils down to a process known as homeostasis, which is the physiologic balance that we aim to achieve with appropriate cleansing agents.
Deep Cleanse Shampoo
We use Amino Acid surfactants in the Dr.TWL Dermaceuticals Deep Cleanse Shampoo, which makes it a gentle alternative to traditional sodium lauryl sulfate lathering agents. The tradition lathering agents strip your skin and your scalp dry, and can predispose to you developing scalp eczema. It can also cause reactive seborrhoea. This means that if your scalp is oily, and you use a harsh cleanser that contains a lot of sulfate, the scalp ends up producing even more oil to compensate. Such a state is certainly not ideal.
Hence, the shampoo that you use for double cleansing should have a gentle cleansing function. What we are looking out for is an effective bioactive ingredient, such as Zinc Pyrithione. This is effective both in oily scalp as well as dry scalp conditions in suppressing bad microorganism growth. In addition, it also reduces any symptoms of itch and flaking because zinc itself is anti inflammatory.
In addition, double cleansing is also very effective if there is a component involved in the shampoo that helps to improve the absorption of the active ingredients. In the current case case, salicylic acid in the Deep Cleanse Shampoo, which is a chemical exfoliating acid, when applied on the scalp, can help the scalp to shed its dead skin cells faster. This enables the active ingredients in the shampoo, as well as in your scalp serums to absorb better. It is critical to understand the method of double cleansing the scalp, and the reason behind it. More importantly, we need to carefully choose the type of shampoo containing the appropriate active ingredients you are using for double cleansing of the scalp.
Facial Double Cleansing
Double cleansing is a term that originated with facial cleansing where women who wear makeup are advised to remove their makeup separately from cleansing their skin. This means that a true double cleanse, involves the following steps. Firstly, using separate cleansers to dissolve your makeup, and for cleansing your skin. Secondly, two steps are involved. The first step to dissolve makeup. The second step to form a lather to cleanse off any residue including oil, dirt and grime on the skin. Double cleansing of the scalp has come to be a popular term, because it is now more understood that the health of the scalp does not just determine the quality and appearance of your hair, but also determines the type of scalp problems that you may or may not develop.
Scalp Massaging for Penetration & Circulation
In a tropical humid climates like Singapore, where it is near 100% humidity, one finds that there is a higher tendency to develop oily scalp and oily skin conditions. Double cleansing is aimed at removing this excess oil on the scalp, and also in breaking down the thick layers of dead skin that are adhering to the scalp. This is as opposed to other parts of your body skin, which is less thick than the scalp skin. For this reason, it is important that when you double cleanse your scalp, first use the correct shampoo. Secondly, the method of massaging the shampoo onto your scalp should be such that it creates a lather around every single part of your scalp. This is rather than missing out parts of the scalp simply because your hair is very thick and is inaccessible. We should also spend time in the massaging process.
As we know, the first step of cleansing is to get off the excess and residual styling products, dirt, grime and grease on the scalp, which can also be present on the hands. The second step then is to make sure that the active ingredients in your shampoo penetrate the scalp barrier for absorption. It is critical that you enhance this process with a good scalp massage. Scalp massage can be performed with just your fingers. The key here is actually to enhance the blood circulation, so that the scalp grows healthy hair, because each hair follicle also depends on its own supply of blood circulation. This is also to ensure that the active ingredients in your shampoo, be it hair regrowth active ingredients like copper peptide or scalp stabilising ingredients such as anti-inflammatory zinc pyrithione, can absorb to the fullest.
Benefits of Double Cleansing Our Scalp
Double cleansing is very critical in terms of maintaining a healthy scalp microbiome. This helps to minimise your chance of developing scalp eczema, seborrheic dermatitis, and also to reduce any scalp discomfort that can arise from having oily scalp. Double cleansing in individuals with pre-existing hair loss conditions may also be helpful. This is especially for individuals who have androgenetic alopecia, which can occur as male / female pattern hair loss. Androgenetic alopecia is a condition whereby genetic influences cause hair follicles to become smaller and smaller over time, eventually becoming miniaturised. This is a problem for scalp health because the scalp continues to produce the same amount of oil. However, there are lesser hairs on one's scalp, the oil tends to be excessive.
Double Cleansing for Oily Scalp
Double cleansing can help to remove excessive scalp oil. This is important because we know that sebum itself does exacerbate the hormonal aspects that trigger off pattern baldness. If you think that you may have oily scalp, double cleansing is the first step. In addition, you should look at using a dermatologist formulated, gentle and effective shampoo for degreasing scalps.
An example is the Deep Cleanse Shampoo. This shampoo contains salicylic acid and zinc pyrithione to regulate the scalp condition, as well as copper peptide to stimulate hair regrowth. It is gentle enough for sensitive scalps and also helps to regulate oil production. The instructions for double cleansing are not written on the bottle itself. The first rinse will be for the entire scalp and the hair. Following this, the second application will be on the scalp for five to ten minutes before you rinse it off. Finish off with the Hair Thickening Mask, which will strengthen your hair shaft, and increase shine and elasticity.
If you have a persistent scalp issue, you may need to see a dermatologist. Click on link below to make an appointment with Ministry of Health accredited Singapore Dermatologist – Dr. Teo Wan Lin.
https://drtwlderma.com/wp-content/uploads/2021/09/Double-Cleansing-Our-Scalp.jpeg
427
640
Administrator
https://drtwlderma.com/wp-content/uploads/2023/02/Logo-300x128.jpg
Administrator
2021-09-07 14:29:25
2021-09-08 01:18:49
Double Cleansing Our Scalp: A Comprehensive Guide