Home Facial Kit – Frequently Asked Questions on the SilkPeel
What is the SilkPeel Home Facial Kit?
Is it the same device used in the clinic, e.g. Hydrafacial?
In our partner dermatologist clinic, TWL Specialist Skin & Laser Centre, we use a much larger commercial machine than our home facial kit. The commercial system uses a vacuum dermabrasion technology to deliver antioxidant skincare solutions to the skin. The vacuum action simultaneously performs gentle dermabrasion. This has been branded as Hydrafacial at some clinics, and as our Signature Medifacial at our clinic, with our own blend of medi-facial solution by Dr.TWL Pharmacy.
Our Proprietary Anti-Oxidant Medifacial Solutions
The key distinction in our home facial kit is actually in the skincare solutions that we use. Our medi-facial solution is a specially formulated antioxidant mix by our pharmacy. The solution delivers cosmeceutical benefits for anti-ageing, acne-prone and oily skin types. Featuring plant derived antioxidant ingredients such as Licorice Root extract, Salvia Officinalis (Sage), Centella Asiatica, Rice Bran Extract and hydrating hyaluronic acid and amino acid molecules. Our home medifacial solution kit designed for use with the SilkPeel is also fortified with LARECEA. The LARECEA is a brassica oleracea derivative that fights free radicals, a key process in anti-ageing. This trio solution set is included in the SilkPeel package with medifacial solutions.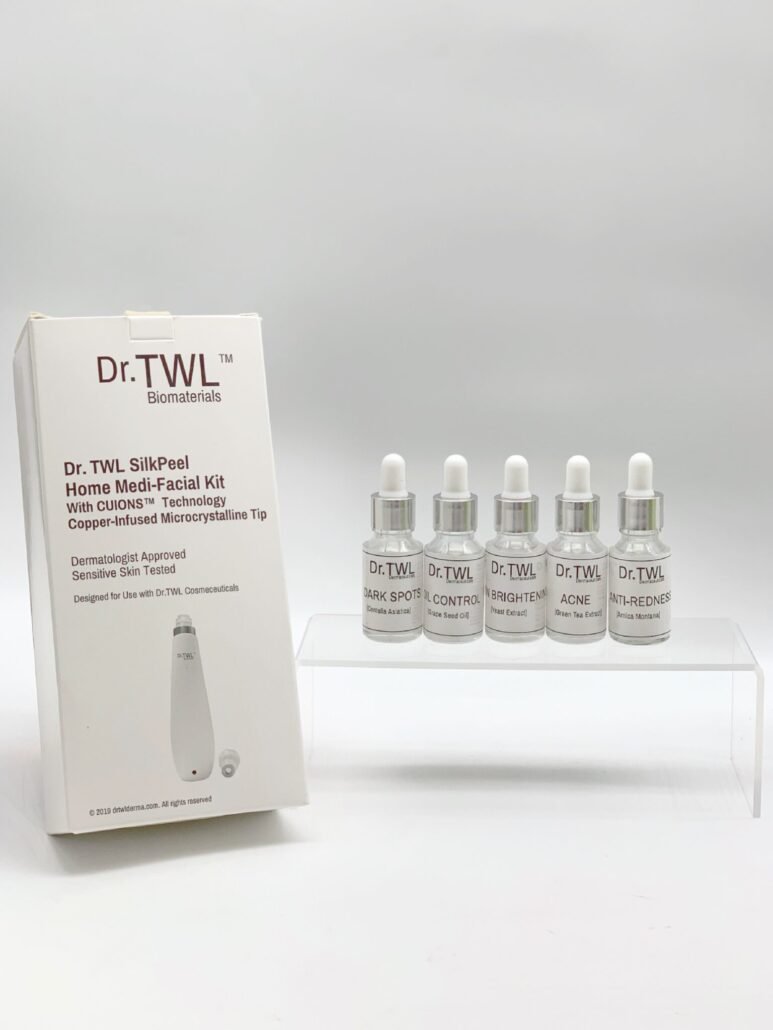 How long do the medifacial solutions last for? How do I replenish it?
Each trio set that comes with the SilkPeel home facial kit is designed to last for 6-8 weeks. This is on the basis of a once a week home facial treatment. Your first purchase of the device comes with medi-facial solutions. This means you only need to top up the medifacial solutions for your own weekly DIY medi-facial thereafter, with dermatologist formulated cosmeceutical solutions.
I already use the Dr.TWL Dermaceuticals 7-Step regimen, as well as the daily mineral booster and SunProtector. How can I incorporate the SilkPeel into my regimen?
You can use it with the Honey Cleanser as per A1 below. A daily cleansing regimen, and finish with the mineral booster instead of our customised medifacial solutions as per A2. Alternatively, you may also purchase the medifacial solutions which target your underlying skin problems.
How do I use the SilkPeel Home Facial Kit?
A. Suction Head
A1. Daily Cleansing Vacuum Microdermabrasion
Apply finger-tip amount of Miel Honey Cleanser over your entire face/grease-prone area. Lather with small amount of water in a massaging circular action over each area. Apply the suction head in a circular motion over the skin, gently lifting up to avoid excessive force. Wash off after that.
An effective sebum and oil control method to enhance penetration of active ingredients in your cleanser. Recommended for use with the Miel Honey Cleanser for combination and oily skin.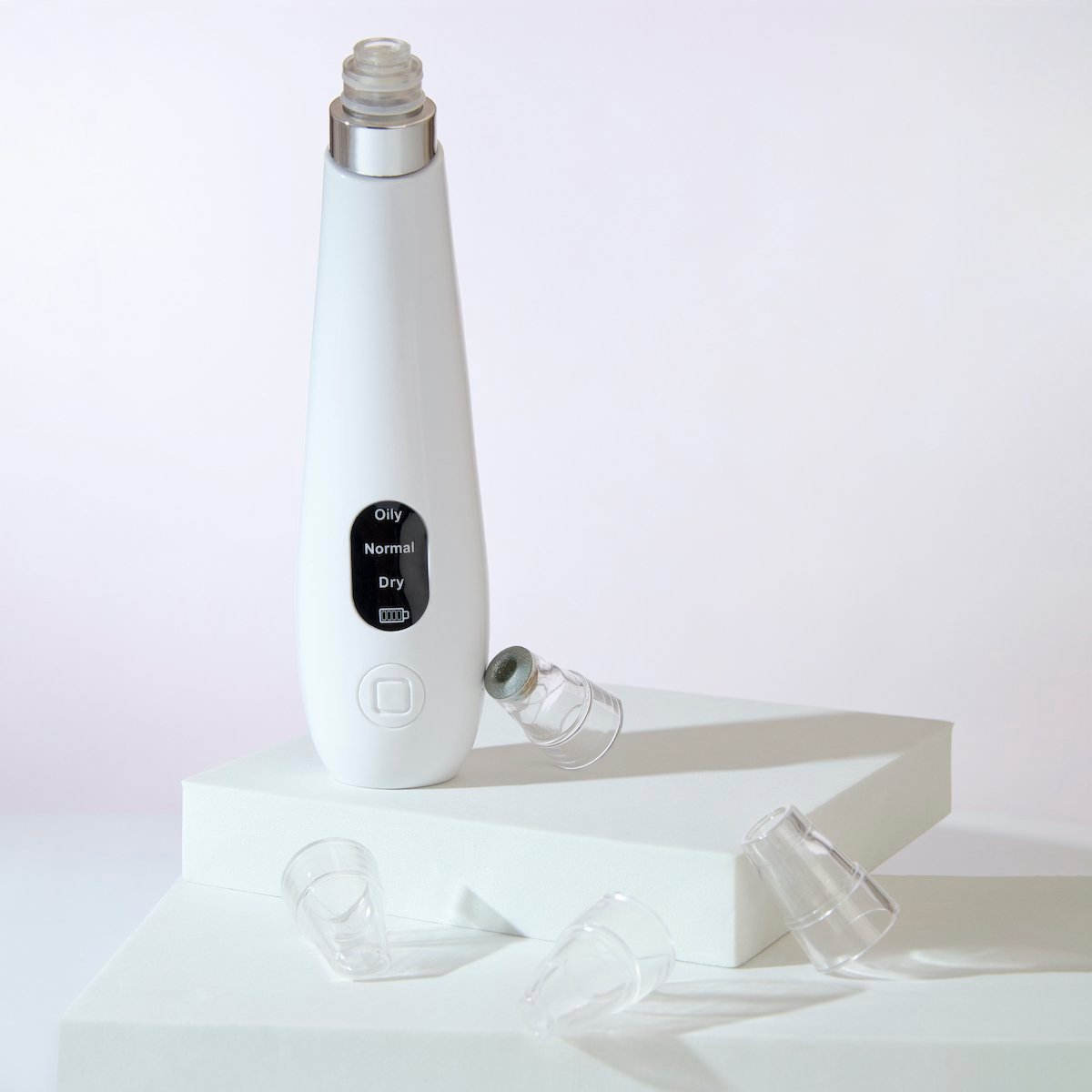 A2. Cosmeceutical Skin Tonic Delivery System
With MINERAL BOOSTER Spritz the Mineral Booster over your entire cleansed face- typically 5 pumps is more than sufficient. Apply the suction head in a circular motion over the skin, gently lifting up to avoid excessive force. Pat in excess.
AND/OR With Customised Medifacial Solutions for Problem Skin– Pigmentation, Acne, Oily Skin, Dull Skin. Apply 5 drops of each solution and gently pat onto face with fingers. Apply the suction head in a circular motion over the skin, gently lifting up to avoid excessive force. Pat in excess.
This step comes before application of serums, such as the hyaluronic acid, Vita C and Elixir-V serums. Moisturiser, such as the Radiance Emulsion, comes after, followed by the SunProtector.
A3.Spot Blemish/Pimple Treatment with Suction Head
The vacuum should only be used over the very congested areas. We also recommend the following ways for spot pimple treatment.
STEP 1 ANTI-Inflammatory Spot Treatment: Apply a pea sized amount of undiluted honey cleanser over entire pimple prone area, such as the chin, nose or cheeks. Apply the suction head on for 5 seconds. Wash off.
STEP 2 Skin Healing, Scar Lightening Step: Apply finger-tip size amount of 360° Amino Acid Masque over the affected area. Apply the suction head on for 5 seconds. Wash off.
STEP 3 Blemish Spot Cream: Lastly, apply the blemish spot cream liberally over the entire acne prone area. The pimple cream contains skin healing amino acids and anti sebum algae extract Chlorella Vulgaris.
*instrumental test on 15 patients in our clinic setting shows that 95% of all pimples resolve within 3 days of application of this method
B. CUIONS Microcrystalline Head
Use once or twice a week. Can focus on greasy, acne-prone areas for combination skin, skipping dry areas such as cheeks.
Apply 1 fingertip amount of 360° Amino Acid Masque to each area of the face, forehead, cheeks, nose, chin area (5 fingertip amounts in total for entire face).
Apply the CUIONS head in a circular motion once over each spot over the skin, gently lifting up to avoid excessive force. Leave on for another 15 minutes, preferably in a high humidity environment such as in the shower. Wash off after that.
The key feature of our SilkPeel is the CUIONS microcrystalline head. The microcrystalline head effectively performs gentle microdermabrasion when used together with the Amino Acid Masque. This is a home-equivalent to in-clinic diamond microdermabrasion — the home facial kit version designed to be much less irritating to the skin while performing the function of microdermabrasion. We have engineered the copper ion head specifically to have a less abrasive structure than the traditional diamond heads, while retaining the microdermabrasion feature to gently exfoliate dead skin cells. It is suitable for sensitive skin, and can be done safely at home without medical supervision.
Why does copper turn green over time?
Copper naturally turns green over time as it reacts with oxygen in the air in a process known as oxidation. The green color is the natural shade of the patina that forms over the copper surface, which protects the copper's surface from deterioration.
How does this SilkPeel Device differ from other cleansing devices? Such as Clarisonic, Foreo, or other blackhead removal devices?
This cleansing devices mentioned are not the same thing. Our focus is in fact on the delivery of cosmeceuticals via general vacuum microdermbrasion, and also with our CUIONS microcrystalline head for a weekly home facial peel. It is an adjunct for the treatment of pimples and blemishes, scars and skin dullness. In between the vacuum microdermabrasion, we recommend to perform the CUIONS microdermabrasion at a maximum of 2 times per week. In terms of effectiveness, dermatologists generally feel there is lack of evidence in using cleansing devices. The focus is rather on increasing active ingredient absorption and function of your cosmeceutical cleanser instead. The unique point of this device is being able to deliver to the skin antioxidant solutions that cleansing devices do not do, and this is exactly what's being done at our in-clinic medifacials as well.
Is the vacuum strong enough to remove oil and dirt that is visible?
We carefully calibrate the vacuum pressure for use even on sensitive skin types. This is unlike traditional "blackhead suction" devices which can cause abrasions and sensitivity. We have not engineered the SilkPeel device as one that "sucks out blackheads". Rather, it is one that mimics the vacuum microdermabrasion, a process of gentle exfoliation we utilise in our dermatologist's clinic setting. This method best opens up the pores for delivery of skin nutrients in either our cosmeceutical skincare, or our home medi-facial solutions. This will reduce the formation of blackheads and assist in clearing up acne.
According to dermatologist Dr. Teo Wan Lin, " There is currently no evidence that blackhead devices help in the treatment of acne or improvement of one's overall skin condition. What these devices do is actually to physically remove the debris from one's skin. However, blackheads are actually not 'black', these are actually bits of sebum, dead skin debris that have collected on the surface of skin, which when exposed to environmental air, are oxidised and hence appear 'black'."
The purpose of regular usage of the SilkPeelas per our indications will result in clearer skin, due to increased absorption of cosmeceuticals and gentle exfoliation. If you suffer from dull skin, acne-prone or oily skin, this will speed up improvement of your scars and acne.
How often can the SilkPeel be used?
The SilkPeel Medi-Facial Device with suction head for vacuum microdermabrasion may be used as often as daily to enhance absorption of cosmeceuticals in the medifacial solutions. In between the vacuum dermabrasion, the CUIONS head microdermabrasion is recommended for use at once a week for complete microdermabrasion equivalent to what is performed in a clinical setting.
How many drops of MediFacial solution should I use at any one time? Do I use all 3 bottles?
3 to 5 drops of each solution, which individually have different properties (e.g. anti-acne, brightening, repair), may be used every time to cover the entire surface area of the face with a focus on the forehead, cheeks, chin and nose segments.
For more info and video tutorial on our home facial kits, please visit https://drtwlpharmacy.com/medifacial-home-aesthetic-facials/
We hope you enjoy your stay home DIY medi-facial with our dermatologist formulated cosmeceutical kits!
Shop Now
https://drtwlderma.com/wp-content/uploads/2020/04/1DE653FA-B5AD-4A88-A491-CD3D10FA9E1E.jpeg
784
1450
Administrator
https://drtwlderma.com/wp-content/uploads/2023/02/Logo-300x128.jpg
Administrator
2020-04-25 22:34:41
2022-06-27 19:37:03
Home Facial Kit – Frequently Asked Questions on the SilkPeel