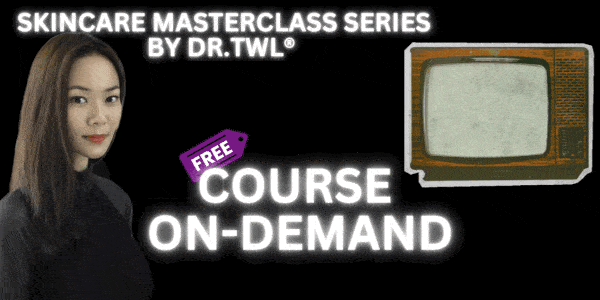 LAUNCH SPECIAL Members Exclusive: Register for passcode access to complete on-demand masterclass collection (FREE for first 100)
Welcome to The Pharmacy!
Let us guide you through your skincare journey step by step.
Treat yourself the gift of skincare and self-care today!
@drteowanlin Are you ready for a new era of self-care? You know… marketing— often lies. Your skin doesn't. Here's my promise to you: you will become your own skin expert—I'm here to guide you. The Skincare Masterclass Series By Dr.TWL®️ —a collection of members* only audio/video workshops is designed for all levels, aestheticians, skincare enthusiasts, those who want healthier, more beautiful skin—beginning from the inside. This episode is a sneak peak of what you can expect, get access to the entire archive of episodes (members only), complete with downloadable lecture notes when you sign up--it's FREE for now! *private course link emailed before 1 March 2023 for sign-ups. Limited seats available. Link in bio. #skincareroutine #dermatologist #skincare101 #learningisfun ♬ Vlog Video work Fashionable BGM(847726) - Tsuyoshi_san
If you are ready to start on your skincare journey:
Select one of the masterclass packages and we will have your gifts delivered to your doorstep (3-4 working days).

In the meantime, enjoy your selection of masterclasses

Ask a question on our Ask a Dermatologist Forum. We want to get to know you!