Top 3 Dermatologist Recommended Drugstore Skincare for Acne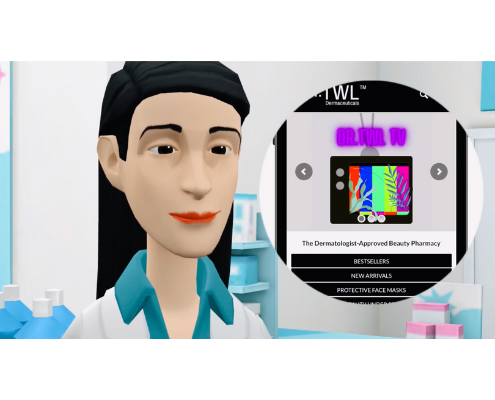 Drugstore skincare is often recommended by dermatologist. It is associated with simple "clean" formulas, which in dermatologist speech, means minimal or no irritation risks. Sans fancy ingredients like antioxidants, alpha hydroxy and salicylic acids. In the last few years, cosmeceutical skincare has advanced greatly in its relevance to dermatologists. We discover how non-prescription active ingredients benefit dermatological conditions like acne, rosacea, eczema and other forms of dermatitis.
Dr.TWL Pharmacy fills a unique niche by bridging affordable clean formulas suitable for all skin types that have cosmeceutical effects.
Dr.TWL Pharmacy is a one-stop pharmacy for your skincare, haircare and makeup needs with samplers and FREE shipping.
Celebrate Beauty with Dr.TWL Pharmacy
Dr.TWL Pharmacy is the perfect beauty store that offers apothecary style custom blended skincare for specific skincare and haircare concerns.
Here are 3 reasons why our Dr TWL Pharmacy range of dermatologist recommended drugstore skincare is your best bet to build a skincare regimen:
1. Universal Tolerability
In the age of customised skincare, being personalised seems to be the best way to go. "Personalised skincare is very much a marketing strategy – it is not bad, there is some truth in that cosmeceutical actives can specifically target skin conditions previously believed to be treated only by prescription medications. However, the benefits of skincare personalisation stop right there. The key is that dermatologists usually recommend over the counter skincare cleansers and moisturisers that are universally tolerable, which means it is suitable for all skin types. We cannot expected to self-diagnose and sieve through tonnes of scientific knowledge just to decide what product to get. These are specialised fields. The easiest way is to go with a drugstore dermatologist recommended brand. Cleansers, for example, are an everyday must-have for a healthy skin microbiome," according to board certified dermatologist Dr Teo Wan Lin.
2. No photosensitising or irritating ingredients
Many dermatologist recommended drugstore skincare brands include salicylic or alpha hydroxy acids in their formulation. While these are proven to have an effect on skin, acids are not included in our brand's formulation. This is because Singapore is a tropical country with year round UV radiation. Most of these drugstore skincare lines are created for temperate climates with much less UV radiation. These acids are sun-sensitising. This means that with the daily UV exposure one gets, there is higher potential to develop skin redness, dryness flaking and sensitivity. The side effect is what we know as photosensitivity.
3. Create for asian skin types living in tropical Singapore
Almost all well-known drugstore brands recommended by dermatologists are created and tested on Caucasian skin types living in temperate climates. A key example of why this is important is in sunscreens. If you find all dermatologist recommended drugstore brand sunscreens feel too oily for you in Singapore, here's why. All sunscreen formulas are greasy to a large extent. This is because the chemical sunscreen component is stable in an oil vehicle. However, in Singapore, the humidity makes this texture almost unbearable. It is also impractical because the constant sweat and humidity makes many of these sunscreens wear off faster.
Specifically, the pharmacy's sunscreen, the SunProtector, is formulated for Singapore's climate. It is water resistant – although like all water resistant sunscreens-you should still reapply every 3-4 hours. There is no such thing as a truly waterproof sunscreen. It also does not leave a white cast, unlike many dermatologist recommended drugstore brands. The white cast is more obvious on asian skin types- due to presence of physical blockers like zinc oxide and titanium dioxide. These are examples of how skincare that undergoes formulation for your climate and phototype is your best approach to building a skincare regimen.
The benefits of dermatologist recommended drugstore skincare
Dermatologist recommended skincare is suitable for all skin types. A great example would be a gentle cleanser. A dermatologist recommended gentle cleanser works synergistically with prescribed medications for common skin conditions like acne. However, cosmeceutical skincare takes it to a different level. Active ingredients with antibacterial effects, such as medical grade honey, can improve the skin microbiome. This is relevant in acne sufferers who have an imbalanced skin microbiome.
The importance of sampling regimens and trial kits
"Sampling is the best way for consumers to decide if products are suitable for them. Just like how we advise a patch test before using a skincare product for the first time— you will never know what works and what doesn't until you use it. A period of 7-days is usually sufficient to assess tolerability and effectiveness for your basic skincare routine. Sampling kits are the best way to try out cosmeceutical skincare before purchasing full-sized options," dermatologist and chief scientific officer of Dr.TWL Dermaceuticals Dr. Teo Wan Lin
What is drugstore skincare?
Drugstore skincare is defined as skincare that is found in the drugstore or your local pharmacy. Traditionally, consumers would turn to their local apothecaries for solutions to minor ailments. This includes skin conditions like acne, dry skin and eczema. Dermatologists have long worked with brands that focus on this market segment. Drugstore skincare is affordable and accessible.
What are the advantages of drugstore skincare? What is the appeal of drugstore skincare?
The advantages of getting your skincare from a drugstore include the following. Drugstore skincare is wallet friendly and accessible. However, this may not always translate into what is best for your skin. In the past, access to cosmetic brands was rather limited. Larger cosmetic brands would not stock in pharmacies, but in standalone counters in larger shopping malls. Price point would also make a significant difference. Drugstore skincare packaging is no frills. Luxury cosmetics come with fancy packaging. Larger cosmetic brands allocate budget for celebrity marketing and also research grants for innovative ingredients and patents.
Traditional drugstore skincare brands have an advantage in that they are marketed for all skin types. These dermatologist recommended skincare ranges have minimal fragrances as well as additives which make for a safe and effective everyday skincare option. Another appeal of drugstore skincare is its competitive price point.
Dermatologist recommended drugstore skincare can help acne
Dermatologists grade acne by severity. Mild acne is treatable with skincare alone. For example, ild acne can be treated with an antibacterial cleanser and a pimple cream. On the other hand, moderate to severe acne is treated with blue light and/or oral medications. Oral medications include antibiotics like tetracyclines, erythromycin and isotretinoin for example. These should be used with an appropriate topical regimen for acne. This is important for long term maintenance of acne skincare -wise.
How e-commerce changes the world of beauty
In the age of digital e-commerce, larger cosmetic brands lose their traditional accessibility advantage. In fact, many, if not all skincare brands now have an e-commerce presence which reduces the accessibility advantage that traditional drugstore brands have.
Balancing price point of luxury cosmetics with value skincare
Cosmetic brands are much more expensive than traditional drugstore skincare. This could be partly due to the need for marketing. As with all segments of luxury goods, consumers may prefer a certain brand due to its associated prestige for example.
How do cosmetic brands compare with drugstore skincare?
The advantage of larger skincare brands is that they often have dedicated research and development teams. These include scientists and dermatologists who are working on latest scientifically backed ingredients in skincare. As a result, this translates into better products with better effects on skin, including use of patented ingredients.
A new era of beauty-overlapping of brands and drugstore skincare?
The overlap of both cosmetic brands and drugstore skincare is increasingly visible. Luxury beauty brands understand they should capture another segment of the market- catering to the masses, by providing affordable and effective skincare.
Offering both lower cost beauty products similar to drugstore options as well as luxury options is efficient. Consumers these days are not necessarily limited by budget but their purchases are driven by knowledge. Purchasing an entire skincare range from a single brand may not also be the first thing they do for example. It is more practical to start with a single product. However, skincare from a single brand ensures there are no conflicting or overlapping active ingredients. This is a problem if one is using retinol, benzoyl peroxide and exfoliating acids all at once for acne treatment. This combination will likely result in irritant contact dermatitis in a sunny tropical climate like Singapore.
Luxury skincare selling points
The selling points of luxury cosmetic skincare is really the overall experience of the purchase. Starting with the packaging and ending with a sensorial experience of the finished product itself, luxury marketing also plays a part. In addition, consumers who buy into luxury skincare seek the experience of being part of a different world. Beauty is celebrated and everyone is offered an opportunity to attain this ideal of beauty.
While it may seem like a mirage for those who are more cynical, the truth is that we have to acknowledge that experiential selling points are real. Studies also show that placebos work – in a clear case of mind over matter. That aside, a good part of a skincare purchase is an entire experience of beauty herself.
Dermatologist recommended drugstore skincare helps you build an efficient skincare regimen
An efficient skincare regimen takes you from teenage years to adulthood. Drugstore skincare associates with a no-frills image, wallet friendly and also one that works well for all skin types.
Dermatologist recommended drugstore skincare is good value
Expensive is not always better. However, good skincare does not come cheap. This is because quality control for large scale manufacturing comes at a cost. For example, from cost of bioactive ingredients, to paying scientists and chemists behind the research and formulation. Dr.TWL Pharmacy's advantage is that being part of a larger brand – Dr.TWL Dermaceuticals, it leverages on bulk manufacturing sourcing savings that can pass on to the consumer.
Dermatologist recommended drugstore skincare is important for those with sensitive skin
The needs of sensitive skin are best addressed with dermatologist recommended skincare. However, how do you know if you have sensitive skin? If you have a history of redness, scaling, flaking or facial irritation, you may have experienced dermatitis. Dermatitis is the medical term for eczema, or sensitive skin. It could also be rosacea, a form of skin sensitivity to heat, sunlight and other triggers. For these skin types, choose skincare products carefully. A dermatologist recommended drugstore cleanser will at least do no harm. Whereas a regular cosmetic cleanser may have the potential to irritate sensitive skin further. In addition, cosmeceutical skincare has an advantage for those suffering from sensitive skin. These have non-prescription active ingredients with proven skin benefits.
A fusion of drugstore and luxury: how Dr.TWL Pharmacy stands out
A dermatologist-backed cosmeceutical brand with both a luxury cosmeceutical range and a value-focussed drugstore section.
Beauty Story
We attain a fusion of drugstore and luxury skincare with Dr.TWL Pharmacy, a new beauty drugstore concept. It stands out as a dermatologist led beauty pharmacy for all your skincare haircare and makeup needs. Furthermore, the skincare pharmacy is led by a board certified dermatologist, a chemist, chemical engineer for its cosmeceutical arm.
Dr.TWL Pharmacy: Brand Story
Since 2021, our pharmacy launched a value focused drugstore segment offering serums and face masks for skin and hair. A custom-blended prescriptive section allows for non-prescription botanical drugs offered for adjunct treatment of pigmentation, acne and scars. We select these botanical extracts for their cosmeceutical properties.
How do we keep our pharmacy exclusive personalised skincare prices lower than our main cosmeceutical arm?
The skincare pharmacy benefits from the larger scale of manufacturing of the mother brand, Dr.TWL Dermaceuticals. As a cosmeceutical manufacturer, we have accessibility to bulk purchase of active ingredients. In addition, we also manufacture our bases in an ISO 22716 facility. This allows us to custom compound small batch prescriptives with increased cost savings for the consumer with high quality ingredients.
Why you can trust a skincare brand with a sampling regimen?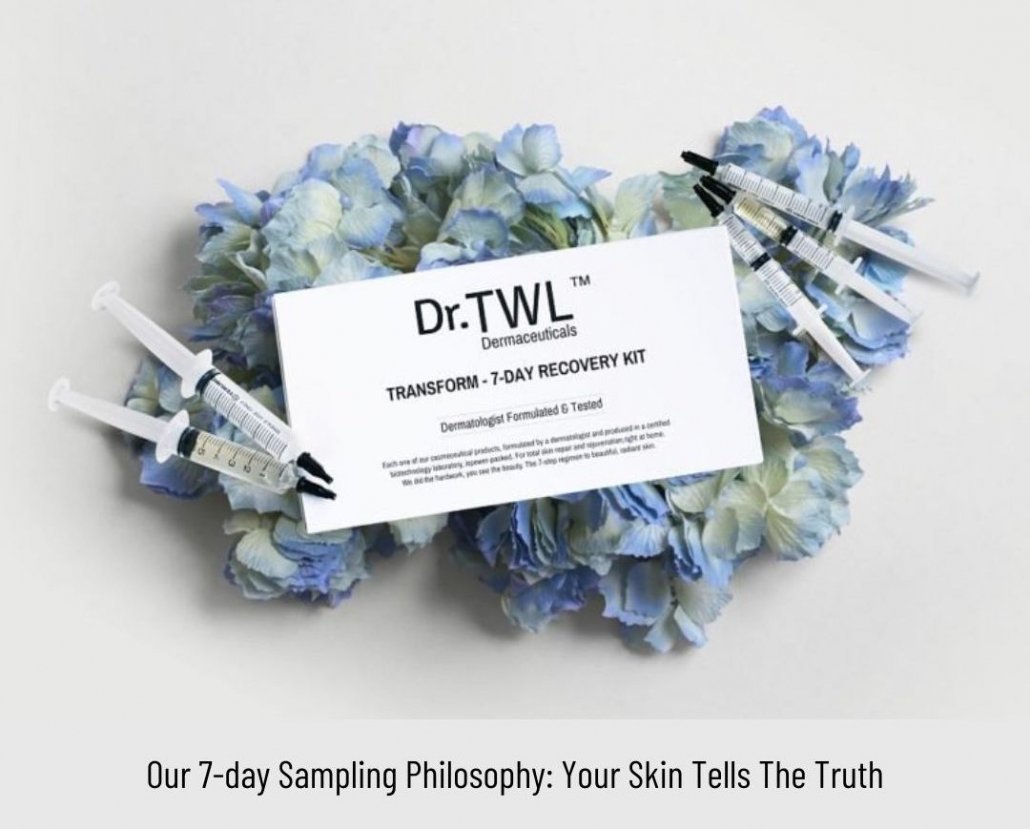 Want to try a new skincare product? We emphasise the value of skincare sampling because we are in the business of building trust. Consumers have to decide what beauty products to get now as there is an overwhelming number of options available. In the past, one would walk into a mall to beauty counters where you can get your beauty fix. These days, with e-commerce, your options are really limitless. Take this baby step with our 7-day discovery kit- worry free.
No more beauty lies: here's our promise to you
A beauty pharmacy that seeks to build a relationship with you. Our 7-day sampling philosophy: your skin tells the truth.
After trying it, if you would like to convert to our full size kit, email us and we will offer a cash rebate off your full size purchase(s) on your first order. Offer valid for new clients, one per customer.
Benefits of getting all your personal products from Dr.TWL Pharmacy
Choose your own free full-sized gifts with each purchase
You may request free custom-makeup samplers with your order
For Dr.TWL Club members. Available for lip-cheek tint and CC cream. WhatsApp our Color Lab technician at +65 9728 6734 with your order number for free customisation sample and complimentary club membership with minimum purchase of $350 for month of July.
Tier and bundle discounts year round
Free high-end cosmetic pouch for Pharmacy Exclusives
https://drtwlderma.com/wp-content/uploads/2022/07/skincare-beauty-pharmacy.png
400
495
Joanne Lim
https://drtwlderma.com/wp-content/uploads/2023/02/Logo-300x128.jpg
Joanne Lim
2022-07-14 01:17:16
2022-07-16 15:33:49
Top 3 Dermatologist Recommended Drugstore Skincare for Acne