Adenosine: Anti-Ageing Skincare Ingredient That Works

Adenosine in cosmetics is generally popular for its anti-ageing properties, being an effective ingredient for decreasing the appearance of fine lines and wrinkles. Adenosine also has soothing and wound healing properties, being widely used in medicine as an adjunct therapy for healing, therefore, adenosine can be commonly found as an ingredient in skincare products. In this article, we will discuss on the benefits of this anti-ageing skincare ingredient.
What Is Adenosine?
Adenosine is a yeast-derived ingredient with anti-ageing, soothing and skin-restoring properties. A purine nucleoside, it comprises of a molecule of adenine that attaches to a ribose sugar molecule. Adenosine derivatives play a significant role in our body's biochemical processes, where adenosine is naturally present in the human body as part of the molecule adenosine triphosphate (ATP). ATP is responsible for transferring energy in many functions of the body.
Is Adenosine safe in cosmetics?
The safety of adenosine when used in skincare formulations has been evaluated by the Cosmetic Ingredient Review Expert Panel, which is the group is responsible for investigating the safety of skincare ingredients. In their review, research shows that adenosine does not cause any irritation and is safe for use in skincare formulations.
Benefits of Adenosine for the skin
Anti-Ageing
Adenosine improves the appearance of ageing skin, in particular the appearance of wrinkles, in both the eye and mouth areas. A 2006 study, published in the International Journal of Cosmetic Science, analysed the anti-wrinkle efficacy of adenosine-containing products. After two months, adenosine-containing products displayed significant improvements in skin smoothness, decreased appearance of crow's feet and wrinkles between eyebrows. Study participants had a smoother, more youthful complexion.
Adenosine improves the appearance of wrinkles is via the collagen production pathway. The adenosine molecule is able to bind to the A2A receptor which is present in dermal fibroblasts. Dermal fibroblasts are the cells responsible for the synthesis of collagen, elastin and glycosaminoglycan. This binding stimulates collagen production and also down-regulates collagen degradation via various biochemical pathways.
Collagen plays an important role in strengthening skin as well as keeping skin hydrated and elastic. After the age of 20, a person's skin produces about one percent less collagen each year. Furthermore, environmental free radicals degrade collagen proteins in the skin. As we age, our bodies produce less collagen to replace the collagen that has been broken down, which results in skin wrinkling. Therefore, adenosine, which stimulates collagen production, can help maintain the skin's strength and firmness as well as prevent wrinkles.
Wound healing
The ability of adenosine to stimulate collagen production also promotes wound healing and tissue repair. Collagen is necessary for wounds to heal properly because it gives structure, strength and hydration to the skin. Additionally, adenosine inhibits the effects of inflammation by inhibiting immune cells such as neutrophils, which are the white blood cells that rush to damaged or infected skin tissue. Adenosine binding to the A2A receptors on immune cells also results in the inhibition of the generation of reactive oxygen species, phagocytosis and cytokine release. In particular, studies conducted on mice have found that targeting the adenosine receptors in the skin results in faster closing up of wounds. Therefore, adenosine is able to help treat minor scrapes, cuts, burns as well as reduce irritation and redness that often associates with sensitive skin types.
How can this anti-ageing skincare ingredient be incorporated in your skincare?
The Elixir- V™ Eye Cream by Dr. TWL™ Dermaceuticals is the best anti-ageing eye cream, having anti-dark circles, anti-puffiness and anti-wrinkle properties. It contains a secret weapon, antioxidant superpower: Larecea™ extract for regeneration, potent oligopeptides for lifting and repair as well as all-time favourite niacinamide for maximum skin brightening.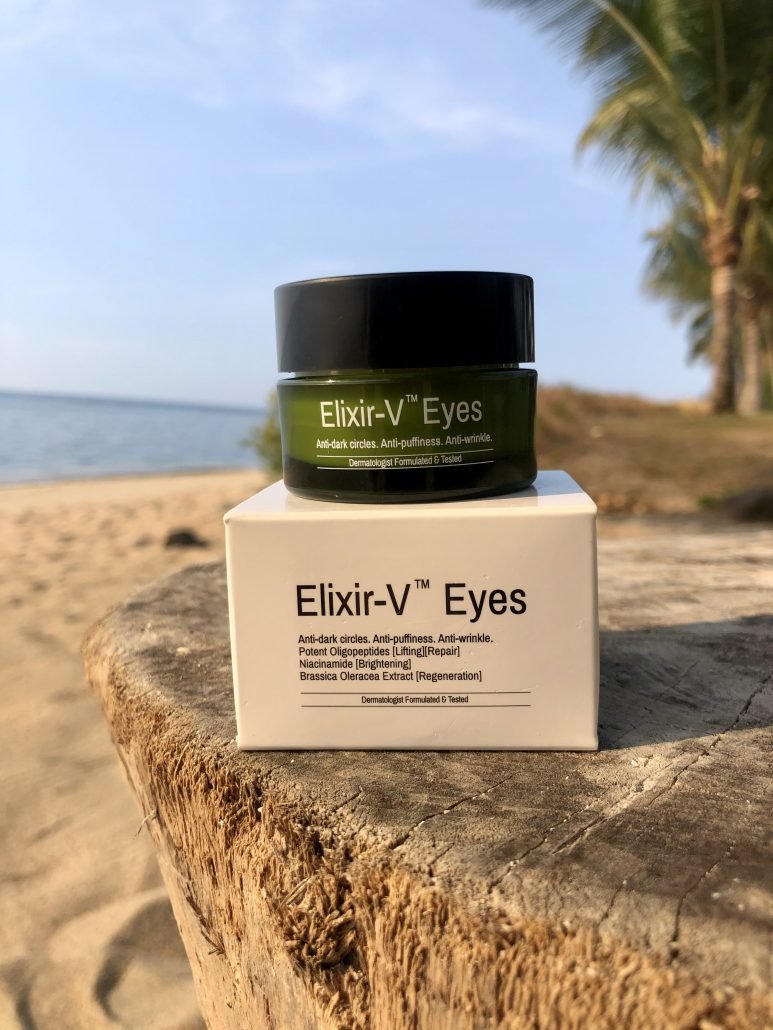 Elixir- V™ Eye Cream provides total nourishment for eyes in a single application. It contains anti-ageing skincare ingredient adenosine as well as active ingredient LARECEA™ Extract that accelerates collagen formation for skin regeneration.
This eye cream is also dermatologist-tested, what this means is it is free of any potential skin irritating ingredients that may be present in other anti-ageing formulas. So, if you are prone to skin irritation and sensitivity and are searching for an effective, skin regenerating eye-cream, get your hands on this.
References:
Gessi S, Merighi S, Borea PA. Targeting adenosine receptors to prevent inflammatory skin diseases. Exp Dermatol. 2014;23(8):553-554. doi:10.1111/exd.12474
Kang G, Tu TNT, Kim S, et al. Adenosine-loaded dissolving microneedle patches to improve skin wrinkles, dermal density, elasticity and hydration. Int J Cosmet Sci. 2018;40(2):199-206. doi:10.1111/ics.12453
https://drtwlderma.com/wp-content/uploads/2017/05/Elixir-v-eyes2.png
1120
1120
Tan Xin Yee
https://drtwlderma.com/wp-content/uploads/2023/02/Logo-300x128.jpg
Tan Xin Yee
2021-07-24 10:07:09
2021-09-01 21:01:57
Adenosine: Anti-Ageing Skincare Ingredient That Works