Best Facial Serum With Potent Antioxidant: Japanese Knotweed

Japanese Knotweed is a popular spring vegetable in Asian cultures. It has many uses in traditional Japanese and Chinese medicine to treat sicknesses. These include cough, hepatitis, joint pain, asthma, cancer, and hypertension. This plant is also highly praised for its high content of a particular chemical known as resveratrol as well. In this article, we will discuss on the benefits of Japanese Knotweed for the skin, and how skincare products such as the best facial serum incorporate this special ingredient!
Japanese Knotweed
Also known as Polygonum cuspidatum root extract, the Japanese knotweed is a plant whose root is a good source of the potent polyphenolic antioxidant trans-resveratrol. Trans-resveratrol is the most active form of resveratrol. It has the highest bioavailability, meaning it is a version of resveratrol, best absorbed and utilized by the body. We can obtain resveratrol from grapes, blueberries, peanuts, cocoa powder and wine. However, we usually convert it into trans-resveratrol before the body is able to absorb it. On the other hand, Japanese knotweed contains predominantly trans-resveratrol. Hence, making it the ideal antioxidant ingredient for direct application on the skin.
The plant produces resveratrol to increase its resistance to environmental stresses, thus having significant physiological and biological effects. Furthermore, this plant not only helps eliminate free radicals before they can damage skin. It also reduces signs of irritation and has inflammatory properties.
Benefits of Japanese knotweed for your skin
Moisturising properties
In a study conducted, subjects who used cosmetic emulsions containing resveratrol showed improvement in the functioning of the hydro-lipid barrier of the skin as well as increased levels of skin hydration. Additionally, resveratrol is proven safe for use and does not cause irritation after dermatological evaluation. Therefore, application of resveratrol helps to moisturise and tighten the skin, improving the overall look of the skin.
Japanese knotweed is a botanical source of trans-resveratrol. It is a powerful antioxidant that enhances cellular regeneration at night, without the irritation effects of traditional retinoids. Additionally, it provides antioxidants that protect the skin from free radicals that damage skin cells. Therefore, trans-resveratrol is a free radical scavenger and photo protector. This means it helps to protect the skin against UV radiation and fighting against the effects of photoaging.
Furthermore, one of resveratrol's known benefits is that it visibly plumps the look of skin. It helps to fight off the effects of gravity and prolongs a more youthful appearance.
Research has also shown that resveratrol can inhibit the formation of advanced glycation end-products (AGEs). These are collagen-damaging proteins and fats that form in skin as a reaction from exposure to sugars. Hence by inhibiting formation of AGEs, resveratrol helps to reduce the appearance of wrinkles and loss of firmness. Additionally, resveratrol promotes even skin tone by inhibiting tyrosinase, the key enzyme that catalyzes melanin production by oxidation.
How to include Japanese Knotweed in your skincare
The Elixir-V Total Recovery Serum is an intensely nourishing concentrate of deep hydrating, lifting and tightening peptides for the perfect V-face look. This best facial serum contains Larecea™, our trademarked extract of Brassica oleracea (a botanical extract from cruciferous family plants) as well as the super-power Japanese Knotweed plant extract.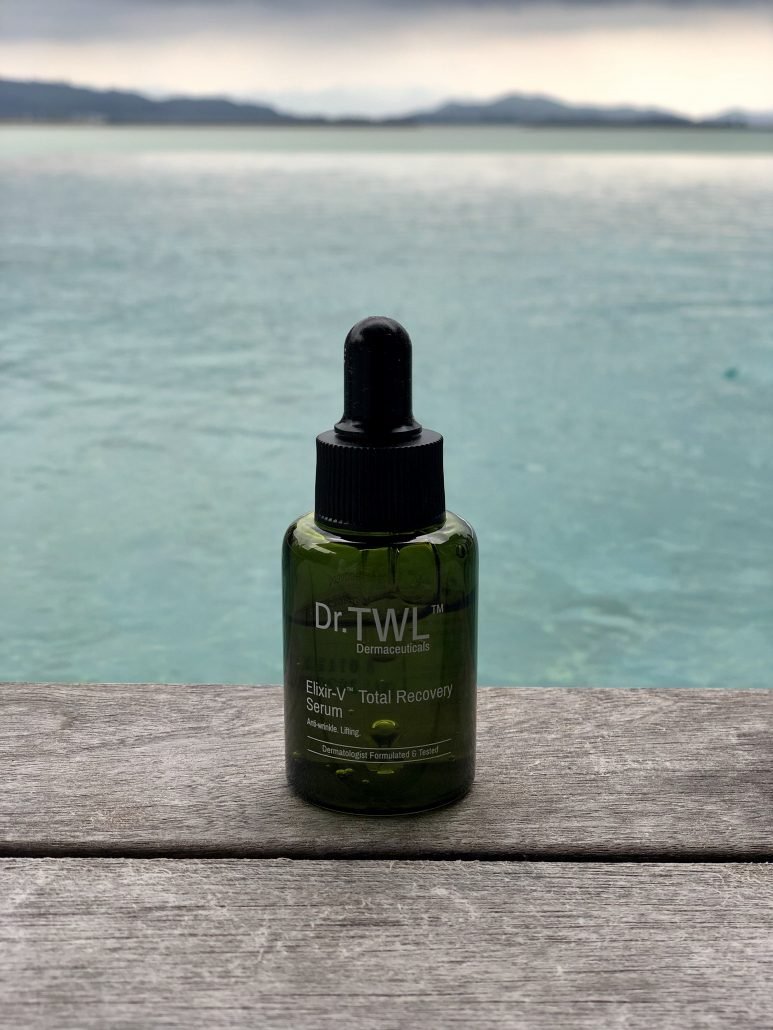 Taken by one of our users, Ros Leon, on a trip to Langkawi Island, Malaysia. This best facial serum – the Elixir-V Total Recovery Serum contains the super-power Japanese Knotweed plant extract which is a source of trans-resveratrol, a potent anti-oxidant that enhances cellular regeneration at night, without the irritation effects of traditional retinoids.
References:
Igielska-Kalwat J, Firlej M, Lewandowska A, Biedziak B. In vivo studies of resveratrol contained in cosmetic emulsions. Acta Biochim Pol. 2019;66(3):371-374. doi:10.18388/abp.2019_2838

https://drtwlderma.com/wp-content/uploads/2017/11/elixir-v-total-recovery-serum-drtwlderma.jpg
2718
5294
Tan Xin Yee
https://drtwlderma.com/wp-content/uploads/2023/02/Logo-300x128.jpg
Tan Xin Yee
2021-07-13 10:51:52
2023-06-07 23:31:20
Best Facial Serum With Potent Antioxidant: Japanese Knotweed