Best Home Use Light Therapy Devices: Dermatologist's Guide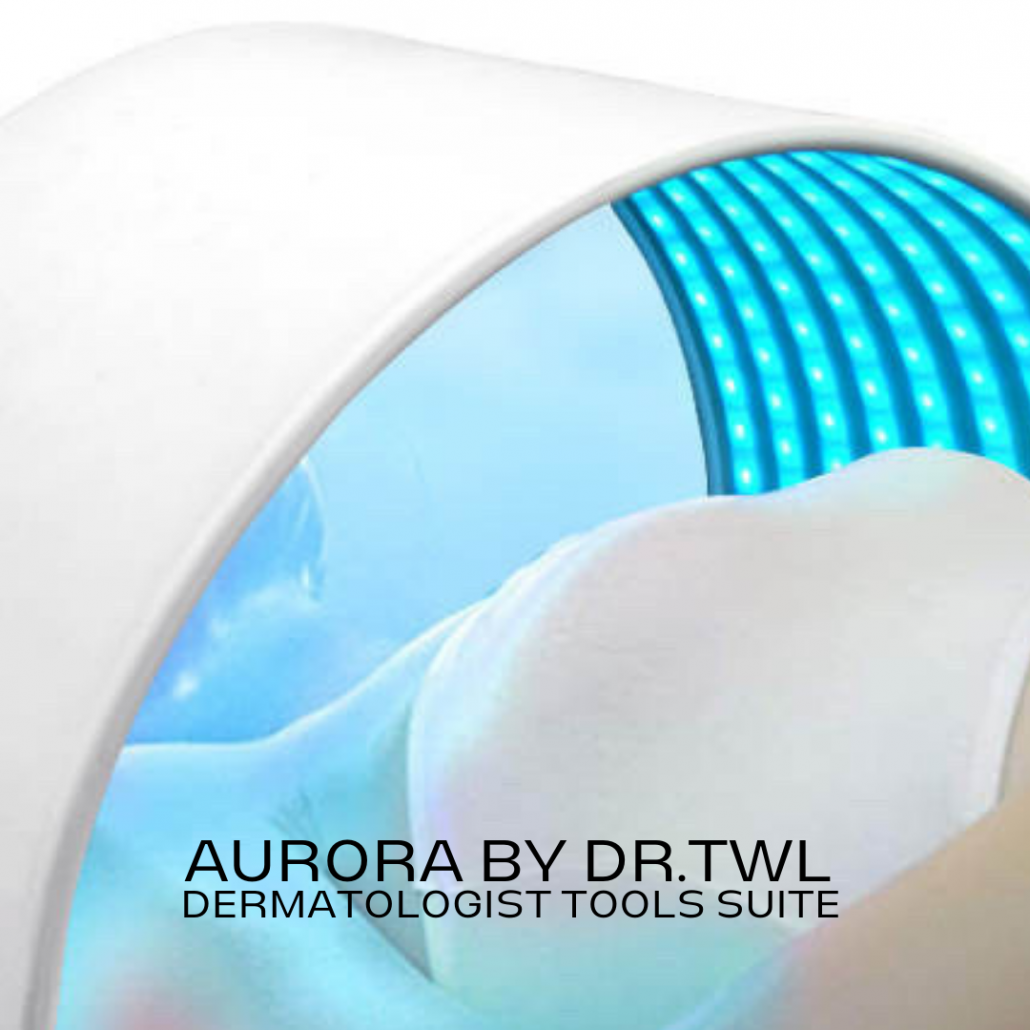 Are you looking for the best home use light therapy devices? Read this article written in collaboration with our founder, accredited Singapore dermatologist Dr. Teo Wan Lin.
The main categories of home light therapy devices are as follows.
Hand-held photon light devices
LED face masks emitting photon light
Standard Korean "Omega" light machines
These light therapy machines designed for home use are increasingly popular. They target skin problems such as acne, acne scars, oily skin, eczema, pigmentation and aging. Photon light therapy for home use also helps hair loss. How do the best light therapy devices for home use measure up?
We break down the pros and cons of each, helping you decide which to get.
What is Photon Light Therapy?
There are many names for home use light therapy. We also know this form of light therapy as phototherapy, photofacials, LED light therapy and chromotherapy. Photon light therapy utilises energies in the visible light spectrum. Red, blue, yellow light are all part of white light present in the sun's rays. These are commonly in use for dermatological problems. For example, blue light treats acne. In addition, red light helps skin to heal faster after surgery. It also helps lighten scars by stimulation collagen production. In addition, red light therapy reduces inflammation by stimulating mitochondria activity.
Dermatological science behind home use light therapy devices
The following are the most commonly searched indications for home use light therapy devices. We go through each to help you understand the science behind using light therapy for skin conditions such as acne, bacne, eczema and aging.
What is the function of home light therapy devices for skin? Should you invest in one? How to choose the best home use light facial device?
Our dermatologist Dr. Teo Wan Lin shares the science behind the best photo facials here. We explain why the machine you use is the most important determinant of how effective your photo facial is. This is one device that is worth your investment.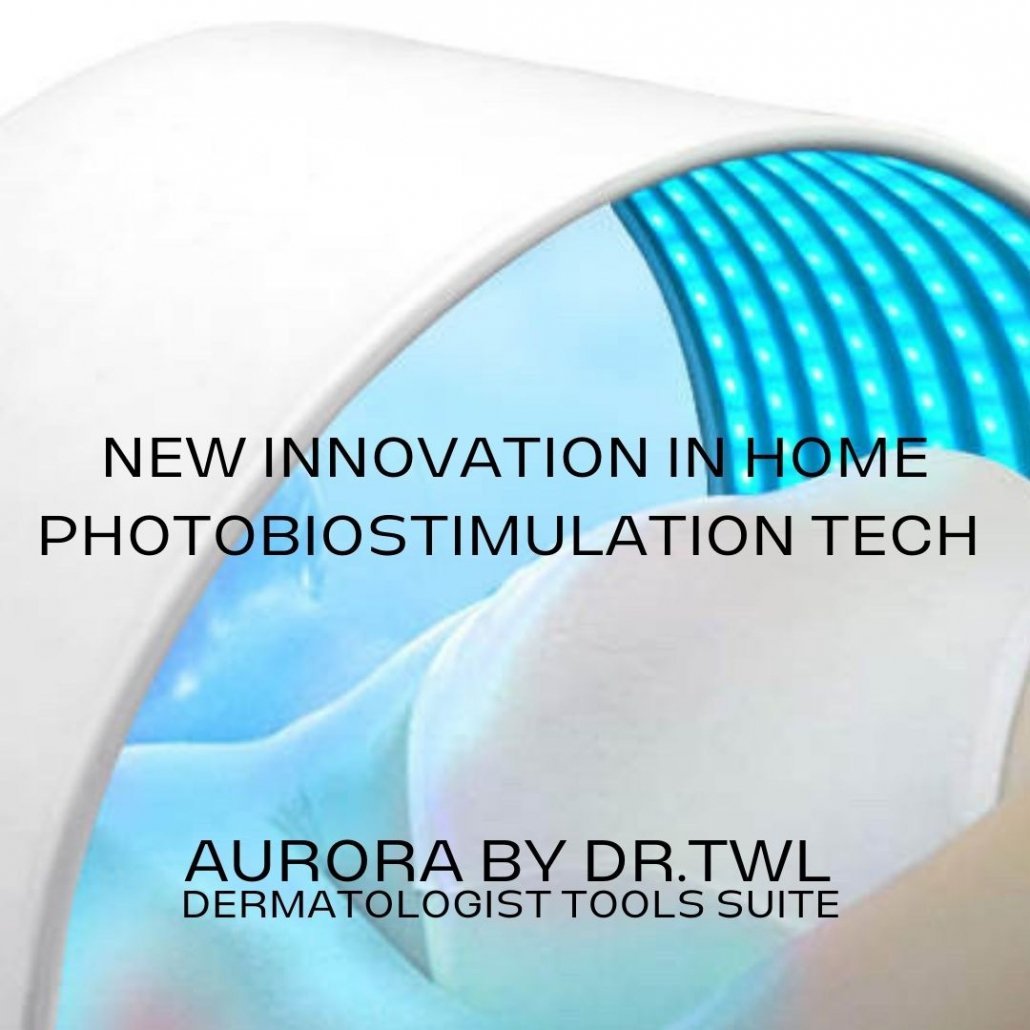 Firstly, using phototherapy is well established in dermatology practices. For the last few decades, dermatologists have harnessed the power of blue light and red light to treat skin inflammation. More recently, there has been yellow light incorporation for hair regrowth.
Home use light therapy works by biostimulatory effects on skin and hair. What do these terms mean?
Photobiostimulation is the phenomenon that causes beneficial effects of red light on wrinkles, blue light on acne. Dermatology research shows beneficial effects of certain spectrums of visible light. Blue light and red light are present in natural daylight. Dermatologists have discovered benefits of these two wavelengths on skin. Blue and red light affects skin cell physiology. As a result, in dermatology terms, this means that it affects the way skin cells function and behave.
Blue light treatment for acne is backed by the best dermatological science
Blue light is the most well-known form of photofacial therapy. This spectrum of light treats acne and other skin infections effectively in dermatologist's practices. Blue light kills the surface bacteria that causes acne vulgaris. This bacteria is propionibacterium acnes, or P. acnes. P. acnes colonises the skin of acne sufferers. Blue light treatment for acne is one of the evidence based treatment options for acne recommended by dermatologists.
Who should use blue light treatment? It is especially suitable for those who are unable to tolerate oral medications. For example those who are pregnant or breastfeeding, blue light therapy may be the best choice for treatment of acne. In addition, for individuals who want to come off oral medications, maintenance treatment is often necessary. This is especially for those with moderate to severe adult acne, which tends to be more recalcitrant. Topical acne creams combined with photo facial therapy is a good treatment plan that can help to suppress flare ups of acne.
Best blue light machine regimen for acne treatment
Dermatologists recommend blue light therapy as a twice a week treatment for 1 period of 1 month as a full course. This treatment is administered using a clinic phototherapy machine with adequate energy and wattage to deliver the correct wavelengths.
Home red light therapy device: choose the best home photofacial machine
We now move on to the other spectrum of red light therapy utilised in dermatology. For example, red light therapy positively influences the skin's powerhouse, the mitochondria. It also stimulates other beneficial actives that enhance skin function. As a result, it reverses pigmentation and accelerating wound healing. The mitochondria stimulate the production of collagen. Hence, red light therapy is effective for wrinkles. In dermatology practices, red light has also been in use with the treatment of surgical scars.
Red light therapy for wrinkles
Red light is also applicable for anti-aging as a natural way to enhance skin radiance and to stimulate collagen production. Photo aging is a dermatology term to describe aging of the skin caused by environmental UV rays. Aging is a genetic and biological process. Latest dermatological research known as inflammaging proves this concept. DNA damage causes inflammation in skin cells.
Inflammaging is a direct cause of aging skin. As a result of inflammaging, there is an increase of fine lines, wrinkles, enlarged pores and loss of skin elasticity. Reversing photo aging is a key concern for many.
Dermatologists stress it is not just for cosmetic purposes, but also to overall enhance resilience of skin.
"Skin resilience is a fairly new concept, but it is helpful to tie that in with our latest product research that targets a healthy skin microenvironment. The idea here is to build stronger skin defences. This refers to skin that can better handle daily environmental stresses. For example, ultraviolet radiation, environmental pollution which damage skin cell DNA," shares Dr. Teo.
Red light's therapeutic benefits on skin is a clear way to build skin resilience. Resilient skin can "eat up" free radicals which are damaging skin cells. There is also extensive evidence on the benefits of red light therapy available in dermatological literature.
Red light treatment for hair loss: the best way to regrow hair at home
Red light therapy is used for hair regrowth. This may combine with yellow light to achieve highest bio stimulation effects on the hair follicle. Hair loss is commonly due to genetic causes such as male and female pattern hair loss. It can also be due to stress, known as telogen effluvium. In both cases, red light helps to increase the rate of hair growth as a result of the bio stimulation effects on the hair follicle. Red light targets the hair follicle to achieve stimulation of stem cells. Hair stem cells activity affects rate of hair growth. The best home use photon devices ideally can be used for both the scalp and the face. However, most models now only offer separate devices.
With the increase in home use light therapy machines, it helps to know how to choose the best light therapy device for your needs. Be it for example, acne, pigmentation, anti-aging or hair loss, the key is in the design.
How to choose the best home use photofacial machine
According to Dr. Teo Wan Lin, the design of your device determines the effects. In a dermatologist clinic setting, the machines used to deliver photo facials are powered to meet minimum energy standards. An appropriate dose elicits a positive effect on skin and hair.
Safety concerns with home use light therapy devices
Eye protection is also essential. The inherent problem with home devices is that it truly lacks the energy specifications required. According to peer reviewed literature, this is what produces a demonstrable effect on skin.
Home use handheld photon light devices
The most popular models for the top home use light therapy devices include handheld photon light devices. These devices are cheaper, are very convenient and can be quite trendy. However, dermatologists do not expect this to be a true photo facial. It is also definitely not the best way to utilise home photon light therapy. While appearing to be value for money, it is not comparable to light therapy delivered in clinic settings and studies.
Besides, there is always a risk of inadvertent eye safety risks. The eye exposure is concerning, because there is no way to protect the eyes in this case. Users are also not alerted to safety concerns because these devices are marketed as trendy beauty toys.
LED face mask light therapy for home use
Home light therapy facials were popularised as an LED face mask years back. These were initially marketed by the beauty giant Neutrogena but it is noteworthy the brand subsequently led a recall of the product worldwide. This was because it had been found to cause retinal damage in susceptible patients. To dermatologists and ophthalmologists, the mechanism of action is quite clear. These LED masks do not offer eye protection.
How effective are face masks for light therapy home facials?
The efficacy of light therapy face mask models cannot compare to what is in use at clinical practice.
"Newer models of light therapy face masks incorporate eye shields which I feel that is definitely a preferred option. However, the issue here is still that it cannot compare to actual photo facials that are delivered in clinics for therapeutic purposes. Such as for treatment of acne, pigmentation, as well as skin aging.
Home use light therapy machine: the Omega light by K-beauty
For years, the home light therapy machine device market featured the popular korean style Omega light.
The Omega home light therapy machine is similar to the design of an in clinic photofacial experience. This is in terms of distance and coverage, compared to LED face masks and handheld light therapy devices. The Omega design lacks the number of light bulbs compared to the clinic design for light therapy. For example, it contains only a 100 piece bulb design. It also requires an electrical charging point and it is quite bulky and cumbersome for a home facial device.
Hence, these were initially in use mainly in the beauty salon setting. However, home users did not find it suitable to incorporate into their daily skincare routine.
Aurora Photon Light Therapy Machine
A reinvention for the best home use light therapy machine: dermatologist recommended
A state of the art home light therapy device modelled after the clinic light therapy machine, with the original 1632 light sources. It generates the ideal device wavelength with a bio similar output with a 240 piece bulb, more than double that of the traditional omega light. As the ideal home use light therapy device, it is portable, foldable with a built in battery. It allows for wireless use as it is USB rechargeable.
It is easy to incorporate the AURORA Home Light Therapy machine into your beauty regimen. The device comes with a customised regimen according to a protocol dermatologist developed for every skin concern. At just 10 minutes a day three times a week, it promises to deliver therapeutic benefits for skin and hair in a safe and effective way. Simply key in your concerns with your order and you will receive an easy to follow schedule for the next 3 months for short term treatment. A long term maintenance regimen proposal is also available.
Why you should get this top rated dermatologist recommended home use light therapy machine: the best for your skin and hair needs
Did we mention that the AURORA device can be used for both the skin and hair? The best feature is also in its portable design while delivering effective, biosimilar wavelengths.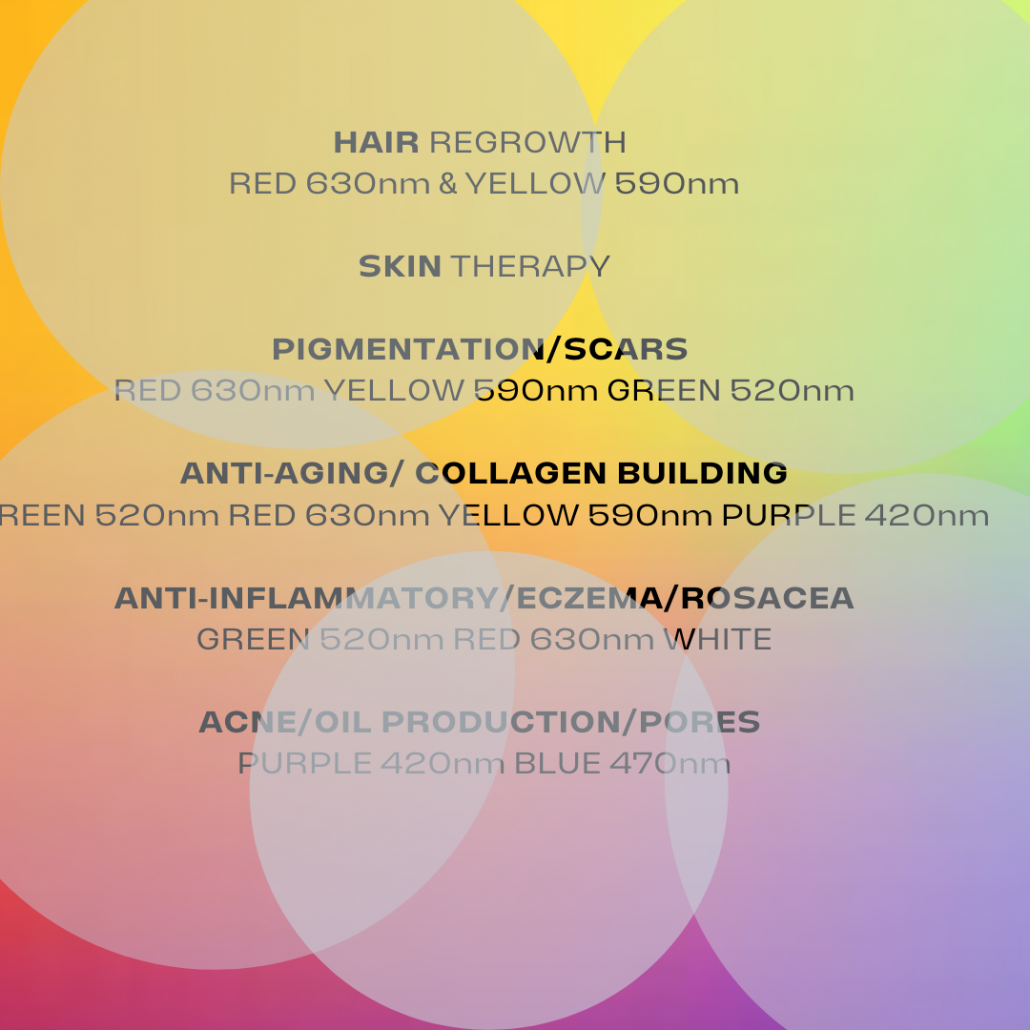 Bridging clinical efficacy and practicality in a home use device
The AURORA light therapy machine is the ideal transition between the clinic style larger photo facial light machines and the portable home devices featuring photon light therapy. The AURORA is just 1-centimeter thick, with wireless USB rechargeable capability. It is also the ideal mobile home light therapy device equipped with over 200 light sources.
In our design of this ideal home light therapy device, our engineers calculated this to be more energy efficient as a comparable alternative. Modelled after the biostimulatory effects of in-clinic light therapy machines, it has dermatologist approval for the treatment of acne, wrinkles and hyperpigmentation. In addition, the device contains a total of 7 wavelengths. These novel wavelengths are emerging in terms of dermatology research. They target sebaceous gland activity, oil control and also have anti inflammatory effects. For example, post sun-exposure, encouraging cell repair.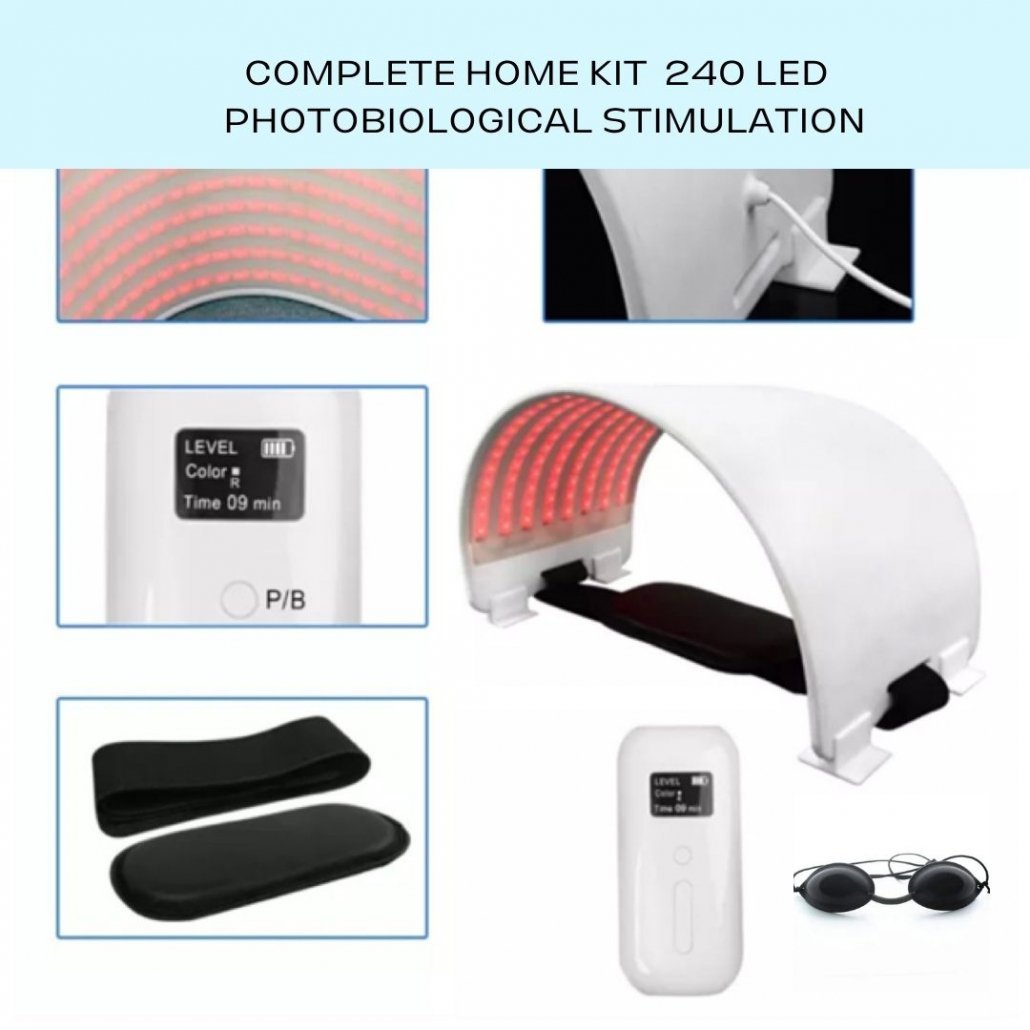 Dr.TWL Dermaceuticals brings the best home use light therapy facial device to you
The AURORA is ideally designed to treat acne and hyperpigmentation. It also enhances collagen stimulation. It directly improves skin resilience by increasing the skin's ability to fight oxidative stress.
The best home facial light therapy machine is one that first of all meets your needs. Secondly, it should have safety features such as an eye shield, easy operation with a remote control. It is easy to set up and takes up minimal space. A medical grade protective eye shield is inclusive with your AURORA kit. It is a quality investment over standard handheld light photon machines because of its inherent design and build. All AURORA models come with a 1 year warranty against manufacturing defects.
https://drtwlderma.com/wp-content/uploads/2022/04/why-aurora.jpg
628
1200
Joanne Lim
https://drtwlderma.com/wp-content/uploads/2023/02/Logo-300x128.jpg
Joanne Lim
2022-04-15 23:21:39
2022-05-13 02:19:19
Best Home Use Light Therapy Devices: Dermatologist's Guide