Polyglutamic Acid: The Ultimate Hydrating Skincare Ingredient

Found to hold up to 5000 times its own weight in water, polyglutamic acid is the latest powerhouse hydrating skincare ingredient. "Cosmeceuticals such as polyglutamic acid, which is a large molecule, sits on the surface of the skin while functioning as a humectant 5x more effective than hyaluronic acid," accredited dermatologist, Dr. Teo Wan Lin of TWL Specialist Skin and Laser Centre.
In this article, we will go through the benefits of the hydrating skincare ingredient polyglutamic acid, as well as the mechanism behind how it helps with moisturization.
What is Polyglutamic Acid?
To begin with, polyglutamic acid (γ-PGA) is a naturally occurring, water-soluble biopolymer that comprises of large molecules. It forms a thin layer on the skin's surface which prevents the loss of water. Additionally, it promotes the skin's natural moisturizing process. This in turn will plump the appearance of fine lines and brighten dull complexions.
Polyglutamic acid is produced by a number of Bacillus (bacteria) species and has the ability to inhibit the enzyme hyaluronidase, which destroys hyaluronic acid when we age. This is significant as hyaluronic acid functions to retain water to keep tissues moist. Though polyglutamic acid bears many similarities to hyaluronic acid, its moisture retention can go up to five times (or more) as compared to hyaluronic acid.
What does Polyglutamic Acid do for the skin?
Moisturising Effects
Exposure to external factors such as the sun's UV rays and temperature, as well as endogenous factors like hormones, may disrupt skin balance between the water content and lipids on the skin. This results in dry skin and atopic dermatitis on the skin in more severe cases. When γ-PGA is incorporated into cosmeceutical moisturizers, it acts as a good hydrophilic humectant with the ability to increase production of natural moisturizing factors, namely urocanic acid and lactic acid. γ-PGA also shows to enhance skin elasticity more than collagen and hyaluronic acid.
Additionally, it is used as an active ingredient in hyaluronidase inhibitor that degrades hyaluronic acid present in skin dermis. Therefore, this is significant in maintaining skin elasticity and reduce allergenic reactions.
Antimicrobial Activity
Furthermore, γ-PGA plays an important role as an antimicrobial agent, which is a crucial material for cosmeceutical and biomedical applications. To illustrate, research studies show that γ-PGA exhibits antimicrobial activity. γ-PGA was found to inhibit both Gram-positive bacteria (L. monocytogenes and S. aureus) and Gram-negative bacteria (K. pneumonia and E. coli).
Polyglutamic Acid Side Effects
To date, there are no harmful side effects to humans associated with using polyglutamic acid. Therefore, this hydrating skincare ingredient is ideal for all skin types. However, as with any formulations, one can be sensitised to any of the base products or ingredients. Hence, it is advisable to perform a patch test and visit a dermatologist if you do experience adverse side effects.
Polyglutamic Acid Products
"In a humid climate like Singapore, if your skin starts to get drier than usual after you've spent long hours in an air-conditioned space, I recommend spritzing on a facial mist throughout the day," accredited dermatologist, Dr. Teo Wan Lin.
Hence, choose facial mists that have hydrating properties like Dr.TWL Dermaceutical's Mineral Booster, which contains purified mineral-rich deep-sea water infused with polyglutamic acid, amino acids and humectants to sooth skin.
A Dermatologist-Formulated Product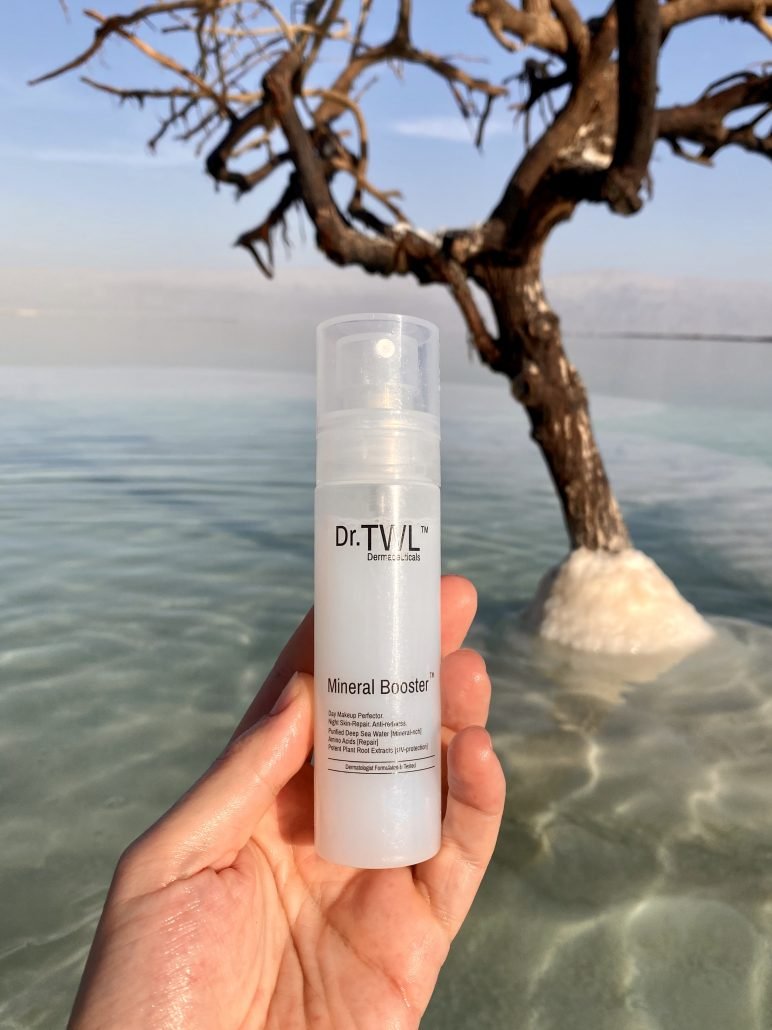 Taken by one of our users Ros Leon on a trip to the Dead Sea, Israel. The Mineral BoosterTM contains skin-calming & repairing active ingredients in a polyglutamic acid base. This includes precious rice bran extract and potent licorice extract suspended in a purified deep sea water mist harvested 600m below sea level using sophisticated technology. Perfect for tropical and humid climates.
References
Ogunleye, A., Bhat, A., Irorere, V., Hill, D., Williams, C. and Radecka, I., 2021. Poly-γ-glutamic acid: production, properties and applications. https://www.microbiologyresearch.org/content/journal/micro/10.1099/mic.0.081448-0;jsessionid=LX-64HfhFnJHaDEc6QZEuDyr.mbslive-10-240-10-7. Accessed 17 May 2021.
Lee N-R, Go T-H, Lee S-M, et al. In vitro evaluation of new functional properties of poly-γ-glutamic acid produced by Bacillus subtilis D7. Saudi journal of biological sciences. https://www.ncbi.nlm.nih.gov/pmc/articles/PMC3942858/. Published April 2014. Accessed May 17, 2021.

https://drtwlderma.com/wp-content/uploads/2017/08/WhatsApp-Image-2017-08-24-at-8.28.55-PM.jpeg
820
1600
Administrator
https://drtwlderma.com/wp-content/uploads/2023/02/Logo-300x128.jpg
Administrator
2021-05-18 10:40:46
2021-09-01 22:14:52
Polyglutamic Acid: The Ultimate Hydrating Skincare Ingredient