Enter your email address below to join the Pre-Launch VIP list for first look access with sneak peaks, special discounts and free gifts!
BRAND FAQ: COMMON FAQ ANSWERED
What's the story behind the Pi- π — Cosmeceutical Custom Makeup Lab?
We pride ourselves as the premier dermatologist-founded and formulated cosmeceutical custom makeup line, founded in August 2019– the brainchild of accredited Singaporean dermatologist Dr.Teo Wan Lin. Dr Teo is an expert in cosmeceutical formulation and the author of the Skincare Bible—Dermatologist's Tips on Cosmeceutical Skincare. She is also involved as a beauty panel on Singapore Women's Weekly and Her World for their yearly skincare and cosmetic makeup product reviews.
1. What to expect for your experience? 
Enjoy a warm welcome by your color scientist! You will be educated on color theory and our Pi-Color Science System developed by our dermatologist, as well as the cosmeceutical bases we use. Assessment of your lip/skin concern is performed by a trained color scientist, and recommendations are made based on our scientific skin tone analysis system. Finally you get to watch your custom makeup product come to live. The entire experience is expected to take about 30 minutes in total (Dream Concealer Color Correction) and 45-minutes (LipSerum Stick).
2. Who are your color scientists?
Our color scientists are rigorously trained and accredited by our dermatologist, in house chemist and makeup-artist veterans we work with.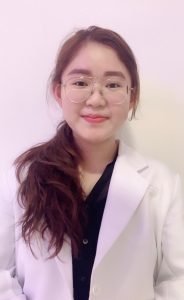 Joanne Lim
Color Scientist / Dermatology Education Nurse
Color Correction Service
Joanne who heads the Dream Concealer™️ Color Correction Department, is a dermatology nurse educator, with extensive experience assisting our dermatologist Dr. Teo Wan Lin for skincare counselling and cosmetic camouflage for acne, rosacea, eczema sufferers. She has been trained in makeup artistry and application of our color corrector concealers.
Indra is a trained fashion designer with a Bachelor's Degree in Fashion Design(Hons), and heads up the Dr.TWL Custom Lip Lab— where we work on finding the right color to complement your skin! He works closely with veteran makeup artists on color theory and incorporates the latest color trends in our recommendations.
3. Will the makeup be compounded live in front of customers?
Yes. After an evaluation and discussion on your needs, our on-site color scientist will work on your desired shade/finish with a chosen cosmeceutical base adjusted to your skin type.
4. How is it truly customised? Is it necessary to have customised makeup? 
Has your favourite lipstick color been discontinued? Have you been thinking what  color suits you best? Did you know, that as many shades as there are for every red, berry, coral, pink — there are at least 110 skin tones that would look different in each shade! For Color Correction, our cosmeceutical base is tailored to your area of skin concern, and intensities and textures of the 8 base color correctors are amended depending on the amount and type of coverage needed. What we guarantee is— it will be customised to a colour/shade that will match and flatter your skin tone, without the cakiness and streaks of your usual concealor plus dermatologist-formulated cosmeceutical actives to heal and regenerate your skin.
5. What's the difference between cosmeceutical makeup and normal makeup?
Cosmeceutical Makeup is a concept developed by our dermatologist, who is a key opinion leader in Singapore on the subject of dermatologist-developed cosmeceuticals. The base of all the custom makeup we compound in our laboratory are dermatologist formulated cosmeceutical actives manufactured in a EUROISO22716 accredited facility. 100% pure FDA-approved mineral pigment are our only color additives used to achieve the colors and textures required. There are zero bulking agents, it is also Bismuth Oxychloride (BMO) free. Our pressed blush/eyeshadow powders/creams are compounded purely from inert minerals with zero chance of skin irritation, and have been tested for aesthetic effects on skin by veteran makeup artists. The active cosmeceutical ingredients ensure skin healing and anti ageing benefits while delivering intense pigment.
6. How about packaging?
All our makeup is finished in our signature Silvexia™️ UV protective coating—the lipstick case and our makeup palette is treated with anodized silver to prevent UV-degradation of active cosmeceutical ingredients, ensuring optimal function of pigments and skincare benefits. Our magnetic palette is reusable and customisable— it can hold up to 20 tin pans.