Best Home Chemical Peel DIY Treatment with Universal Beauty Bar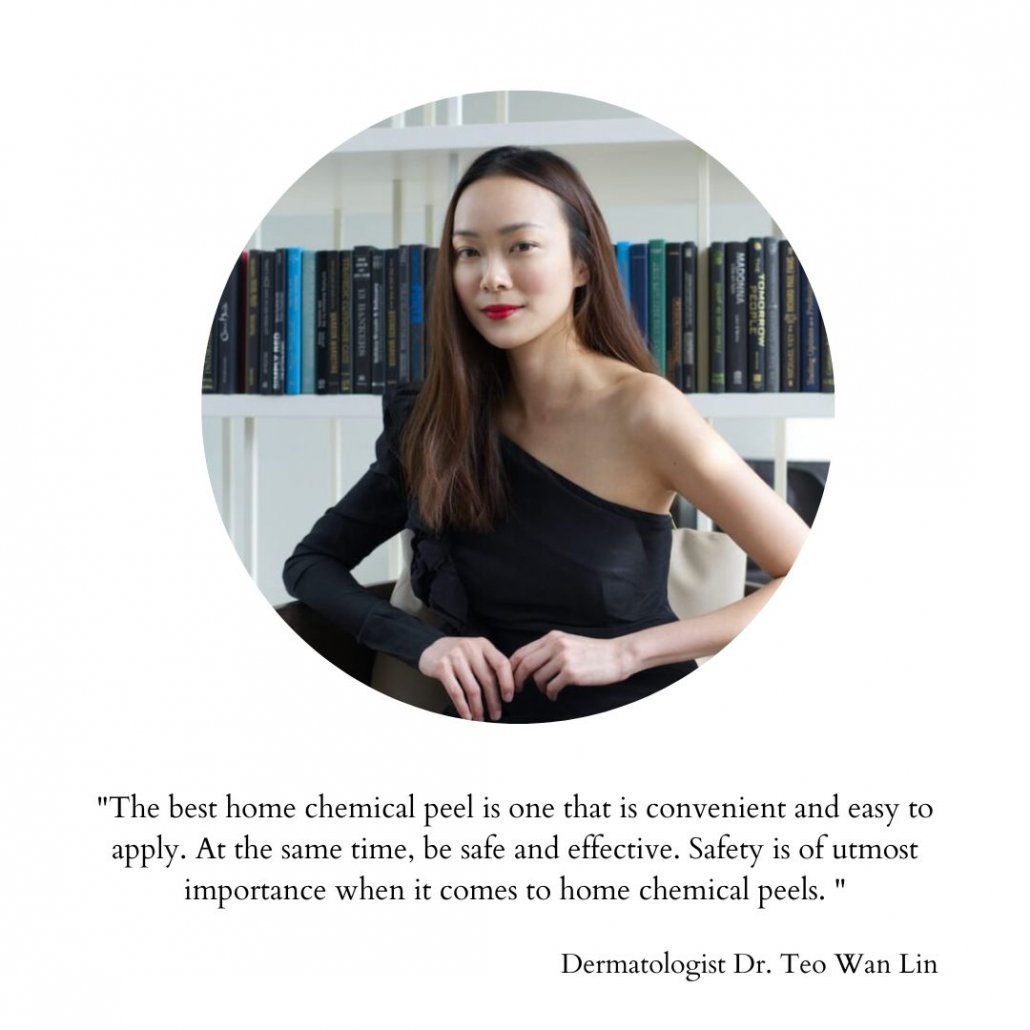 "The best home chemical peel is one that is convenient and easy to apply. At the same time, be safe and effective. Safety is of utmost importance when it comes to home chemical peels. The reason why chemical peels are performed in a clinic setting is because of the potential to cause irritant contact dermatitis. Vulnerable areas such as the eyes and lips also have to be protected," Singapore dermatologist and founder of Dr.TWL Dermaceuticals, Dr. Teo Wan Lin.
The Best Water Peel for Home Use – An Excellent Chemical Peel Alternative
Utilising Jet Hydrodermabrasion Technology
Common chemical peel acids at the effective concentrations can cause irritant contact dermatitis. In severe cases, a form of chemical burn occurs. However, newer types of enzyme peels have a minimal risk of inducing such a reaction, especially when it is well formulated. Such peels are suitable for home use, especially when paired with a hydrodermabrasion device. The latest in the Dermatologist Tools Suite is the Universal Beauty Bar. The Beauty Bar utilises novel hydrodermabrasion, harnessing the properties of water in a vortex jet handpiece to effectively deliver the best home chemical peel experience.
Why chemical peels are best performed in the dermatologist's office
The best home chemical peel option must also be effective. Besides being safe and also convenient to use. Traditional chemical peel acids require neutralisation with a base alkali which is quite difficult when one is doing it on their own. DIY home chemical peels are hence never the recommendation by dermatologists. In Singapore, the sale of chemical peel acids is also under strict regulations. Over the counter skincare containing chemical peel acids such as glycolic, lactic and salicylic acids have maximum allowable concentration limits. While this reduces effectiveness, a lower concentration is much safer for home use.
Glycolic acid, salicylic acid, lactic acid peels
However, one must be mindful of side effects from using chemical peel acids in home skincare. FDA requires all chemical peel containing skincare to carry a sunburn risk label. This is even more relevant in tropical Singapore where year round there is exposure to 100% of the sun's ultraviolet rays. Unlike in temperate climates, there is a greater risk of sun sensitivity in a summer climate like Singapore. Also, asians belong to skin of colour. The increased melanin in our skin means that we are at greater risk of post inflammatory hyperpigmentation. Traditional chemical peel acids can induce post inflammatory hyperpigmentation in certain individuals. While this is more common with medium and deep chemical peels. Idiosyncratic reactions can occur. Certain racial skin types belonging to photo type 3 and beyond are at higher risk of developing post inflammatory hyperpigmentation. This is a risk from chemical peel acids.
The best home chemical peel alternative with enzyme hydrodermabrasion
Incorporating a device such as microdermabrasion with the chemical peeling solutions presents as an effective way to tackle this issue. Water jet hydrodermabrasion effectively exfoliates the superficial skin cells with hydrostatic pressure. At the same time this loosens the tight junctions between skin cells, known as the corneocytes. This allows effective skincare ingredients to penetrate deep into the skin.
Current over the counter skincare features lower concentrations of glycolic, salicylic acid, lactic acids. However, these concentrations may be suboptimal for exfoliation. As a result, daily use is the recommendation for an optimal effect. However, repeated use can lead to irritant contact dermatitis. This is especially so in equatorial climates like Singapore. Our skincare does not contain any chemical peel derivatives or retinol that may contribute to sun sensitivity.
Enzyme peels such as those derived from papaya and pineapple are more suitable for home chemical peels, especially for those with more sensitive skin.
Enzyme Peel Suitable for Sensitive Skin
Individuals with sensitive skin will still benefit from peels because of its ability to renew skin cells. We must take care not to sensitise the skin further. Those with sensitive skin keen to remove hyperpigmentation, improve skin texture and radiance will benefit from newer forms of chemical peels.
Dr.TWLTM Enzyme Peel with Hydrodermabrasion
These newer enzymes have similar beneficial skin exfoliating effects as traditional chemical peels, without the side effects. The enzymes also have an innate anti-inflammatory effect. This means that instead of triggering of sun sensitivity or dermatitis, it works to soothe and calm skin.
An Enzyme Chemical Peel for Acne
The enzyme solution with the Universal Beauty Bar touts antimicrobial, anti inflammatory and antioxidant effects. It is designed as the best home chemical peel option for sensitive skin and living in tropical Singapore.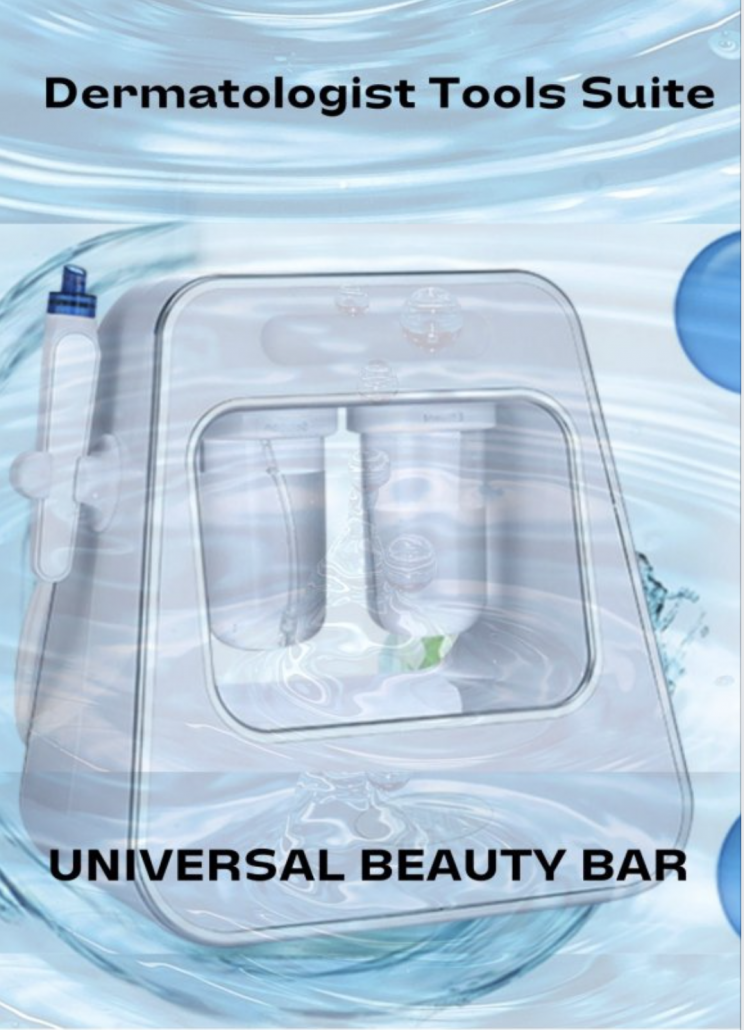 The best home chemical peel regimen for combination and oily skin is one that is well tolerated and can be easily performed on a regular basis. Usually, superficial chemical peels are performed on a fortnightly or monthly basis. For The Dr.TWLTM Enzyme Peel Solution with Hydrodermabrasion, it is designed for weekly use. Individuals with oilier, acne prone skin can perform the peel on a three times a week to daily basis if there is no irritation.
Best home chemical peels with the Universal Beauty Bar using Enzyme Hydrodermabrasion
The idea behind a chemical peel is this. The acids dissolve the topmost layer of skin, known as the corneocytes. This helps to improve the penetration of cosmeceutical skincare. By exfoliating the top layer of skin, this also improves skin radiance.
Ask a Dermatologist: Frequently Asked Questions about Home Chemical Peels
What is a chemical peel?
Chemical peels are a common procedure in dermatology clinics. A chemical peel utilises peeling agents such as glycolic acid, lactic acid salicylic acid. These acids exfoliate the topmost layer of skin microscopically. This contrasts with physical exfoliation with scrubs, which can cause skin irritation. Chemical peels exfoliate skin on a microscopic level. This sheds off the topmost layer of cells, a process known as microexfoliation. For superficial peels, we leave these acids on the skin for three to five minutes at concentrations of at least 20% before either neutralisation or washing off.
Do I need a chemical peel? Who is suitable for chemical peels?
Chemical peels are most effective for those who have combination or oily skin types. For those with very sensitive skin, it may cause irritant contact dermatitis, similar to a chemical burn. Chemical peels also help those with hyperpigmentation, skin aging, acne scars. Chemical peels also help with reducing pore size. The best chemical peel formula can increase skin radiance instantly. Regular chemical peels can also help control oily skin.
Top home chemical peel options – DIY
Regular chemical peels can minimize photo aging signs. Photo aging is due to sun exposure leading to the formation of hyperpigmentation, dark spots, fine lines, wrinkles, and a coarse skin texture.
The best chemical peel regimen can help control seborrhea. Seborrhea is a state of excess oil production. Excessively oily skin common in those suffering from seborrhea or acne. For adult hormonal acne, chemical peels control the excessive oiliness caused by hormonal changes during the menstrual cycle.
In a hot and humid climate like Singapore, chemical peels for those who have combination skin can help to improve the skin texture and minimize oiliness.
What types of chemical peels are available?
The types of chemical peels available are traditionally glycolic acid, lactic acid and salicylic acid. Glycolic acid is a derivative from sugar cane, but these also undergo synthesis in the laboratory. The same with salicylic acid which is naturally present in willow bark and wintergreen. Lactic acid is also naturally occurring. It originates from the bacteria lactobacillus and streptococcus when they ferment.
What chemical peel types suit sensitive skin?
The new types of chemical peels include enzyme peels as well as polyhydroxy acid peels. These are more suitable for sensitive skin.
What is an enzyme peel? How do enzymes like papain and bromelain work? Are there benefits?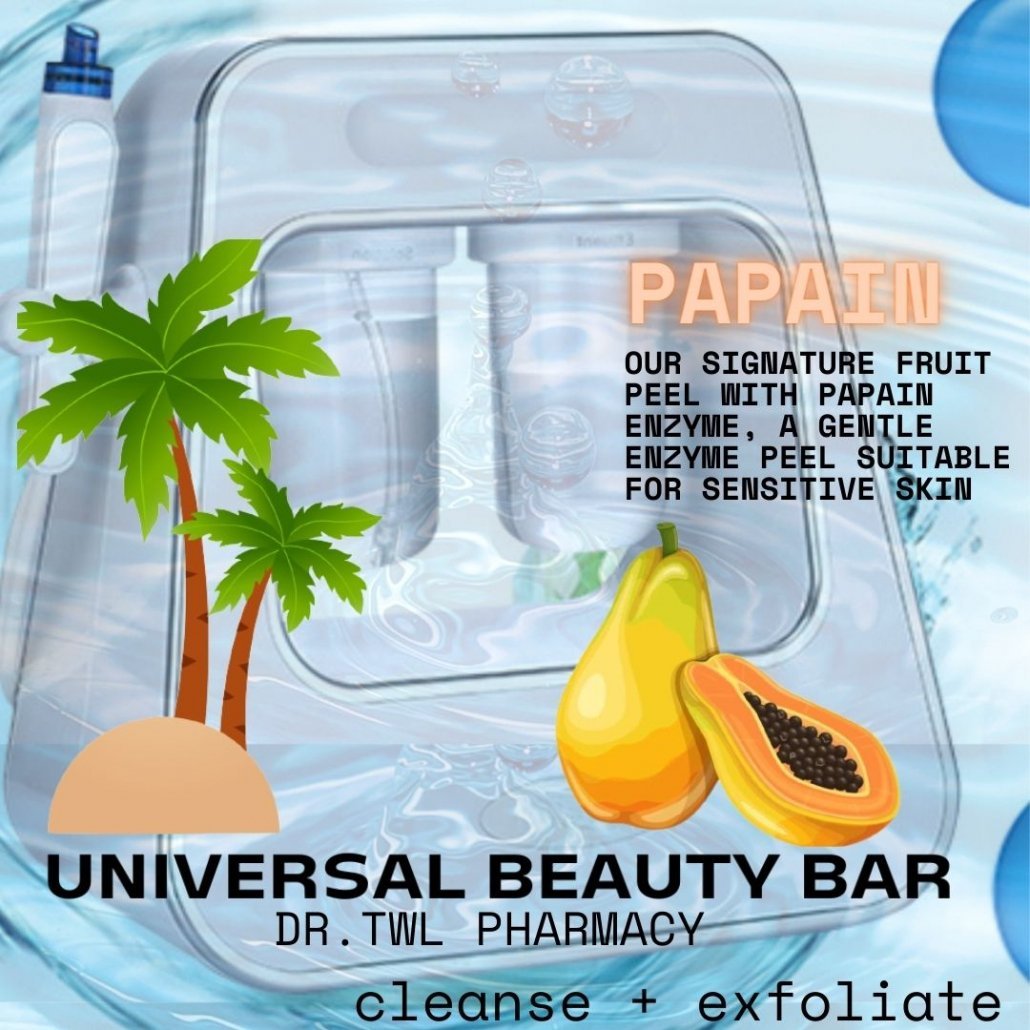 Enzyme peels can be from papain or bromelain. Papain is a derivative from extract of the papaya plant, a tropical fruit tree. Bromelain is a derivative from pineapples. Enzyme peels are superior to traditional chemical peels because they may be gentler on skin.
Enzyme peels have additional antioxidant benefits. A lot of skin conditions are due to skin inflammation. The enzyme peel of our choice is a proprietary formula of papain enzyme with 17 different antioxidants. This boosts additional anti-inflammatory effects, unlike traditional chemical peels which cause inflammation.
Enzyme Peel with Hydrodermabrasion for Acne
The Dr.TWLTM Hydrodermabrasion System with Enzyme Peel Solution is the best home chemical peel option. We formulate it for sensitive skin and troubled skin. Those that would not tolerate glycolic acid or lactic acid will be especially suitable to this formula. Bromelain and papain when formulated together with our 17 different antioxidants formula, delivered with the Universal Beauty Bar, is an effective way to exfoliate and to soothe irritated, acne prone skin types.
Do I need to visit a clinic for a chemical peel? What is the Dr.TWL Universal Beauty Bar?
The Universal Beauty Bar is designed as the best home chemical peel system for combination and oily skin. It is user friendly. The Enzyme Peel Solutions will be delivered with your Beauty Bar, with refills available.
Incorporating this into your skincare regimen is straightforward. The Universal beauty bar is a clinic grade system that takes up this footprint of just a countertop dispenser. Used together with the bromelain the propane enzyme solution it augments the vacuum hydro dermabrasion process to effectively exfoliate the skin at the same time soothing, inflamed skin.
Best way to incorporate home chemical peels into your skincare routine
Ideally, one may perform our enzyme peels at least two times a week for optimal results. For starters, or if you have more sensitive skin, once a week is also sufficient. The Universal beauty bar makes it easy and safe for you to deliver the enzyme peels to your skin. The hydrodermabrasion technology uses vortex jet design and hydrostatic pressure to exfoliate the skin.
Additional benefits of the home chemical peel system
The best part about this enzyme based hydrodermabrasion peel is that it has added benefits of restoring skin resilience.
A Chemical Peel For the Microbiome
Antibacterial effects for acne
Studies have shown that bromelain enzyme has a potent bacteriostatic effect. This can potentially help those suffering from acne. As an added benefit, although there is sufficient evidence for chemical peels as an adjunct to acne treatment. This means that it can treat the microbiome imbalance in your skin. Acne is caused by an overgrowth of bad bacteria known as P. acnes. A healthy skin microbiome can reduce the growth of this bacteria.
Best home chemical peel option DIY style with the Enzyme Hydrodermabrasion System
Papain enzyme peels is the best home chemical peel alternative, effective for treatment of the skin microbiome. For acne treatment, it can reduce whitehead and blackhead formation. This is by exfoliating superficial dead skin cells that can worsen pore clogging.
Resurface the skin and enhance removal of melanin
Another important benefit of chemical peels is that it can improve hyperpigmentation. Hyperpigmentation can be in the form of sunspots, age spots or melasma. Pigmentation problems can cause significant distress to patients.
Current options for treatment of hyperpigmentation
Lasers require in person attendance and treatment by a qualified practitioner. Over time, laser treatments may cause increased skin sensitivity. Long term maintenance is also important after laser treatments. The recommended treatment regimen for hyperpigmentation with the enzyme peel system is as follows:
For acne and oily skin types:
Start at twice a week for five minutes each time for 2 weeks. Subsequently increase to 3 times a week for 1 month. Thereafter, you may either decide to increase to a maximum of 5 times a week or if your condition is under control, to follow with a maintenance regimen of twice a week. Spot treatment with blue photon light therapy
For photoaging and pigmentation, melasma:
Age 30 years and above:
Start at once a week for 5 minutes each session for the first week. If you do not have skin irritation, you may increase the frequency to twice a week for 2 weeks. Augment with red photon light therapy for pigmentation areas. The peel is gentle enough to be used up to 5 times a week for intensive treatment.
Combine with the Aurora home light therapy treatment for a synergistic effect
Dermatologist Tips on the best home chemical peel for acne and pigmentation
Acne is a condition that can be effectively treated with chemical peels treatment as an adjunct. Papain enzyme has a multi modal effect on acne. Firstly, by targeting bacteria on the skin surface without causing bacterial resistance. Acne is also caused by retention of dead skin cells around the pores. There is reduced turnover of skin cells leading to clogging of pores. One can improve this condition by incorporating the enzyme solution with the Universal Beauty Bar by exfoliating the dead skin cells.
This reduces comedone formation. The enzyme peel is also suitable for those who want general maintenance for photoaging and anti-aging effects. It has a direct effect. on superficial wrinkles, as it stimulates collagen production. It also engulfs the free radicals generated by airborne pollutants. Overall, this reduces the signs of skin aging and stimulates collagen formation.
https://drtwlderma.com/wp-content/uploads/2022/06/papain-enzyme-feature-image.jpg
400
495
Joanne Lim
https://drtwlderma.com/wp-content/uploads/2023/02/Logo-300x128.jpg
Joanne Lim
2022-06-21 23:52:56
2022-06-26 12:43:41
Best Home Chemical Peel DIY Treatment with Universal Beauty Bar