Breathable Face Mask – Optimizing the Skin Micro-Climate

© Dr. TWL Biomaterials. Watch the full video. The ZINCOOL™ Nanoparticle breathable face mask currently available in pure white with matching ear straps.
Breathable Face Mask with Nanoparticle Treatment
Dr.TWL Biomaterials focusses on development of nanoparticle technology in the form of breathable face masks. For the creation of textile cosmeceuticals-for optimal skin breathability in for maintaining a healthy skin microenvironment.
"Biofunctional textiles with UPF, anti-oxidant and anti-ageing benefits may incentivise mask-wearing. Studies associate copper oxide polyesters with reduced facial wrinkles, elevation of elastin, pro‐collagen 1 and TGF‐ß1 levels. Silver, zinc oxide and copper oxide nanoparticle incorporated textiles have broad-spectrum biocidal properties. Particularly, these are therapeutic for dermatological conditions, besides reducing antibiotic resistance in acne treatment,1" Dr. Teo Wan Lin, Dermatologist & Chief Scientific Officer.
What is nanoparticle technology?
We integrate synthetic nanoparticles into the fibres of the textile, creating function without altering the comfort properties of the fabric. Nanoengineering of textiles can results in textiles with specific functions, including waterproofing, antibacterial properties, anti wrinkle properties, UV-blocking and more. In short, with nanotechnology, we can achieve these properties without affecting the breathability and structure of the fabric.
What is the science behind the benefits of nanoparticle technology?
1. Bactericidal / Contact Killing
The metal nanoparticle technology incorporated in our biomaterials reusable face mask have been tested for its contact killing effects. In a variety of different face masks, there is broad use of the term antimicrobial. However, in the field of science and medicine, it's very important to distinguish between specific terms such as bacteriostatic, and bactericidal. On one hand, bacteriostatic means that it inhibits the growth of bacteria. On the other hand, bactericidal means that it kills bacteria on contact.
Bacteria (part of our natural flora) are usually harmless. The microbiome of one's skin – essentially referring to the balance of beneficial bacteria on the skin – changes with this new microenvironment created by prolonged periods of mask-wearing. To illustrate, this increases the temperature and moisture levels, both factors that encourage overgrowth of microorganisms. In addition, specific bacteria present in saliva and in nasal secretions come into contact with the skin. This is due to prolonged contact with the face mask. Hence, all these contribute to microbiome dysbiosis. In short, is phenomenon whereby there is a disruption in the normal healthy balance of bacteria and yeast, increasing the risk of dermatological conditions.
The nanoparticle technology in our fabrics has been tested in the respect of being able to perform contact killing of disease causing skin bacteria that will affect the skin microbiome, leading to maskne.
2. Self Cleaning
Copper and its alloys have been officially recognized by the EPA for its ability to kill 99.9% of certain pathogenic bacteria within 2 hours. Since then, copper surfaces have been known for its "contact killing" bactericidal properties. Additionally, copper nanoparticle's technology has exhibited high antibacterial activity on many bacterial strains such as MRSA, Staphylococcus aureus, Candida albicans, and Escherichia coli.
Several studies have been conducted detailing zinc nanoparticle fabric's self-cleaning properties. For example, one study that compared fabric coated with zinc nanoparticles and uncoated fabric showed that the intensities of methylene blue (dye) stains on the zinc nanoparticle fabric significantly decreased as compared to visible stains on the uncoated fabric.
One proposal of the mechanism of self-cleaning in these metal nanotechnology fabrics is photocatalysis. To illustrate, photocatalytic activity refers to a material which absorbs light for energy to perform a reaction. In short, when the zinc nanoparticles absorb photons from UV, they stimulate the production of free radicals which help to degrade organic compounds.
Shop
The ZINCOOL™ breathable face mask with anti-inflammatory, bactericidal and sebum control functions to treat maskne.
Are you searching for the best breathable face mask?
Factors such as mask design and textile properties determine breathability of a fabric mask. For example, accumulated stickiness sensation (ASM) contributes to affects sensation of a breathable mask. Cotton, traditionally recommended as the textile for sensitive skin, does not guarantee a breathable skin environment. High ASM and water saturation levels when worn against the face for long periods as a reusable fabric mask in a humid climate like Singapore, causes poor breathability of most fabrics.
The design of the ideal breathable face mask face mask should cover the nose and mouth orifices. Furthermore, it should also allow comfortable movement of the jawline when speaking to enhance breathability. Essentially, a breathable face mask is one that optimises the skin microenvironment.
We share more about how the ZINCOOL™ nanoparticle mask provides optimal skin breathability to treat and prevent maskne and other mask-related skin diseases like perioral dermatitis, rosacea, and eczema.
Targeting Skin Inflammation- Maskne Treatment with Textile Cosmeceuticals
Dr.TWL Biomaterials engineers functional textiles with metallic nanoparticle technology for treatment of skin disorders related to the microbiome.
"Inflammation is at the heart of many skin disorders such as eczema, acne and rosacea. Textile cosmeceuticals can provide anti-oxidant, anti-inflammatory properties as much as a topically applied cream would. It also has the additional benefit of prolonged contact time with skin without the need for reapplication or concerns about absorption. Skin microbiome dysbiosis (imbalances) and changes in the skin microclimate due to occlusion is what causes maskne. The nanoparticle biofunctional textiles address both pathways to treat and prevent maskne," accredited dermatologist Dr. Teo Wan Lin.
The ZINCOOL™ breathable face mask follows the CUIONS™ Anti-Ageing nanoparticle mask in its original biofunctional design published first by accredited dermatologist Dr. Teo Wan Lin in the Journal the American Academy of Dermatology Nov 2020 (1).
Treating the Skin Microbiome with a breathable face mask
Anti-inflammatory zinc nanoparticles are incorporated in a ''self-disinfecting" fabric, targeting the inflammatory pathways in acne development. Additionally, the mask has undergone lab-testing for broad-spectrum bactericidal properties. This refers to the ability to induce contact killing of common bacteria and yeast that disrupt the healthy skin microbiome.
"The incidence of maskne is expected to increase, and traditional treatment is associated with antibiotic resistance, especially concerning due to its potential widespread nature. Biofunctional textiles present therapeutic potential in its treatment, besides providing an added incentive for mask-wearing in a pandemic", Dr. Teo Wan Lin.
A Healthy Skin Microclimate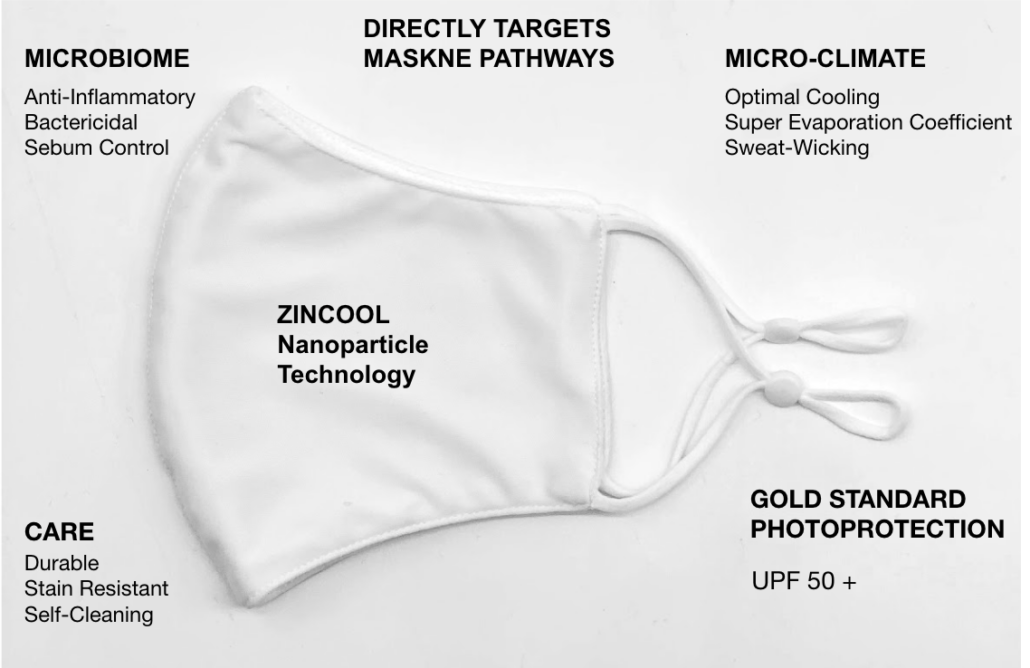 Mask-wearing has changed the micro-environment of the skin. To illustrate, textile-skin friction aggravates most underlying skin disorders and can directly cause eczema. In addition, increase in temperature, moisture and changes in pH occurs due to the occlusive environment with respiratory and salivary droplets. Therefore, skincare recommendations for maskne should include non-irritating pimple cream formulas such as botanical derivatives with anti-inflammatory effects. This is as opposed to traditional astringent formulas containing salicylic, AHAs, sulfur, retinols/retinoids or benzoyl peroxide.
The ZINCOOL™ mask is engineered for superior cooling "breathability" with high evaporation coefficient to keep skin dry. Its pure white colour reflects heat, and is coated with a stain-resistant polymer that allows foundation/makeup/lipstick stains to be easily washed off with gentle detergents.
Ultraviolet protection (UPF) protection for the lower half of the face should replace wearing of sunscreen. Specifically, this is due to the occlusive microenvironment of face-mask wearing, which increases comedogenicity of most sunscreens. "UPF 50+, fabric masks should replace the wearing of sunscreen (eliminates constant reapplication) as a practical photo-protective measure for the lower half of the face, to improve compliance to sunprotection and incentivise mask wearing," Dr. Teo Wan Lin whose white paper was published on Journal of the American Academy of Dermatology.
Specific Acne-Targeting Pathways- Oil/Pore Control
"Zinc is a popular topical treatment for acne because it has the ability to control sebum and decrease pore size, in addition to having anti-inflammatory effects. We incorporated zinc nanoparticles into a pure white self-cleaning fabric, to alleviate the triggers behind maskne. Namely, regulating skin temperature, self-disinfecting, and contact with zinc nanoparticles to regulate sebum production and for its anti-inflammatory effects," accredited dermatologist, Dr. Teo Wan Lin.
The design of an ideal biofunctional fabric mask by Dr. Teo Wan Lin. Features minimal textile-skin friction over the nose, jawline, ears while allowing comfortable breathing and speaking and maximum skin area coverage for UPF certification.
Dr. Teo's research in biofunctional textiles treating the skin microbiome featured in the October edition of Cosmetics Design Asia
Biofunctional textiles have the potential to treat microbiome dysbiosis, referring to changes in the bacterial balance of skin that leads to skin diseases.
How does the mask micro-climate affect your skin? If you suffer from eczema, acne, rosacea or perioral dermatitis, mask-wearing WILL cause your condition to flare. Reducing the duration of mask-wear where possible, taking breaks will help.
The ZINCOOL™ mask is specifically engineered with bactericidal properties, which means it performs contact killing of skin microorganisms that cause disease flare ups. It also encourages optimal skin micro-climate with maximum heat reflectance, keeping your skin cool and dry.
References:
1.Teo W-L, Diagnostic and Management Considerations for 'Maskne' in the Era of COVID-19, Journal of the American Academy of Dermatology (2020), doi: https://doi.org/10.1016/ j.jaad.2020.09.063.
https://drtwlderma.com/wp-content/uploads/2021/04/mask_white_STILL_01.jpg
1200
1200
Administrator
https://drtwlderma.com/wp-content/uploads/2023/02/Logo-300x128.jpg
Administrator
2020-11-25 21:48:42
2023-09-05 19:28:28
Breathable Face Mask – Optimizing the Skin Micro-Climate