The Science Behind a Skincare Routine
Dr.TWL Dermaceuticals is a cosmeceutical skincare line that strips back unnecessary packaging and promises, and uses only the best ingredients verified by science. The products contain pharmaceutical-grade bioactive ingredients that set it apart from the myriad of drug store and beauty counter products.
Dermatologist Dr Teo Wan Lin and pharmaceutical engineer Teo Zhi Liang designed Dr.TWL Dermaceuticals to bring truth, effectiveness and simplicity to people's skincare regimes.
The line's seven-step ritual cleanses, hydrates, brightens, moisturizes, and rejuvenates your skin – providing it with all the care that it needs on a daily basis.
Dr.TWL Skin Ritual
Cleansing
Step 1: Remove makeup with Le Lait™ Milk Cleanser
Washing our face with water alone is not enough to get it clean as various cosmetic products and environmental impurities are not water soluble.
Enter cleansers. With surfactants, they emulsify the impurities, allowing them to be removed easily with water.
While most surfactants have potential to cause dryness and irritation of the skin, Dr.TWL's Le Lait™ Milk Cleanser combines purified sea water (the surfactant) with camphor to calm your skin. As this cleanser is a milk/oil-based emulsification, it effectively dissolves makeup pigments that are mostly oil-based.
The result is a creamy and luxurious cleanser that doesn't dry your skin that can be washed or gently wiped off with a tissue. It is suitable for all skin types including sensitive skin.
Step 2: Cleanse with Miel™ Honey Cleanser
Once your makeup, sunscreen and other oil-based impurities are removed, a water-based cleanser can wash away any remaining water-based material, such as dirt or sweat. This double cleanse is important because a build-up of any unwanted debris can create an unwanted environment for bacterial growth.
Miel™ Honey Cleanser uses botanical emulsifiers for a thorough cleanse while still leaving the skin moisturized. This non-stripping formula relies on medical-grade honey to rinse away impurities, while Arnica Montana flower extract serves to reduce inflammation and anti-bacterial properties. This cleanser is suitable for all types of skin, even those with acne.
Hydrate
Step 3: Treat skin with Hyaluronic Acid (In-House Formula)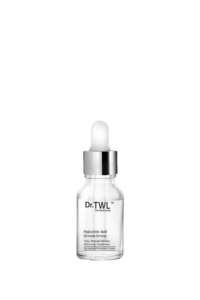 Our skin's ability to retain water decreases significantly as we age. Hyaluronic acid – made of molecules that can hold up to 1,000 times their weight in water – replenishes the skin's moisture supply after cleansing. It maintains hydration to help to plump the skin and decrease the appearance of fine lines and wrinkles.
Keeping skin well-hydrated also regulates oil production as your skin does not need to produce excessive oil to stay moisturized.
Dr.TWL's hyaluronic Acid (In-House Formula) is an intensely concentrated, laboratory-grade pure serum. It also boasts an excellent safety profile: non-toxic, non-carcinogenic, non-immunogenic.
Step 4: Brighten with VITA C GOLD™ Serum
With anti-oxidant effects and a role in collagen stimulation, vitamin C is a star favourite in fighting pigmentation. Antioxidants work by reducing the damage that free radicals from sun damage cause to our skin cells.
Our bodies do not produce vitamin C and taking it orally doesn't deliver its full benefits to our skin's surface. For effective antioxidant and collagen stimulation, a stable form of topical vitamin C is needed.
One of the most potent form of vitamin C is L-ascorbic acid. However, it is difficult to stabilize as it oxidizes quickly when exposed to oxygen.
A newer and more effective derivative is Sodium Ascorbyl Phosphate. As a more stable form of vitamin C, it can deliver better efficacy even at lower concentrations.
VITA C GOLD™ Serum is a potent formulation of sodium ascorbyl phosphate with antioxidant protection to boost radiance and fight uneven skin tone.
STEP 5: Moisturize with Radiance Fluide™ Hydrating Emulsion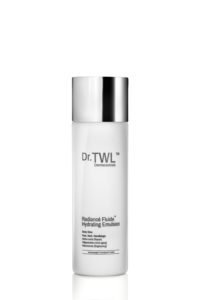 Moisturizers help restore the skin barrier after cleaning, provide a soothing and protective film against inflammation, and maintain the hydration of the outer skin layer.
Moisturizers generally supply humectants and occlusive agents. Humectants enhance water absorption from the deeper skin layers to the outer skin surface. In humid conditions, humectants also draw water into the skin from the external environment.
Occlusives work as a barrier against transepidermal water loss (TEWL). As water from the deeper skin layers moves upwards to hydrate outer skin cells, occlusives prevent this moisture from being lost to evaporation.
Moisturizer predominantly exists as lotions or creams. Lotions are thinner as they are made of oil in water formulations. With their lightweight quality, they are commonly preferred for daytime use.  Creams are water in oil formulations. Made with heavier lipids, they tend to be used at night.
Radiance Fluide™ Hydrating Emulsion is an oil in water moisturiser. It delivers effective moisture delivery while having the comfortable lightweight feel of a lotion. With a silky texture, this formula is fortified with active ingredients like amino acids to repair the skin, niacinamide to boost radiance and oligopeptides for anti-ageing benefits.
STEP 6: Regenerate with Elixir-V™ Eyes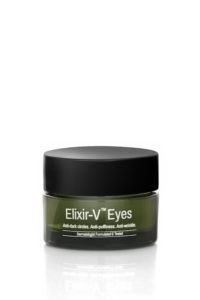 Over time, the collagen in our skin breaks down and less water is held in the outer skin layer, leading to fine lines and wrinkles. These changes that come with ageing are more exaggerated around the eye area as there is minimal to no skin tissue there.
With the lower eyelid skin being one of the thinnest parts of the body, a specialised cream is needed to treat this area.
Elixir-V™ Eyes is a rich and restorative eye cream featuring a combination of Larecea™ Extract, niacinamide and oligopeptides for stronger-looking skin around the eye area.
Larecea™ Extract possesses intense wound healing and regenerative properties. Oligopeptides improve the quality and turgor of skin by promoting the formation of collagen to minimize fine lines and wrinkles. Niacinamide is a brightening ingredient with anti-wrinkling abilities that boost levels of ceramide and collagen.
STEP 7: Regenerate with Elixir-V™ Total Recovery Serum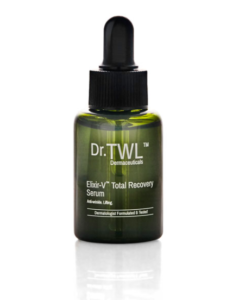 Finally, Dr.TWL's Elixir-V™ Total Recovery Serum completes the seven-step ritual by delivering overall skin health. This multi-ingredient oligopeptide-based treatment is designed to improve signs of facial aging by smoothening expression lines and increasing firmness.
It is made from a blend of plant extracts such as Centella Asiatica for the lightening of acne scars and Dr. TWL's trademark ingredient Larecea™ Extract. A potent antioxidant Resveratrol, derived from a super-power Japanese Knotweed plant extract, further enhances cellular renewal at night.
Why Dr. TWL cosmeceuticals
Dr.TWL's line is designed to be a simple, luxurious and holistic routine to support the health and vitality of your skin. Made with cosmeceutical science, the products use concentrated ingredients backed up by scientific studies to deliver improved, targeted skin health.
The skincare line is developed using state-of-the-art technology for skin rejuvenation and anti-aging, and manufactured in a certified biotechnology laboratory. Production processes are strictly conformed to manufacturing standards certified by the Euro ISO 22716.
Watch the entire Dr. TWL Skin Ritual here.

© 2018 drtwlderma.com. All rights reserved.