Suffering from dry, aging, acne-prone or even oily skin?
This serum might just do the hydrating trick for your skin.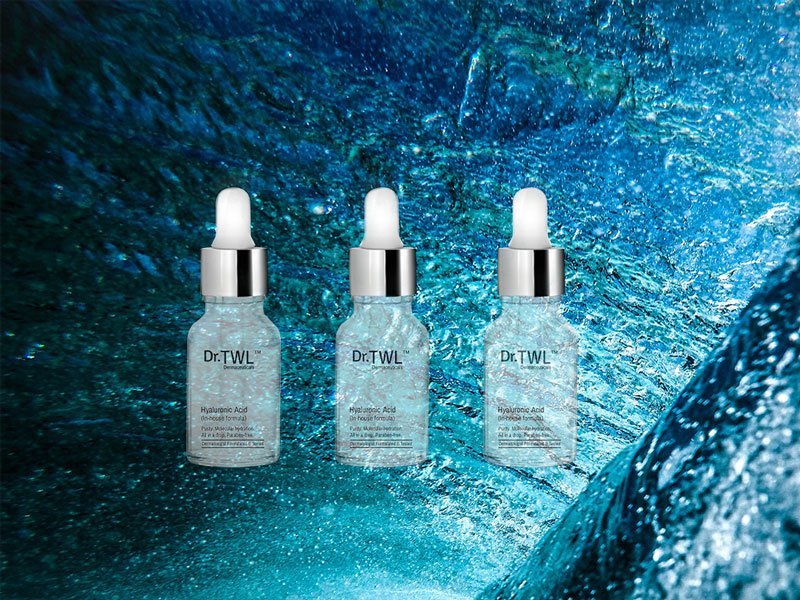 Spice up your skin care routine with serums power-packed with anti-oxidants and bioactive ingredients. Be it correcting pigmentation, dull, sensitive, dry or oily skins, serums in the skincare industry have got you covered for every possible skin concern. Commonly confused with facial oils,  moisturisers or even facial essences, serums function a little differently. In a nutshell, serums often boast micro molecules containing high concentrations of active ingredients. Because of its minuscule size, it easily penetrates into the deeper layers of the skin delivering almost instant and lasting results.
To the purist, it probably helps to know the difference between a face oil and serum is that serums are water-based. Singapore dermatologist, Dr. Teo Wan Lin from TWL Specialist Skin and Laser Centre, states that the active ingredients present in serums or facial oils are much more important than the fact if they are serums or oils themselves, in terms of how beneficial they are to the skin. Different ingredients are also more potent depending on the carrier vehicle, in this case, a hydrophilic molecule like pure hyaluronic acid is not as well incorporated in a cream or ointment as opposed to a water base. With face oils gaining popularity, they are also now being marketed as serums. Does this mean we need all 10 facial oils and serums now? To the uninitiated, this can be really confusing so we decided to break it down for you.
If you constantly find your skin drying out despite Singapore's humidity, consider this paradox. Should you need moisturisers since Singapore's weather is so wet and humid already? To add on to that, pimples that somehow seem to pop up all the time. Everyone knows about the link between pimples and oil production, so it seems to make sense to avoid applying anything that moisturises your face if you are already acne prone. Well, turns out that this is pure myth. Dr. Teo explains that from a dermatologist perspective, "Acne is much more complex than just oily skin.  It comprises the complex interplay of factors involving genetics  (an inherited tendency to develop acne), inflammation, skin bacteria known as Propionibacterium, hormones and oil production."
Oily skin is not exactly free from eczema either, since oil production is controlled by specialised oil glands known as sebaceous glands, and it is possible to have both oily acne prone skin and dry skin suffering from eczema at the same time.  Not moisturising one's face at all to avoid acne and using all sorts of over the counter anti-acne creams (containing salicylic acids, alpha-hydroxy, mandelic, lactic acids) touted to combat acne simply leads to dry irritated sensitized skin that does nothing to rid skin of acne.
Acne is a true medical condition of the skin, and no amount of good skincare can actually cure moderate-severe acne, as this requires medicated and prescription medication to combat the underlying condition." Instead of suffering in silence, or waiting to outgrow your acne, seek the advice of an accredited dermatologist instead of trying all sorts of skincare or seeking the help of facialists, aestheticians or beauty parlors.  Because, according to dermatologists, there really is NO miracle product or facial for acne. Acne has to be treated with prescription medications most of the time, other than when it is very mild.
What about hyaluronic acid serum then, since Dr. Teo who formulated it together with her pharmaceutical engineer brother, does recommend applying this in-house formulation for her acne-prone patients because it actually does help control oil production. She mentions that most of the time, patients suffering from acne are constantly washing and scrubbing their face with all sorts of deep-cleanse and purifying face washes. Not forgetting masks and all manner of clay masks. These deep cleansing and pore-purifying products all contain some form of astringent, such as benzoyl peroxides, salicylic acid, varying proportions of laureth sulfates (that provide the clean lathered feeling on skin, zinc oxides that mattify the complexion. What this does realistically is immediately reduce the amount of oil and moisture on one's face, but does nothing to target the underlying physiology of acne-prone skin, which only prescription medications, physical treatments such as chemical peels and lasers, performed by medical professionals can.  However, one bad thing that can arise from it is reactive seborrhea and eczema. For those with dry skin, try hydrating your skin with serums before locking in the moisture with a cream-based emulsion or moisturiser.
When looking for serums to hydrate your skin, look for moisturizing ingredients such as hyaluronic acid. Before you shy away from acids, hyaluronic acid is a substance that is naturally present in the human body. Popularised by Korean skincare regimes, this power-packed molecule, keeps your skin looking plump and well hydrated. Formulated with 1% laboratory-grade hyaluronic acid – the highest you can find in the commercial market where concentrations range from 0.001 to 0.1% (it's an expensive molecule!)– the Hyaluronic Acid Serum (In-house Formula) intensely and instantly delivers moistures to the skin, working overtime to improve skin texture and brightness. Striking the perfect balance of skin moisturisers, this serum is perfect for those with oily skin as well. Switch up your cream-based moisturisers with this molecular serum for an instant matte finish without compromising hydration.
Serums can do wonders for your skin. So the next time you go trawling the aisles of Sephora or BodyShop, do due diligence. As you skin absorbs anything you put on it when trying new products, a background research of the products and conducting patch test is always a must, to prevent skin allergies or product sensitivities.
© 2017 drtwlderma.com. All rights reserved.
SHOP THE STORY