QRASER™ Cosmeceutical Transdermal Delivery Patch
Singapore, 2 August 2019 — Dr.TWL Dermaceuticals (www.drtwlderma.com), dermatologist-led cosmeceutical research and engineering company, announced the launch of their material science arm, Dr.TWL Biomaterials, in July 2019, focusing on novel biomaterials for skin and hair applications. Their first product offering the Dr.TWL Cosmeceutical blender is an antibacterial microfibrillar makeup sponge with SOFSILK™ technology, designed to have skincare benefits suitable for acne and sensitive skin patients, and is currently prescribed in a dermatologist's office for use with makeup application.
The biomaterials range features a new addition, the QRASER™ cosmeceutical transdermal delivery patch, which enhances topical skincare absorption to increase efficacy of bio-active ingredients. According to accredited dermatologist Dr. Teo Wan Lin "The outermost layer of the skin, called the stratum corneum, acts as a natural barrier. It prevents foreign material from entering our system, shields us against environmental factors and prevents excessive water loss. However, this poses a challenge for the effective absorption of any topicals. In search for a new method to allow people to achieve optimum results from cosmeceuticals, the team at Dr.TWL Dermaceutical developed the QRASER™ cosmeceutical transdermal delivery patch".
According to lead chemical engineer Mr Teo Zhi Liang, "The unique QRASER™ polymer technology mimics natural hydration and homeostasis of the skin barrier to enhance cosmeceutical absorption. These properties are vital in a transdermal drug delivery system." Systems for transdermal delivery are assembled as multilayered polymeric laminates, consisting of a drug reservoir sandwiched in between 2 polymeric layers:
An outer impervious backing — prevents the loss of drug
An inner polymeric layer — functions as an adhesive and rate-controlling membrane
The polymers used are biocompatible with cosmeceuticals and other components of the system. They also provide consistent, effective delivery of the products, allowing users to achieve optimum results from their cosmeceuticals.
On top of increasing absorption of cosmeceuticals, The QRASER™ cosmeceutical transdermal delivery patch can also be used alone for an optimal skin healing microenvironment to regulate healthy collagen production, thus reducing fine lines and wrinkles.
The product is available in 5 different cuts to cater to individual needs: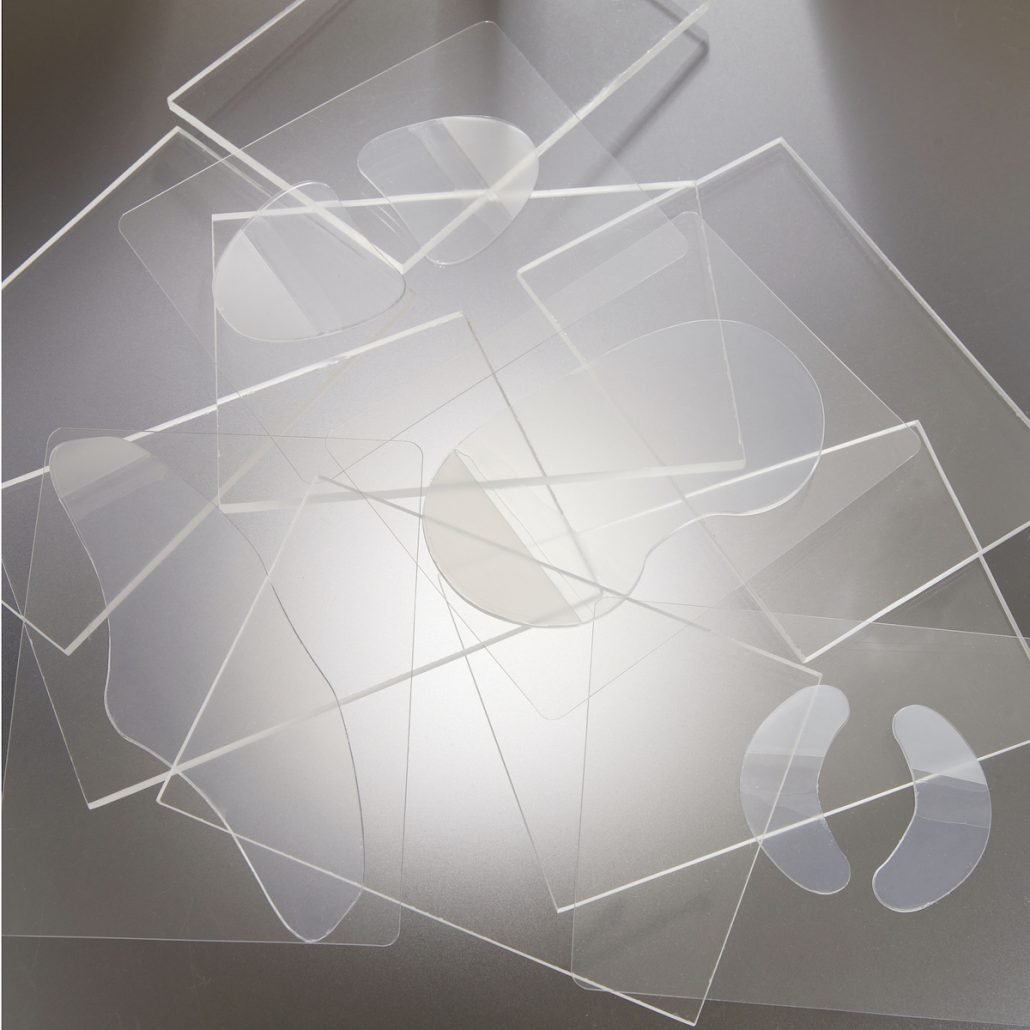 Get the Full Face Lifting Set of 5 here
Interesting scientific facts about the QRASER™ Polymer Patch
It is uniquely engineered with the following properties:
Inhibits growth of bacteria on the skin surface for acne scars. Bacteria, especially over areas of skin injury, such as acne scars, can induce excessive collagen production in scar tissue, causing poor healing.
Creates a unique microenvironment by increasing hydration of the stratum corneum (uppermost layer of the skin), drawing water to the topmost layer of skin, evening out fine lines and wrinkles and also regulating fibroblast activity to stimulate collagen production.
Balances expression of growth factors that stimulate fibroblasts to synthesize more collagen, while other growth factors increase the level of collagenases or enzymes which break down the excess collagen and responsible for poor healing and irregular skin surfaces.
[Features] Dermatologist-developed in collaboration with a material scientist. Born in an ISO13485 certified laboratory, the gold standard for medical manufacturing. 100% biocompatible, medical grade synthetic polymer-based biomimetic skin barrier.
[Technology] Proprietary prototypes developed to conform to facial contours for comfortable wear throughout the night to enhance delivery of cosmeceutical bioactive ingredients. Ultra-thin engineered for facial application with precise measurements of just 1mm.
[Biomimetic Occlusion Barrier] Our unique Qraser™ polymer technology mimics the natural hydration and homeostasis (natural balance) of the skin barrier, known as the stratum corneum to enhance cosmeceutical absorption. Designed for use with Vita C Gold™ Serum, Elixir-V™ Recovery Serum, Radiance Fluide™ Hydrating Emulsion.
[Collagen Upregulation] Application of our patch optimises skin healing microenvironment to regulate healthy collagen production, reducing wrinkles.
Footnote:
Dr.TWL Dermaceuticals grants parties a limited license to use and/or republish this press release on for any legitimate media purpose, provided that you:
(1) reference Dr.TWL Dermaceuticals as the source and include a hyperlink to the original release on the company website; (2) do not modify any press release wording; and (3) do not modify or add hyperlinks, including but not limited to ad links, within the press release.
NOTES TO EDITOR
Click here for the links to our product and here to read more about Biomaterials.
Dr.TWL Dermaceuticals (www.drtwlderma.com) is a cosmeceutical range that combines the expertise of a Singapore dermatologist together with a pharmaceutical engineer and is developed in a research laboratory, with manufacturing standards certified by the Euro ISO 22716, a standard that complies with the European regulation for cosmetics for the European market.
https://drtwlderma.com/wp-content/uploads/2019/08/qraser-banner-1.png
540
1080
Administrator
https://drtwlderma.com/wp-content/uploads/2023/02/Logo-300x128.jpg
Administrator
2019-10-23 10:59:00
2021-09-01 21:16:31
QRASER™ Cosmeceutical Transdermal Delivery Patch