The Best Anti-aging Eye Cream?
Dermatologist Formulated
They say that the eyes are the windows to the soul: as cliché as that sounds, the myriad of eye products in the beauty and cosmetic industry seems to also agree with the importance of accentuating this alluring feature. The average person spends approximately 5-7 minutes layering different beauty products trying to reverse the signs of sun damage, pollutants, age and sleep deprivation. Every single product is a calculated decision and an investment and a good eye cream is the crème de la crème to a well curated beauty regime to have your face a clean canvas and your eyes a clear 'window' to tell the stories you have within. But the sheer amount of eye products in the market makes it difficult to tell if the commercial popularity of a product is a mere fad and marketing strategy or the real deal.
There is a wealth of factors to consider when trying to find the elixir to your under-eye needs.
Numerous eye creams promise impressive results at exorbitant prices to satisfy the need for to clearer, brighter, and more youthful appearances. However persuasive marketing tactics that promises instant gratification are usually more fiction than fact. On top of their high prices, some 'holy grail' eye creams could do more harm than good.  Our skin is like sponges absorbing the ingredients that we apply on it and the eye contour is said to have the thinnest and most fragile skin on the entire face. The eyes are under the strain of 22 muscles in constant motion withstanding an average of 10,000 blinks per day. The delicacy of the skin on our eye contours requires careful consideration as to the products that is applied as well as the way it is applied. The lack of checks and balances in beauty products could mean that products could sting, cause redness and irritation to the eye that would possible do more damage to the skin if mishandled. Dr. Teo Wan Lin, dermatologist from TWL Specialist Skin & Laser Centre gives a tip  "Always use your ring finger to apply eye concealer and eye cream, using gentle tapping motions. Never use your index finger which exerts the most pressure, nor in a dragging motion since the delicate eye area has thinner skin than the other areas of the body, and is more prone to wrinkling and sagging over time."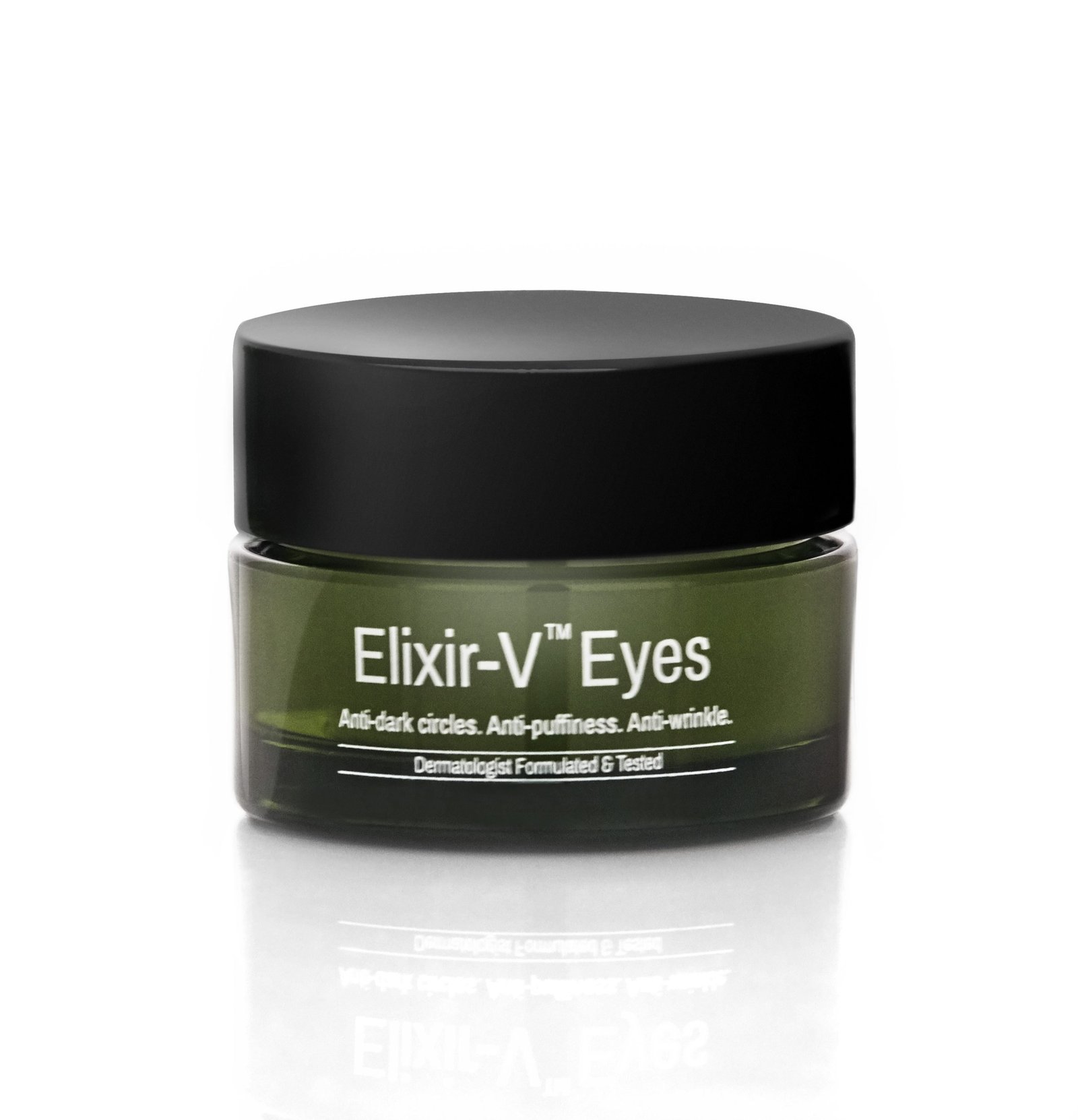 On top of that, age is the ticking time bomb of the decreasing production collagen and elasticity in the skin, the combination of sun damage, pollution and fatigue speeds up the process of detonating even more under eye concerns if there were no preventative measures taken (healthy amount of rest, regular water in-take, applying SPF). This all sounds a little depressing right now but thankfully it isn't too late to give your eyes a little more tender loving care as nature has provided ingredients that encourages the skin's regeneration system.
While there sadly isn't a secret fountain of youth and eye creams are not magic but Dr. TWL™ Dermaceuticals does believe that its Elixir- V™ Eye holds a great solution to help lift, repair, brighten and regenerate.  The secret weapon, anti-oxidant super power: Larecea™ extract, dermatologist-formulated in a biotechnology laboratory as an anti-ageing ingredient. It's also dermatologist-tested, what this means is it is free of any potential skin irritating ingredients that may be present in other anti-ageing formulas.So, if you are prone to  skin irritation and sensitivity and are searching for an effective, skin regenerating eye-cream, get your hands on this.
What is it?
Larecea™ Extract is a unique combination of bioactive ingredients found to occur naturally in brassica oleracea (a plant species in the cruciferous family plants) in combination with potent regenerative amino acids to create a blend that is one of its kind. The extraction of these properties are done in the purest forms in order to protect the integrity of these ingredients. It is the elixir that promotes regeneration in skin. The Larecea™ Extract is only found in products of Dr. TWL™ Dermaceuticals. It is dermatologist- developed and produced in a biotechnology laboratory as a cosmeceutical ingredient delivering potent anti-oxidant power.
How is this unique?
As if it isn't already enough the Elixir- V™ Eye contains two other miracle ingredients on top of it's trademarked Larecea™ Extract to culminate its unique blend to bonafide status.
The potent oligopeptides is an ingredient that promises lifting and repairing properties. Also known as sH-Oligopeptide-1, it is a skin conditioning agent that possesses the ability to "increase the rate of healing, renewal of skin, as well as to slow down the thinning of aging skin." Because the sH-Oligopeptide-1 has an identical chemical structure to an epidermal growth factor it is verified by the Cosmetic Database as a skin conditioning agent.
Niacinamide is a type of water soluble vitamin (vitamin B3) that is said to help boost the skin's natural collagen production and also encourages the production of ceramides, helping to build a protective barrier that helps retain the moisture of the skin. As a result, the skin appears firmer and brighter with continued use.
The combination of the holy trinity of ingredients: Larecea™ Extract, Oligopeptides, and Niacinamide should definitely seal its reputation as The Holy Grail of all eye creams in the beauty market.
Who is it for?
The common misconceptions are that eye creams are for aged beauties and one would less likely call a twenty something-aged.
However the trick to more youthful looking skin is in preventive measure. While the 20/30 year olds might temporarily be in the vacuum of youth but it is important to keep the skin hydrated to retain the appearance of supple skin
How do you use it?
First make sure the skin is prepped and cleared of all make up residue or droplets of water to ensure safe application that could not clog the skin or sting the eyes.
Much like adding seasonings to a healthy meal, less is more and too much of a good thing could be a bad thing. Only a pea sized amount is needed to tap underneath each eye without over saturating.
Use the ring finger for the perfect amount of pressure to the delicate eye area, as compared to the other fingers that would cause unnecessary tugging and pressing that could cause the insurgence of minor bruises and wrinkles.
The best complement to the Elixir- V™ Eye are healthy lifestyle choices as well as preventive ones such as using a sun screen.
Should I..?
Priced at $278.20 for a pot of 22ml pot of cream might sound ludicrous to the wallet but long term gains are sometimes hard to comprehend presently. With a product such as Elixir- V™ Eye a little goes a long way and the 22ml could very well be the best investment, the real deal.
After all the eyes are the windows to your soul.