3 Best Cleanser(s) for Hormonal Acne: Our Drugstore Guide
Looking for the best cleanser for hormonal acne? Our skincare pharmacy headquartered in Singapore is fully online. This guide is written in conjunction with our chief scientific officer, accredited dermatologist Dr. Teo Wan Lin. We cover your top concerns about what to look for in a cleanser for hormonal acne. We also share more details about our best cleanser for hormonal acne, designed specially for Singapore weather.
"For those suffering from acne with oily but dehydrated skin, the commonest cause is improper cleansing techniques and overly drying active ingredients that cause an imbalance in the skin microenvironment," dermatologist Dr. Teo Wan Lin
Start off with our top picks for the top 3 best cleanser(s) for hormonal acne right here!
1. Miel Honey Cleanser for Acne/Oily/Sensitive Skin – $95
Acne is due to a complex interplay of genetics causing acne-prone skin, hormonal changes, bacteria and oily skin that leads to inflammation. Our pharmacy's bestselling Honey Cleanser uses medical grade honey as an antibacterial active ingredient to treat acne-prone skin. It also has multiple botanical extracts including medicinal Arnica Montana that reduces active acne inflammation, redness and flaking.
2. Cleansing Essence for Quick Makeup Removal for Inflamed Skin – $50
Enriched with at least 17 different botanical actives, this convenient spray on cleansing essence contains ZERO surfactants. The antioxidant rich formula comes with the Micellar Cleansing Pad that removes all oil, dirt grime and makeup with ultra-soft micro fibres. Botanical ingredients like rice bran extract function as a gentle cleanser while infusing a rich antioxidant solution to treat the skin microbiome. This stabilises oil production and soothes inflamed acne bumps throughout the day.
3. SilkPeel Microdermabrasion with Papain Enzyme Peel – $450
Up your acne cleanser game with this versatile handheld microdermabrasion tool that combines the best of chemical and physical exfoliation. In addition, papain enzyme derived from papaya extract is the best gentle chemical peel for home users suffering from acne and sensitivity. Exfoliation helps to regenerate and renew the skin cells. This leads to less blackheads, whiteheads and comedone formation. The device uses vacuum microdermabrasion to physically exfoliate while infusing our rich enzyme solution that penetrates deeply for glowing skin.
What is hormonal acne
Hormonal acne is a subset of acne, usually referring to adult females who develop acne. There is usually a link to the menstrual cycle. Sufferers notice their acne flare ups just before the start of their period. This is due to a surge in testosterone just before the start of the menstrual cycle. Subsequently skin becomes oilier, causing acne bumps to become inflmmed and angry looking. Hormonal acne looks different from teenager type acne, known as physiologic acne. In particular, hormonal acne tends to affect an area known as the U-zone of the face. This refers to the jawline area, and around the mouth.
How does cleansing affect hormonal acne
Cleansing restores 2 crucial factors that influence hormonal acne development. Firstly, the skin microbiome. There is an imbalance of good and bad bacteria on the surface of the skin in acne sufferers. These include those with hormonal acne. Cutibacterium acnes increases, causing acne bumps to form. In addition, secondary bacterial infections caused by gram negative bacteria can cause pus-filled acne. This is known as a pustule. An ideal cleanser can reduce the bad bacteria present on acne-prone skin. It also should promote a good balance of good bacteria to restore a healthy skin microbiome.
Secondly, the best cleanser for hormonal acne should help regulate oil production. It is a myth that cleansers for hormonal acne should dry out the skin. Especially since hormonal acne affects adult women, who may be experiencing skin aging symptoms as well. The key is how to regulate oil production so the skin starts to behave optimally, rather than artificially drying it out. This is the commonest cause of dry and oily skin occurring together.
Active ingredients found in acne cleansers and how it can affect hormonal acne
Here are our pharmacy's best product recommendations for cleansing acne prone skin: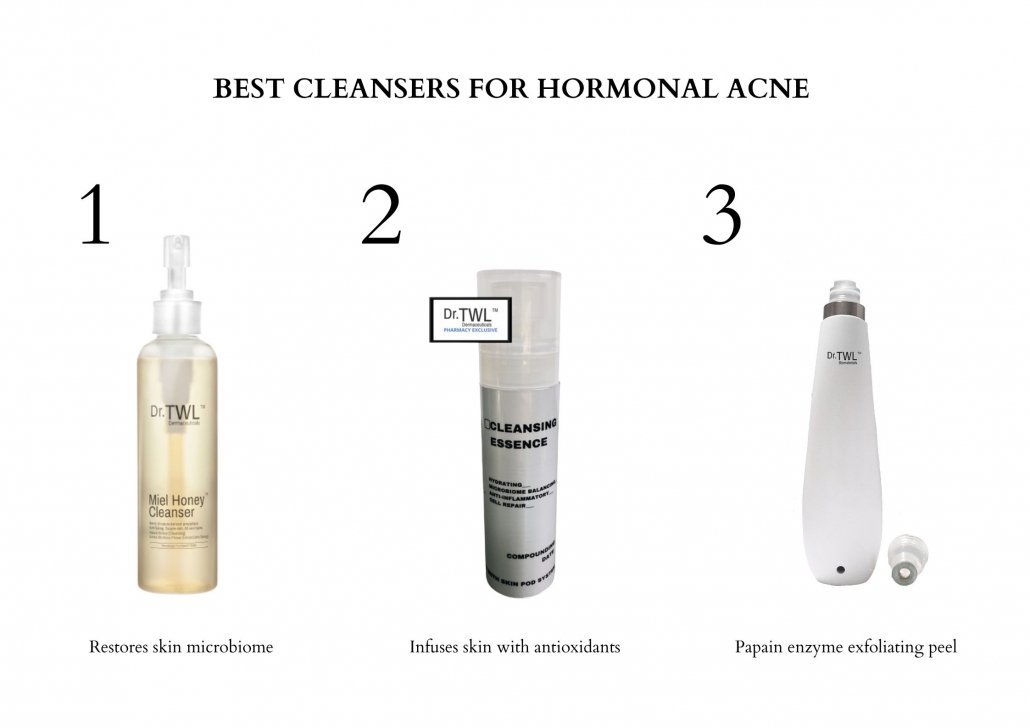 Ideal cleansing add-on for hormonal acne
Once a week home chemical peel with Papain Enzyme Peel $120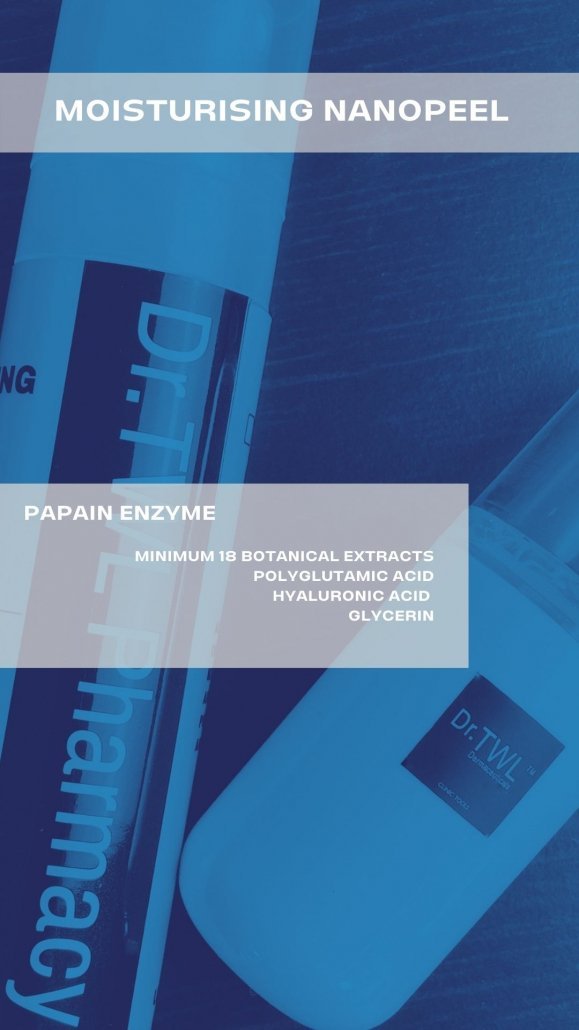 A weekly chemical peel is a luxury we dream of- now a reality with our Papain Enzyme Peel. The kit comes with our complimentary SkinPod, a device that fits into your palm! Designed to complement your DIY home chemical peel with Papain Enzyme Peel.
Once a week SilkPeel Microdermabrasion $450
Discover how radiant looking your skin can be with the 360° Amino Acid Masque designed for use with the SilkPeel. A sensorial face mask incorporates skin-friendly hypoallergenic aromatherapy scents to elevate mood-relaxing effects of skincare. See an instant increased radiance when you exfoliate with the SilkPeel.
What makes up the best acne cleanser for hormonal acne?
Hormonal acne isn't actually a specific type of acne. In fact all acne can be considered hormonal in nature. This is because of the influence of hormones on the skin and oil production. The only specific type of "hormonal acne" that requires special medical attention is one that is associated with polycystic ovarian syndrome. Sufferers will also have irregular menstrual cycles associated with hormonal acne. As such, the ideal acne cleanser will work for hormonal acne. However, what may make a difference is the additional antioxidant benefits of the cleanser. This is because adult females who suffer from hormonal acne are usually in the age bracket 25-35 years of age. In this age group, they start to experience early signs of skin aging. Hence, the best acne cleanser for this age group who have hormonal acne should also have anti-aging properties.
How does our pharmacy's cleansers help hormonal acne?
Our skincare pharmacy stocks skincare and tools formulated for the humid Singapore climate. The cleansers are suitable for those on active medications for acne. They are gentle on skin and also have additional pharmaceutically active properties. These include antibacterial, microbiome balancing effects. Our pharmacy's skin cleansers are also formulated without any potential skin irritants. They are all retinol, AHA, BHA and lactic acid free. Safe for pregnancy and breastfeeding.
What about cleansing devices for hormonal acne, how does it work?
Cleansing devices do work. Here are the two of our recommended devices for hormonal acne cleansing.
1. Blade Style Sonic Cleanser
2. SilkPeel Microdermabrasion
Does Singapore's hot weather affect acne cleanser choices for hormonal acne?
Yes. The heat and humidity, coupled with mask wearing, causes increased build up of dirt oil sweat and grime on skin. These are not as readily removed with single step cleansing. Double cleansing is recommended especially for acne prone skin types, and also for those who use makeup. Double cleanse with the Le Lait Milk Cleanser followed by the Miel Honey Cleanser.
How to cleanse acne-prone skin properly in Singapore's humidity
Use a soft microfibre makeup remover pad with the cleansing essence for on the go freshening up and zero skin irritation when removing makeup. Free with every purchase of the cleansing essence. Add on a sonic cleanser which helps to remove PM2.5 pollutants that accelerate skin aging.
Final Tips: A drugstore guide to the best cleansers for hormonal acne
Always do your brand research! A reputable brand that works with dermatologists can help your hormonal acne skincare regimen greatly. Cleansing is an important first step, so is an effective pimple cream. Check out our pharmacy's bestselling Blemish Spot Cream here available online with a discount for bulk purchases. Remember, if your acne doesn't get better with skincare alone, you may have moderate to severe acne that requires prescription medication. In this case, visit an accredited dermatologist for a comprehensive assessment.
https://drtwlderma.com/wp-content/uploads/2022/07/best-cleansers-for-hormonal-acne-feature-image.jpg
400
495
Joanne Lim
https://drtwlderma.com/wp-content/uploads/2023/02/Logo-300x128.jpg
Joanne Lim
2022-07-26 22:30:35
2022-07-27 17:37:01
3 Best Cleanser(s) for Hormonal Acne: Our Drugstore Guide