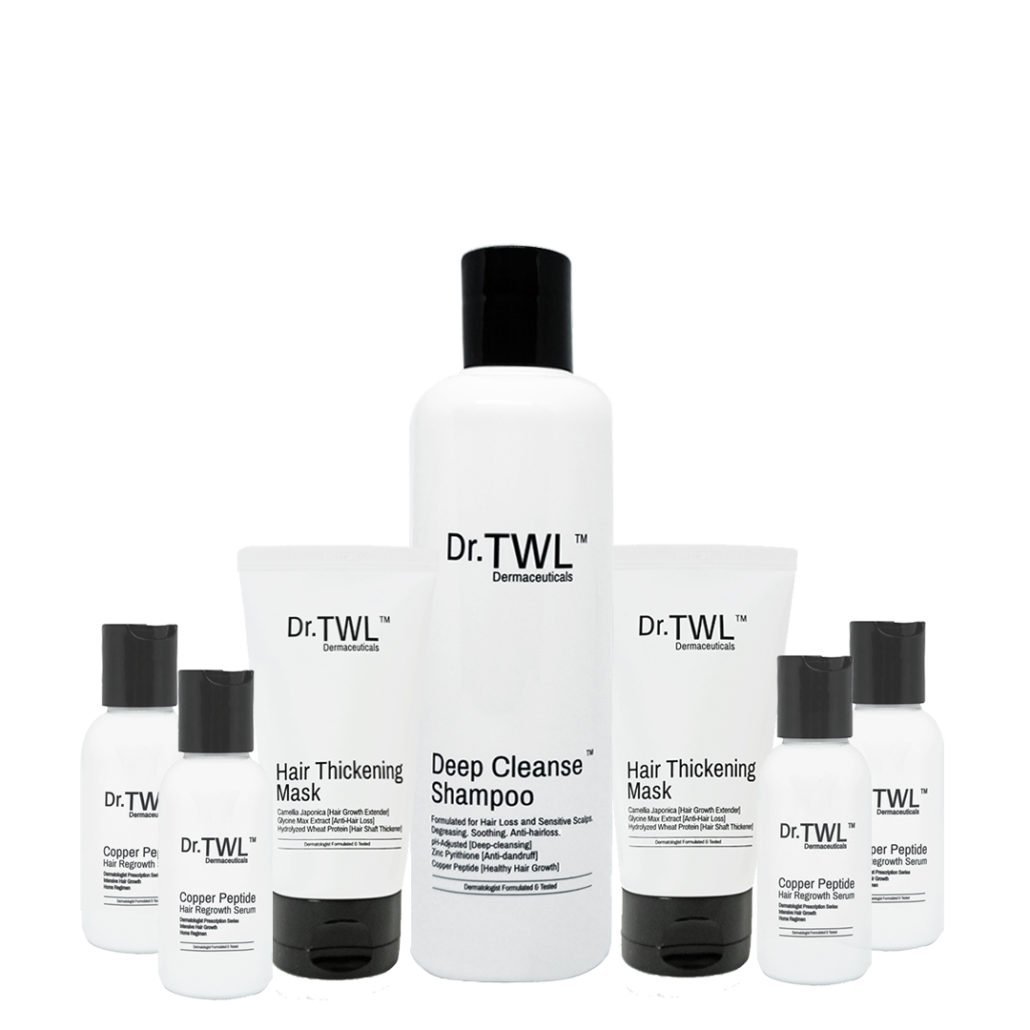 HAIR LOSS BUNDLE SET (1-MONTH SUPPLY)
DESCRIPTION
Purchase 1-month supply of our Hair loss set which includes:
1 bottle of Deep Cleanse™ Shampoo
4 bottles of Copper Peptide Hair Regrowth Serum
2 bottles of Hair Thickening Mask
BENEFITS
Deep cleansing of scalp with pharmaceutical grade ingredients to degrease oily scalps. Dermatologist-formulated to calm irritated and sensitive scalp problems.
Copper Peptide Hair Regrowth Serum
Originally prescription only in our dermatologist's office, this hair loss serum uniquely contains Copper tripeptide, a novel molecule that stimulates hair growth. Clinically proven to have similar efficacy to that of 5% minoxidil, stimulating growth without irritation side effects or toxicity. Studies show collagen production is increased, strengthening existing hair and thickening the hair shaft.
Botanically derived ingredients to thicken the hair shaft with each treatment. Extends growth phase of the hair cycle and promotes hair shine. Dermatologist formulated as part of hair loss treatment.
DIRECTIONS FOR USE
Work up a sufficient amount of shampoo onto damp scalp and lather with water. Massage over the scalp with circulating movements. Rinse the shampoo out of your hair. Repeat and leave on the scalp for 5-7 minutes. Rinse completely and follow with Hair Thickening Mask. Store upside down to ensure even mix of active ingredients.
Copper Peptide Hair Regrowth Serum
[Intensive] Apply 10-20 drops on the whole scalp twice daily; 5 drops per affected area.
[Maintenance] Apply 3-5 drops on the whole scalp twice daily.
Apply a sufficient amount to damp hair. Leave on for 10 minutes then rinse off with cool water.