Customised Foundation – CellTalk™ Cosmeceutical CC Cream
The CellTalk CC cream is engineered with Dr.TWL's proprietary Advanced Colour Science technology, as the final step of colour correction, to ensure a smooth, even, natural and luminous finish. The standard formula colour matches to Type II & III, the commonest colour matches in fair and medium skin.
@drteowanlin How to prep skin before makeup for a luminous dewy finish Wondering how to get a luminous dewy finish with makeup? Get Dr.TWL's skin prep protocol before makeup in this week's tutorial and shop our pharmacy's range of customised skincare makeup. Skin prep Products/tools required: Blade-style sonic cleansing brush Brightening cleanser with botanicals i.e. Miel Honey Cleanser Radiance emulsion with brightening peptides Facial mist: Mineral Booster Skin-healing polysaccharide mask How-to Start with cleansing your face with a sonic cleansing device On slightly damp skin, prime your skin with a peptide-containing emulsion with instant brightening antioxidants Finish with the mineral booster facial mist for an instant infusion of polyglutamic acid, hyaluronic acid and 17 botanical extracts Leave on polysaccharide mask for 5 minutes Makeup application Products/tools required: SofSmooth™ Blender with enhanced surface microfibrillar engineering Cell Talk CC Cream Mineral booster facial mist How-to Apply an appropriate amount of CC cream on back of hand, using the SofSmooth™ Blender, smooth outwards over the entire face. [Dewy Luminous Finish] Use with SofSmooth™ Cosmeceutical Blender or Ultra HD Pore-Blurring Triangle Makeup Sponge. Use it dry as you would already have prepped skin before blender application, finish with a spritz of Mineral Booster™ Get my free skincare guide with tips delivered to your inbox weekly👆🏻 #der#dermatologistn#singaporedoctorsi#skincarer#dermatologistk#tiktoksg🇸🇬i#skincareroutinei#skincaretipsi#skincare101i#skincareproductr#dermdoctora#learningsfunarnontiktok #skincaremakeup #skinprepformakeup #skinprep #skinpreparation ♬ Day by Day
Customisation of the CC cream is available, simply match your skin tone to the closest category above to know if required. Under the customisation scheme, we will send you 3 shades closest to your skin tone for you to try on before customising your perfect shade. Shipping included for both initial shade samplers and final CC cream.
ACTIVE INGREDIENTS
Phytoceramides [Skin Barrier Repair]
Arbutin [Skin Lightening, Anti-Pigmentation ]
Panax Ginseng Root Extract [Anti-Oxidant For Skin Radiance]
Larecea™ Extract [Anti-Oxidant]
Hyaluronic Acid [Hydration]
Portulaca Oleracea Extract [Skin-Soothing]
Oligopeptides [Anti-aging]
BENEFITS
Complexion stays dewy fresh all day with potent anti-oxidant infusion. This serum foundation minimises darkening or oxidation at the end of the day. Designed for long wear finish.
Clinically active featuring 7 power anti-oxidant ingredients in a formula that soothes and anti-ages sensitive skin while covering pigmentation and blemishes. Buildable color-correcting radiant coverage with dermatologist-approved pure mineral pigment titanium dioxide, use with Cosmeceutical Blender™ Series for optimal effects. Fresh and mattifying texture to withstand outdoor humidity transforms to moisturising luminous formula indoors using advanced scientific technology.
FAQ
Does the CC cream contain SPF?
The CC cream contains sunscreen ingredients like zinc oxide which are very effective as physical blockers against harmful UVB rays. However, as our products are tailored for a dermatologist practice with sensitive skin patients, we recommend the highest standards for sun protection which is always achieved with a separate sunscreen like the SunProtector, which goes on to skin smoothly and beautifully before the CC cream.
Will the CC cream stain face masks?
The CC cream goes perfect with the CUIONS face mask as a transfer-free formula. The CUIONS mask in Gold blends in all foundation without stains.
What is the expiry date of this product?
This is a custom compounded product in our pharmacy. Once opened, it should be used within 12 months.
Is this the same formula as the previous CellTalk Cosmeceutical CC Cream in silver tube?
Yes! It is now available as a fully customised serum foundation to your skin tone.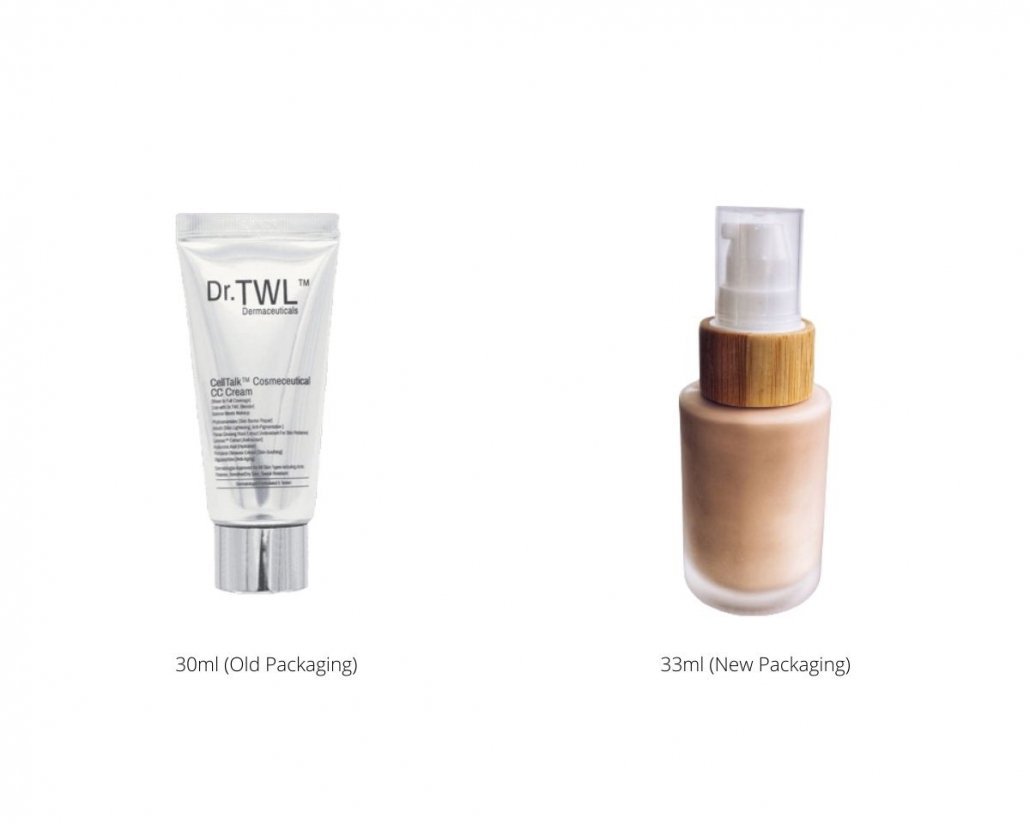 Our new glass packaging under our Beauty by Dr.TWL range focussing on sustainable beauty, offers the added benefits:
1. 100% plastic-free body
2. Frosted glass protects the serum foundation active ingredients.
3. Glass is the gold standard packaging for cosmeceuticals.
4. Bamboo airless pump design does not expose product to oxidation during storage or use.