Jade Roller Rose Quartz: Product of the Week
Only the latest beauty deals and steals you don't want to miss! Treat yourself to our V-Face Bundle that offers curated selections of the best beauty products, featuring our product of the week – The Jade Roller Rose Quartz.
This week's beauty deal: Get the Jade Roller Rose Quartz today to get $50 off your next purchase!
The V-Face Bundle comes with a Jade Roller Rose Quartz for the perfect V-face look! Purchase the V-face bundle this week to get free Dr.TWL Club membership and $50 off your next purchase!
1x Jade Roller Rose Quartz
1x 360° Amino Acid Masque
1x Elixir-V Total Recovery Serum
1x Elixir-V Eyes Serum
What is a jade roller?
Jade rollers are stone rolling devices that can be made out of jade or rose quartz and have been used in facial skincare for decades. With origins that can be traced back to China, the act of face-rolling have long been touted to have many benefits for the skin, which have been established by scientific evidence.
The history of jade rollers
Yushi gunlun, as they're known in Chinese, are small handheld wands made of jade used to massage one's face and under eye, to assist with lymphatic drainage and depuffing of the skin. Invented during the Qing Dynasty, it was used by Empress Dowager Cixi herself and there is an elegant jade roller set with gold accents in the Palace Museum's collection. This unique beauty tool were mostly used by the elite to keep skin beautiful and women ageless. It is believed to slow the process of cell ageing and improve the body's healing abilities by increasing chi, a revitalising energy in the body.
The benefits of jade rollers
Rolling the device over skincare products you have applied on the skin can increase absorption of active ingredients. Facial massage and face rolling are similar in the benefits, helping to increase microcirculation in the skin, leaving you with a rosy, radiant look. Facial massage with a jade roller can also help relax muscles and ease tension, bringing therapeutic benefits.
The design of a jade roller
A jade roller made with natural stone such as 100% rose quartz or jade can provide a natural skin cooling effect to reduce inflammation. Using the roller before application of cosmeceuticals can significantly increase vascular (blood vessel) dilation and therefore increase skincare absorption.
"The Dr.TWL Rose Quartz Jade Roller is uniquely designed for use without any special training. It is based on an ergonomic modification of the traditional Chinese jade roller to maximise the gentle hand rolling massage effect and to minimise excessive pressure exerted accidentally," accredited dermatologist Dr. Teo Wan Lin.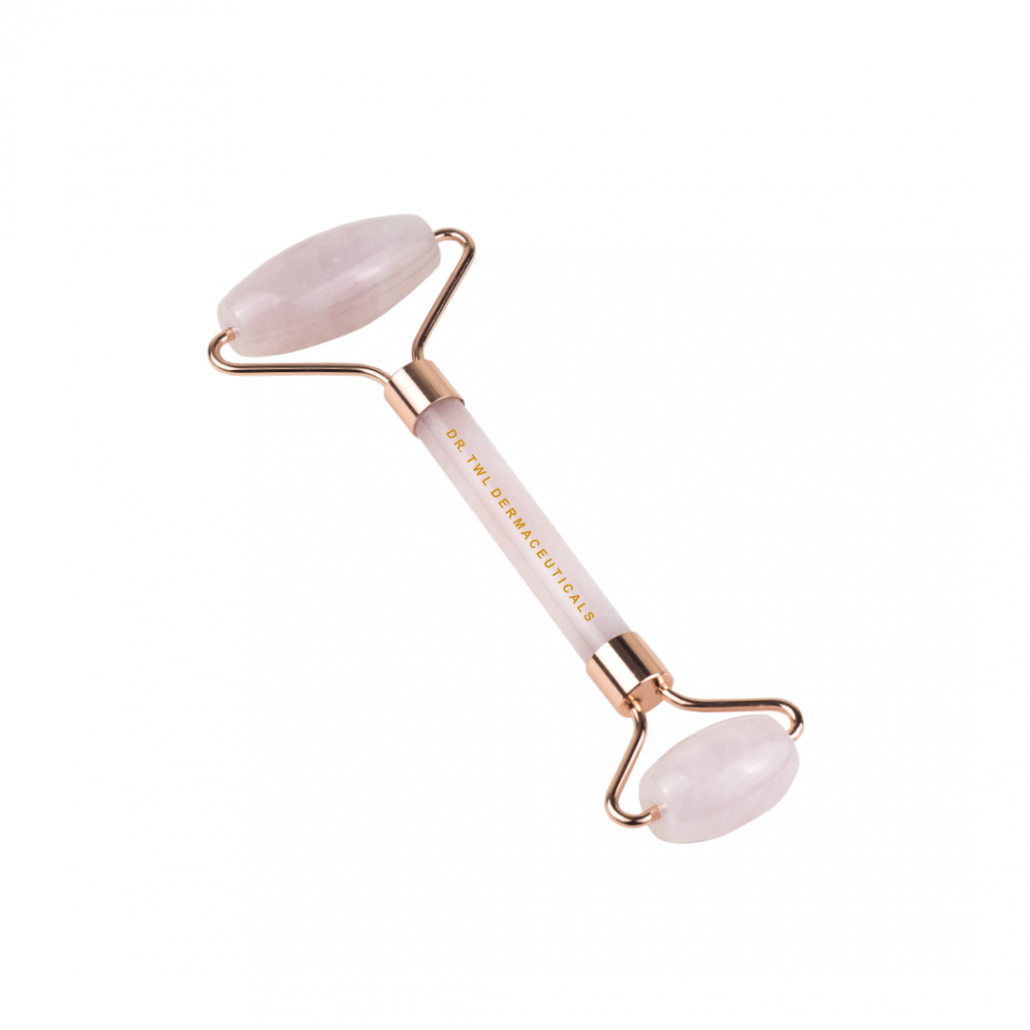 The Jade Roller Rose Quartz is made of certified 100% Grade AAA rose quartz. With no usage of surface treatments or chemicals to ensure skin safety. The metal frame is a durable integrated (not soldered), triple-coated rose gold electroplated zinc alloy to prevent oxidation or rusting. Additionally, we modify the handle from the traditional style to be more ergonomic and we also incorporate a silicone insert into our design for noise-free use.
How to use a jade roller in your skincare routine
Ever since I've started incorporating a jade roller into my routine, I've noticed the effectiveness in decreasing puffiness, and making sure my serums are really getting absorbed into my skin. Here's how I incorporate a jade roller into my routine:
In the morning, I like to leave my roller in the fridge overnight. The cool natural stone helps to decrease my morning puffiness and feels soothing on tired skin. At night, after cleansing and applying serums, I like to massage in the products with my roller, also doubling as a therapeutic massage to end off my day!
Start with the bottom of the face—specifically the center of the chin—and work your way up, rolling outward across the jaw and up toward the ear. Using light pressure, perform similar outward and upward strokes from the centre of the face and forehead towards the sides and work upwards from the lower neckline.
Are you a member of the Dr.TWL Club?
Join the most generous beauty club with FREE gifts all year round! Being a member of the Dr.TWL Club Loyalty Program allows you to claim these marvelous beauty sets with minimum spend. Find out more here.
This month only, get FREE membership to the Dr.TWL Club when you purchase the V-face bundle!