Best Eczema Moisturizer with Ceramides
The best eczema moisturizer likely has ingredients targeted to improve skin lipid content such as ceramides, free fatty acids or cholesterol. Ceramides are epidermal lipids that help improve skin barrier function. It is, therefore, no surprise that ceramides are the industry's star ingredient, infused in countless skincare formulations.
Our skin consists mainly of dead skin cells embedded in a lipid-rich environment. In fact, ceramides make up approximately one-third of the lipids found in our skin, working to maintain skin barrier function and preventing excess water loss. Having a lower ceramide count is likely to lead to diseased skin.
Functions of ceramide
As extremely water-insoluble compounds, ceramides can form a water-impermeable barrier in the outermost layers of our skin. They are critical in locking in the moisture for the skin and regulating barrier function. If the skin has fewer ceramides, you can expect more water evaporating from the skin.
Ceramides can control the water permeability function of our skin. In conjunction with other skin lipids, ceramides form ordered structures in our skin. How the lipids are packed is crucial as they determine the substances that enter or leave the skin.
The lipid chains in our skin are non-polar molecules and are often in a solid crystalline or gel state. In such a state, they are less permeable, which would mean a more stringent diffusion process.
As skin-identical lipids, ceramides are often applied topically as they can be absorbed by the upper layers of the skin. Apart from repairing the skin barrier, ceramides can also protect it from further attack by surfactants which are often found in harsher soaps and cleansers.
Our production of ceramides slows down as we age, causing dry skin and wrinkles.
In diseased skin, barrier function is impaired due to altered lipid composition and organisation. Given that ceramides are the major lipid constituents in the skin, any changes in ceramides can affect the way lipids are packed in our skin. In turn, the barrier function will be affected.
Decreased ceramides levels are associated with characteristics of dry skin. While ceramides account for 50 per cent of our skin lipids in weight, we lose ceramides as we age. This explains why we may experience our skin getting drier as we age, as ceramide content is lower.
Any changes in ceramide composition can also cause excessive water loss, common in eczema and psoriasis (redness).
Types of ceramides
Ceramides can be classified into nine subclasses. Each category differs with respect to the head group and the fatty acid chain length. The differences in each ceramide profile can bring profound changes to how the lipids are organised in the stratum corneum. Two significant ceramides that our skin will reap benefits from are ceramide EOP and ceramide NP.
Ceramide EOP
Ceramide EOP is also known as ceramide 1. It contains an essential fatty acid called linoleic acid. Due to its unique structure, ceramide EOP plays a key role in the lipid organisation of our skin, as the structure can affect how it is packed and ordered. This ceramide also serves as the main storage area for linoleic acid, which is required for normal barrier function. In atopic skin, lower levels of ceramides were found, especially ceramide EOP.
Ceramide NP
Emollients with ceramide NP, or ceramide 3, have shown to hydrate the skin and improve transepidermal water loss (TEWL) values, reducing excessive water loss. An effective lipid-rich emollient with ceramide 3 can provide skin barrier repair function. An accelerated skin recovery with a ceramide 3 emollient is likely due to a semi-occlusive effect on the skin. By restricting water evaporation from the skin, it allows the skin to recover.
Choosing moisturizers with ceramide NP will help improve the look and feel of dry skin.
Ceramides and eczema: best eczema moisturizer
Skin conditions such as eczema or dry skin are often due to reduced skin lipids such as ceramides. The structure of our skin resembles a brick and mortar formation where the bricks are dead skin cells surrounded by a variety of lipids (mortar). As the lipids in our skin work together to regulate permeability, a reduced ceramide amount will cause an abnormal function of the skin barrier.
Preventive measures that patients with eczema should seek include the frequent and proper application of skin moisturizers to reduce the frequency of flares. A ceramide-rich moisturizer that corrects the reduced amount of ceramides in the skin is an ideal form of therapy for patients.
For an ultra-intensive skin moisturizer rich in ceramides, go for Multi-CERAM™ Moisturizer. Dermatologist formulated with pharmaceutical grade ingredients, this moisturizer treats eczema, dry or sensitive skin and prevents skin ageing. Botanically derived antioxidants are added to the mix to improve the appearance of cellulite, while glycerin and sodium hyaluronate locks in the moisture you need. Ceramide EOP and NP are found in this moisturizer for skin lipid restoration, improving your skin barrier function.
This moisturizer also contains phytoceramides for enhanced skin hydration, improving the stratum corneum if it is damaged. Types of phytoceramides include shea butter, which serves as a rich source of fatty acids beneficial for the skin. The presence of phytoceramides also boosts the generation of Natural Moisturizing Factors (NMF) in our skin, a molecule that maintains skin hydration.
Multi-CERAM™ Moisturizer is suitable for face and body, for all skin types.
© 2018 drtwlderma.com. All rights reserved.
—–
SHOP THE STORY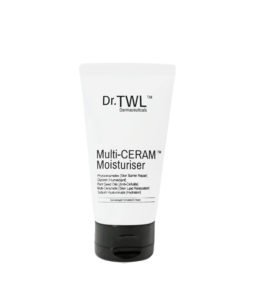 https://drtwlderma.com/wp-content/uploads/2018/09/ceramides.jpg
1046
1637
Administrator
https://drtwlderma.com/wp-content/uploads/2023/02/Logo-300x128.jpg
Administrator
2020-12-02 11:00:34
2021-12-03 16:31:50
Best Eczema Moisturizer with Ceramides