5 Skin Barrier Products For Your Skincare Routine
SKIN BARRIER PRODUCTS DECODED: APRIL #1 New Release Bestseller on Amazon – Little Skincare Book For Women—Korean Skin Barrier Repair With Skincare Routines & Protocols. This latest skincare book by Dr Teo Wan Lin features her top tips for inside-out skin wellness and beauty with a holistic method. Includes journaling kit for women, skincare routine workbook, checklists and protocols. 
Medically reviewed by Dr. Teo Wan Lin, board certified dermatologist, Author of Skincare Bible  
Skin barrier products are more than moisturisers. The ideal skincare product repairs the barrier from inside out and also builds skin resilience. But it turns out that it's not just a single product that will work. According to board-certified dermatologist Dr Teo Wan Lin, author of Skincare Bible: Dermatologist's Tips on Cosmeceutical Skincare, "the ideal skincare routine must address all functions of the skin—and a healthy skin barrier is but the most important."
What is the skin barrier?
The skin barrier refers to the protective function of skin—namely comprising the epidermis and the dermis. This forms a barrier between your internal organs and the external environment. Typically, a breach in the skin barrier can be caused by a cut, injury or because of underlying inflammation. This can trigger off allergic reactions, as external allergens like dust, pollen can present itself to the immune cells. It can also lead to infections due to bacteria coming into contact with areas of broken skin.
Get your skin barrier kit with Dr.TWL Pharmacy!
MULTI-CERAM™ CERAMIDE MOISTURISER
Phytoceramides [Skin Barrier Repair]
Glycerin [Humectant]
Plant Seed Oils [Anti-Cellulite]
Multi-Ceramide [Skin Lipid Restoration]
Sodium Hyaluronate [Hydration]

MINERAL BOOSTER™


Purified Deep Sea Water [Mineral-rich]
Amino Acids [Repair]
Potent Plant Root Extracts [UV-protection]
Polyglutamic Acid [5 X Superior Moisture Retention*]
Natural Moisturising Factors [Enhance Skin Cellular Function]
BONUS FREE HYDRATION SKIN ANALYZER – SKIN BARRIER BIOSENSOR VALUED AT $65
[Advanced Moisture Detector] Bioelectric Impedance Analysis
[Ceramide Content]
[Hydration] Trans-Epidermal Water Loss
This state-of-the-art moisture detector utilizes advanced material science technology to detect both Trans Epidermal Water Loss(TEWL) and ceramide levels in the skin.
Skin barrier damage symptoms
We begin with understanding the symptoms of a damaged skin barrier. 
Redness

Itch

Stinging

Flaking

Skin tightness

Swelling 

Irregular skin texture 
These are the commonest symptoms. However, dermatologists usually screen for a personal or family history of
Eczema

Allergies

Allergic rhinitis

Asthma 
These are known as the atopic triad, which increases one's risk of developing itchy sensitive skin problems known as dermatitis 
Skin barrier damage causes
Eczema or dermatitis are common conditions related to skin barrier damage. However, there are subsets of dermatitis i.e. contact dermatitis which is due to direct allergy or irritation from caustic substances. Nickel allergy is a type of allergic contact dermatitis. Frequent hand washing leading to hand dermatitis is a type of irritant contact dermatitis. On the face, facial eczema can occur due to use of harsh cleansers or it could be due to underlying atopy. Atopic dermatitis can also be triggered off by changes in the weather, due to increased transepidermal water loss.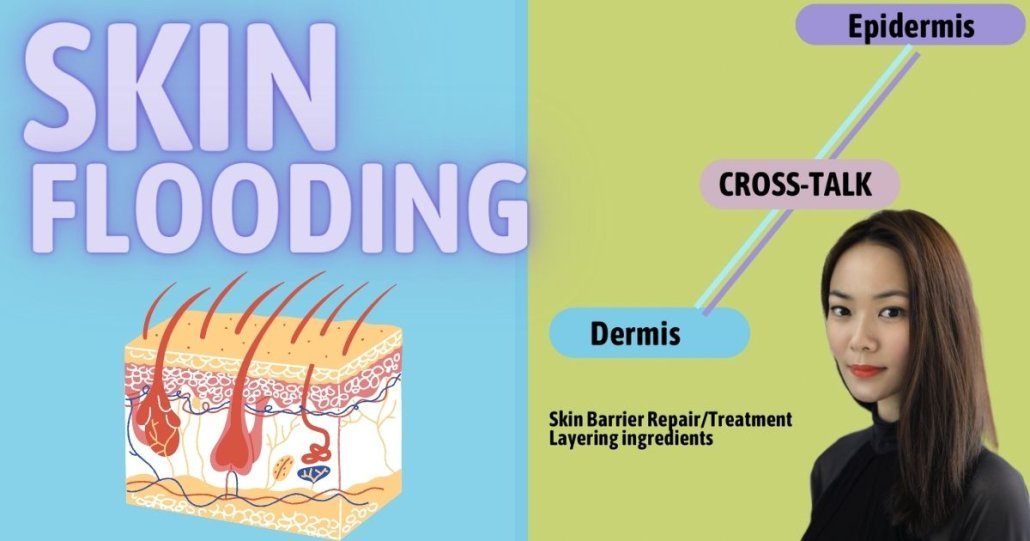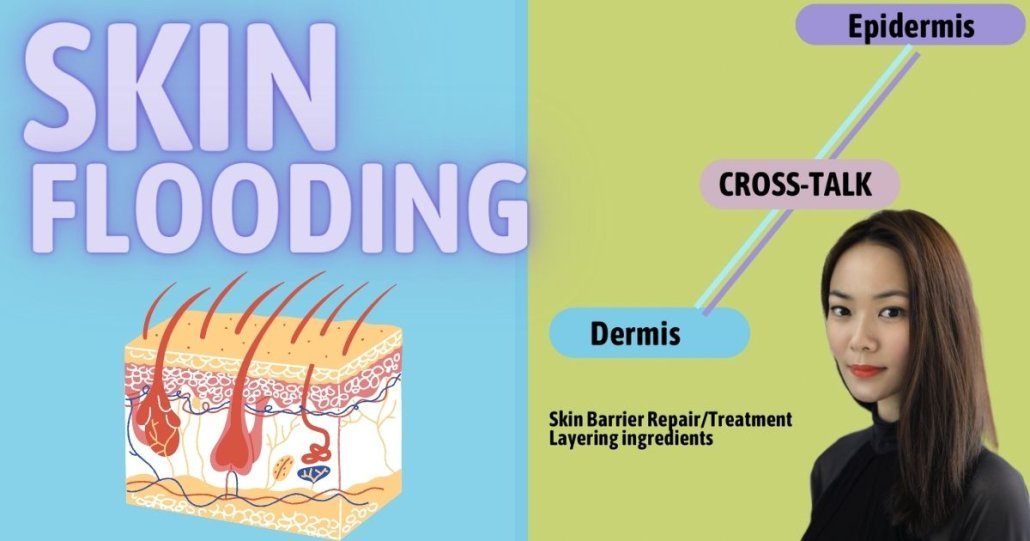 Skin barrier repair
The process of repairing the skin barrier is as follows:
Layer your moisturisers for maximum effects
Serum 
Lotion
Emulsion
Moisturiser
Mask 
Mist 
The mnemonic SLEMM created by Dr TWL summarises how to approach the sequence of using skin barrier repair products. 
The key principles are: 
Use the most lightweight textures first, followed by the heavier creams

All products are applied on damp skin this increases absorption of skincare

The layering process re-creates a moist environment which is ideal for wound healing

The key is consistency and frequency—facial mists are an example of a skin barrier repair spray type moisturiser that can heal the skin barrier when used frequently
Check your skin type and receive product recommendations.
How can I strengthen my skin?
The skin barrier has been described as a brick wall model—bricks joined by cement which dermatologists refer to as a ceramide, a fatty lipid produced by the body. If you have eczema, you likely have a genetic defect in a gene known as fillagrin. Fillagrin deficiency causes severe cases of atopic dermatitis and also icthyosis vulgaris, where fish-scale like lesions appear on areas such as the shin. This is generally an inherited condition. 
Strengthening the skin barrier can be understood as a sandwich model. The layers you apply essentially create the ideal skin healing environment.
The main principles are: 
Use a layering technique as above

Enhance absorption skincare products by using technology

Preventing escape of moisture to the environment (known as Transepidermal Water Loss)
What product is good for the skin barrier? 
When choosing a product to incorporate into your skin barrier repair regimen, you should consider the following:
1. What is the texture of the product?
If you live in a humid country such as Singapore, you may find that cream moisturisers are uncomfortable to use in the daytime. If you have oily skin you may find it more appealing to use lightweight serums and lotions instead. You can use a moisturising cream at night. The type of moisturiser formulation makes a difference to skin barrier repair efficiency—ceramide based non-occlusive, non-comedogenic formulations are important for those with combination/oily skin types. 
2. How easily can I incorporate this into my daily skincare routine? 
Most people find it impractical to reapply moisturiser throughout the day. The facial mist is one product that helps deliver moisture consistently—easily apply over, under makeup, even use it for refreshing your skin and touch-ups in the day time. 
3. How often can I apply it? Is it convenient to use? 
Consistency is key when it comes to skin barrier repair products. Consider using a skincare routine planner if you are new to building a skincare regimen. 
Skin barrier repair products 
We've compiled the best skin barrier repair products recommended at our pharmacy as well as suggestions on how to use them:
Get your skin flooding pack with Dr.TWL Pharmacy!
Skin Flood Your Way to Glass Skin!
1. Skin barrier cream
The Multi-CERAM Moisturiser Cream is formulated for universal skin types based on an ideal lipid ratio with additional anti-inflammatory benefits. It is dermatologist recommended for adjunct treatment of eczema and other forms of dermatitis. It is also non-greasy and helps to heal the skin barrier from the inside out. A combination of active ceramides and botanicals creates the optimal skin microenvironment.
2. Skin barrier spray 
Spray on products are especially helpful. Since moisture is lost to the environment constantly, the more often moisturisers can be reapplied, the more effective the skin barrier repair therapy will be. The best skin barrier repair spray takes the form of a facial mist — one that contains traditional moisturising ingredients such as glycerin, hyaluronic acid and polyglutamic acid. Don't just use thermal water sprays—minerals are beneficial for skin but active ingredients need to help skin attract moisture from the environment. This is where humectants are beneficial. Newer facial mists contain multifunctional actives that can also help to boost skin resilience. This means that it can also improve the skin's ability to fight off free radical damage—known as oxidative stress caused by environmental pollution. 
3. Skin barrier repair serum 
Hyaluronic acid is a star when it comes to skincare products, but most don't realise that concentration is the most important. Maximum concentrations of 1% are used in our in-house formula, which ensures deep hydration. Hyaluronic acid doesn't just attract moisture— we utilise a multi-weighted formulation that targets all levels of skin. The epidermis, dermis and also the cells involved in immune function. Hyaluronic acid participates in a process known as cell talk which encourages holistic healthy functioning of skin.
4. Which moisturiser is best for skin barrier?
Ceramide based moisturisers directly replace the deficient lipids, but dermatologists are more concerned with how often moisturisers are applied and the technique of application. 
Here are the best practices according to Dr. TWL:
Choose a holistic moisturiser that contains ceramides, hyaluronic acid and anti-inflammatory botanicals that can reduce long term reliance on steroid creams 

Always apply on damp skin and keep your skin damp as long as possible to let the moisturiser deeply penetrate skin 

Using a wet cotton towel or using a polysaccharide material can significantly enhance

Check the effectiveness of your skin barrier repair routine with a skin hydration analyzer.
5. Skin barrier repair mask  
There are 3 main types of face masks
Wash off

Leave on sleeping masks 

Dry masks 
Wash off gel masks can contain slightly irritating acidic ingredients like vitamin C which can help to brighten skin and strengthen skin immunity. Leave on masks tend to be overnight masks which are really just moisturisers marketed as sleeping masks. Use a palm-sized amount and leave on overnight. Dry masks are quite novel, they essentially recreate the optimal skin microenvironment under occlusion. Silicone or other polymers for instance like hydrocolloid can be very efficient skin barrier repair masks. These are usually applied overnight or for at least 3 hours at a stretch. It can significantly improve the barrier function of the skin. 
6. Skin barrier loving face cleanser
Face cleansers are the second most important skin barrier repair product. Cleansing is essential in order to maintain a healthy skin microbiome. However, many commercial cleansers are based on harsh surfactants. Alternative emulsifiers such as amino acid surfactants or botanicals like soy or honey-based products are gentler on the skin barrier. Our pharmacy's top pick is a cream cleanser which really is an emulsion—this is an oil in water formula that helps dissolve oil dirt and grime. It also contains multiple skin hydrating ingredients so you cleanse and moisturise your skin in just 1 step
7. Skin barrier loving makeup removal pad
Makeup wipes are terrible for the skin barrier—that's one thing you should ditch. Instead, invest in a gentle microfibre reusable makeup pad that can work to remove makeup without the use of surfactants. Our micellar makeup pad utilises hydrophobic/hydrophilic interactions to remove tough makeup pigments with just the hydrating cleanser alone. 
Sign up for Skincare Blueprint: Glow Up From Within is the weekly newsletter from Dr.TWL herself—packed with skincare routine tips, skin science and the latest in dermatological research (PLUS! Weekly special gifts for readers to redeem at our pharmacy)