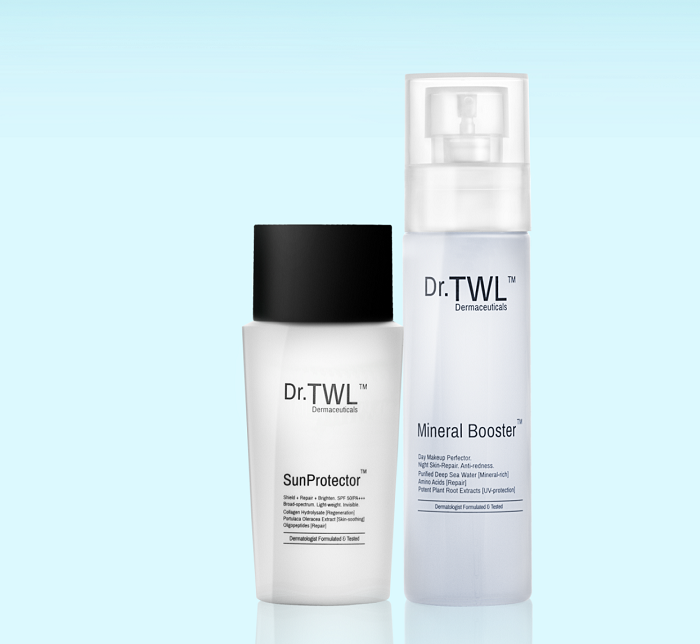 NOTE
Limited clearance stocks of last batch. Stamped expiry date of 26 Mar-16 Apr 2020 based on arbitrary conservative projections. Cosmeceuticals are rigorously tested in laboratory for stability and remain stable for a minimum 3 months after the stamped expiry.
DESCRIPTION
SUNPROTECTOR™ [50ml]
Shield + Repair + Brighten. SPF 50/PA+++
Broad-spectrum. Light-weight. Invisible.
MINERAL BOOSTER™ [80ml]
Day Makeup Perfector.
Night Skin-Repair. Anti-redness.
ACTIVE INGREDIENTS
SUNPROTECTOR™
Collagen Hydrolysate [Regeneration]
Portulaca Oleracea Extract [Skin-soothing]
Oligopeptides [Repair]
MINERAL BOOSTER™
Purified Deep Sea Water [Mineral-rich]
Amino Acids [Repair]
Potent Plant Root Extracts [UV-protection]
BENEFITS
SUNPROTECTOR™
Exquisitely formulated for humid climates. Broad-spectrum sunscreen that also regenerates and soothes sensitive skin. Designed with unique pigments blended to be almost invisible under make-up.
MINERAL BOOSTER™
Dual function refreshing mist to increase absorption of skincare at night, for a perfect look with make-up & during touch-ups in the day. Contains skin-calming & repairing active ingredients suspended in a purified deep sea water mist harvested 600m below sea level using sophisticated technology. Perfect for tropical and humid climates.
DIRECTIONS FOR USE
SUNPROTECTOR™
As a final step after skin care, before make-up. Shake well before use, spread small amount (half finger-tip) over the whole face evenly, wait 60 seconds for product to be fully absorbed before applying make-up.
MINERAL BOOSTER™
[Day] Apply mist to entire face and neck as last step after sunblock. Hold the bottle 15cm away and spray with circular movement. Avoid the eyes. Do not inhale, allow 3 minutes for mist to be fully absorbed before applying makeup. Use mist before applying makeup to ensure full skin hydration, with touch-ups, to set or enhance makeup.
[Night] Spray on after Elixir-V Total Recovery Serum and night creams to boost absorption for total skin repair while you sleep.