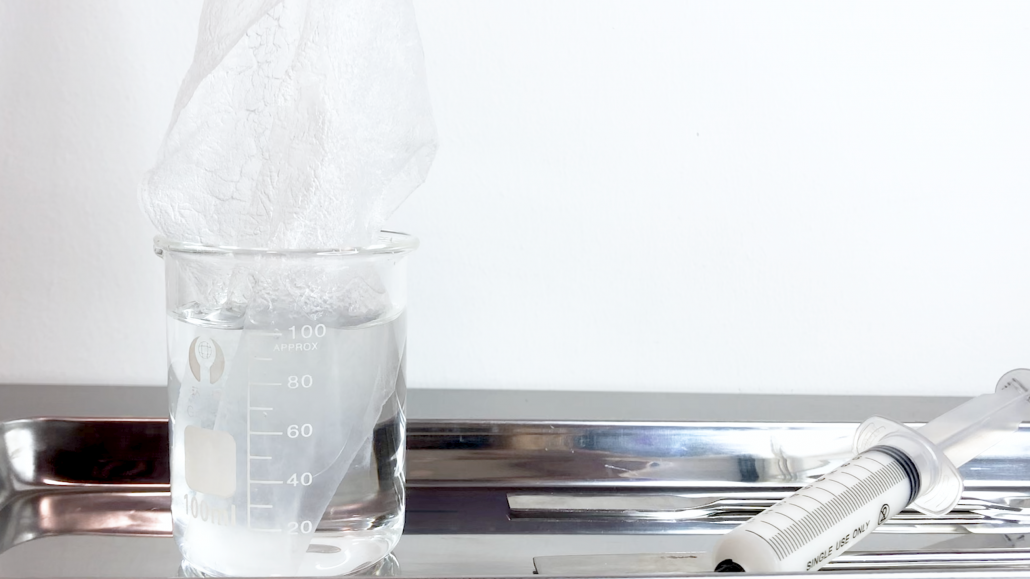 The Conscious Mask Bar
The star of the Mask Bar is the eco-conscious MoistureMax™ Skin-Healing polysaccharide facial mask. The mask is to be used in conjunction with customised cosmeceutical treatment vials.
"The concept of facial masks stems from wet occlusion processes increasing absorption of skincare ingredients. When the skin is in contact with moisture, active ingredients are absorbed more effectively through the skin barrier. Mass factory production of one-use facial mask sheets generates unnecessary environmental and plastic waste because of large quantities required per production run. Additionally, impregnating facial mask sheets with liquid essences requires separate packaging to prevent bacterial contamination, and have a fixed shelf-life of 3 years. Most end up being unsold at the end of expiry and end up being binned. The Dr.TWL Mask Bar is a concept I developed with my engineers as a eco-conscious solution to this problem." Founding Dermatologist, Dr Teo Wan Lin.
It is a novel reusable facial mask that utilises a plant-based membrane for intensive moisture delivery with customisable cosmeceutical mask essence vials. It is 100% chemical additive-free and fully biodegradable. The reusable freeze-dried mask concept eliminates the need for the environmental plastic waste involved in mass factory production of facial mask sheets. The customisable cosmeceutical treatment vials, infused with a range of active ingredients including Goji Berry, Sea Kelp and Arbutin for various skin lightening, radiance and anti ageing concerns, can be purchased in bulk with volumes ranging from 10 mls to 60 mls packaged in hygienically packed syringes.
It is part of Dr.TWL's home medi-facial routine that's dermatologist recommended, to be used with a FDA-approved home radiofrequency facial device, the CollagenUp™ Facial Wand by Dr.TWL Biomaterials.
Organically Grown, Biodegradable and Sustainable Raw Materials
The MoistureMax™ Skin-Healing polysaccharide facial mask is synthesized from a proprietary patent-pending technology that regenerates the natural vegetable fibre of a specific plant belonging to the Amorphophallus family. The plants are organically grown in a sustainable, pollution-free and secured area in Dr.TWL's parent materials engineering facility.
Eco-Conscious, Patent-Pending Processes
The raw plant material is subjected to patent pending processes in our parent biotechnology laboratory over a 12-day cycle under stringent temperature and time controls to achieve the unique 3-dimensional porous structure of the mask sheet. Zero chemical additives or plasticizers are involved. The laboratory is EUROISO22716 accredited, the gold standard in cosmeceutical and materials manufacturing.
Novel Polysaccharide Material—Dermatologist Developed for Sensitive Skin
The final mask sheet consists of the purified raw material- at the highest concentration commercially available, 99% purity which translates into maximum clinical effectiveness when applied on skin. It restores the skin barrier by holding the cosmeceutical essences in a hydrophilic (water-loving) membrane, releasing the micro-reservoirs over a 15-30 minute period when applied on skin. This enhances the absorption of active ingredients delivered via the cosmeceutical essences.
Reusable and Hygienic with Zero Waste
The reusable freeze-dried concept enables customisation of various cosmeceutical essences with a single product, without waste due to product expiry. The liquid essences are sold separately via the Mask Bar and can be purchased in bulk 60ml (sufficient for 6 applications) or as single sampler 10ml application. For fans of our cosmeceuticals by Dr. TWL Dermaceuticals, the masks are also designed for use with the Dr.TWL cosmeceutical skincare range to effectively increase absorption of active ingredients to target skin sensitivity/eczema, hyperpigmentation, skin dullness and uneven skin texture.
Product Information:
Concentrated Skin Brightening Cosmeceutical Mask Essence Vial
The vials are custom compounded according to your desired/recommended effects, in a peptide-rich formula.
Sea Kelp, Goji Berry, Arbutin- infused Peptide Concentrates
Sea Kelp (Skin Dullness and Dryness)
Goji Berry (Anti-Oxidant Skin Regeneration)
Arbutin (Actively Fights Pigmentation)
Use with MoistureMaxTM Skin-Healing polysaccharide facial mask(reusable for 5 applications)
The complete ingredient listing of the Mask Bar System with Customisable Mask Vials can be viewed here.